The results of our latest survey on mobile cybersecurity in K-12 and hospitals are in—and it's not all peaches and roses.
When we talk about endpoint protection, it's only natural to only think about the most commonly compromised endpoints like work laptops and servers—but your smartphone isn't off the hook.
There are plenty of risks associated with mobile devices, and we ignore them at our peril. In 2020 alone, almost 50% of organizations had at least one employee download a malicious mobile application that threatened their organization's network and data.
Certain industries such as education and healthcare face their own distinct set of challenges when it comes to mobile security, namely a diverse amount of endpoints and lackluster budgets and infrastructure.
To better understand the mobile security landscape, we asked 250 schools and hospitals about their mobile security posture (including Chromebooks). The average organization surveyed was based in North America and had anywhere from 250 to over 5000 endpoints.
Here's some key takeaways.
45% of schools reported that at least one cybersecurity incident last year started with Chromebooks or other mobile devices
Almost 30% of schools and hospitals aren't protecting mobile devices with their current endpoint protection solution
77% of organizations are confident in their ability to protect mobile devices, including Chromebooks, from cybersecurity threats
Chromebooks and employee devices rank top among schools' riskiest attack surfaces
63% of organizations say cost is their biggest concern for their current mobile security tools
58% of organizations' cybersecurity budgets are the same compared to 2022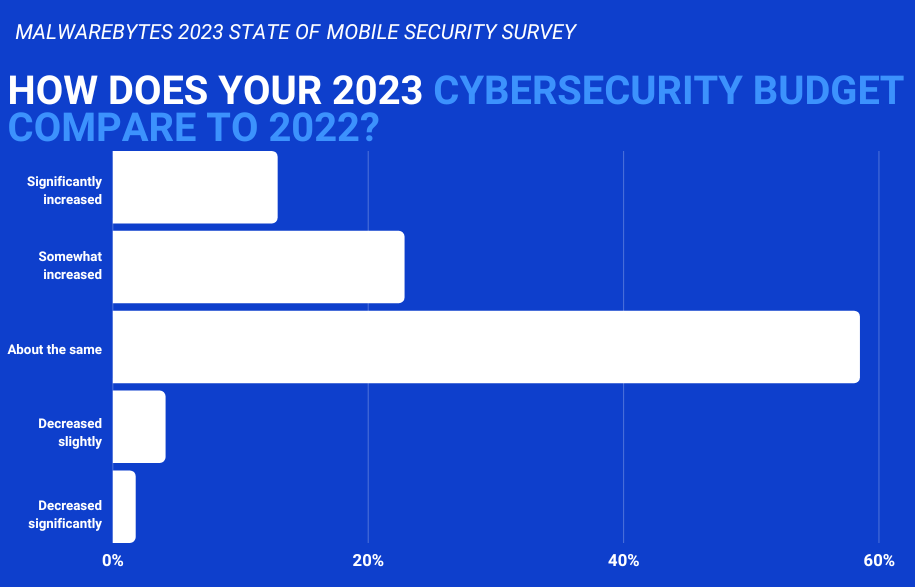 Mobile security for resource-constrained organizations
Don't let mobile and Chromebook threats catch you off guard in 2023.
Malwarebytes 2023 State of Mobile Cybersecurity showed that while most organizations may be confident in their mobile security posture, almost a third aren't currently protecting their mobile endpoints and close to half have experienced a cybersecurity incident due to a mobile device or Chromebook in 2022.
Needless to say, today's organizations and public sector institutions need to protect a growing number of mobile endpoints, including Chromebooks.
Enter Malwarebytes Mobile Security for Business, which extends our award-winning endpoint protection to mobile devices. Tailor-made for organizations with resource constraints, IT teams can conveniently manage protection across Chrome OS, Android and iOS devices from the same cloud-native console monitoring their servers, workstations, and laptops.
Learn more about mobile security and why it's important and check out our blog posts "Improving security for mobile devices: CISA issues guides" and "Do Chromebooks need antivirus protection?" for more tips on improving your organizations mobile and Chromebook security posture.
Stay vigilant!
Related articles