Malwarebytes has once again earned a perfect score in AVLabs March 2023 real-world malware detection tests, marking the sixth consecutive quarter achieving this feat.
Let's delve into the details of the test and how both consumer and business products outperformed competitors in exhaustive testing.
The AVLab Assessment
AVLabs evaluation process is extensive and comprehensive, putting cybersecurity products through a rigorous series of real-world scenarios. The tests involve:
Malware Collection: AVLab amasses a broad spectrum of malware samples from various sources, such as public feeds and custom honeypots. This ensures the test includes the most current and diverse set of threats.
System Log Analysis: The collected malware samples undergo thorough scrutiny to confirm their malicious characteristics and their ability to successfully infect a Windows 10 system.
Real-life Cyber Attack Simulations: All products are tested under the same conditions. AVLab recreates cyber attack scenarios akin to what's seen in the real world, using techniques that actual attackers employ.
Products that block all malware samples and achieve a maximum score of 100% protection are awarded an "Excellent" award badge.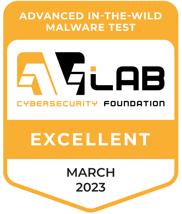 The Results
Malwarebytes consistently excels in the tests, and March 2023 was no different. Both the consumer solution, Malwarebytes Premium and the business solution, Malwarebytes Endpoint Protection, earned "Excellent" badges for detecting and blocking 100% of malware.

The standout performance is largely due to our Multi-Vector Protection (MVP) technology, a unique approach that combines rules-based techniques with behavioral and AI-based methods to stop threats at every stage of an attack. MVP's proactive approach, which involves identifying threats even before they execute, played a crucial role in obtaining a perfect AVLab score.
In addition, our web protection technologies, MWAC and BrowserGuard, blocked 89% of all threats, surpassing the average web protection blocking rate of 72% across all tested products.
For receiving the "Excellent award logo in every test during 2022 (testing is done 6x /year), Malwarebytes Premium received the following additional logo:
The Competition
Other vendors struggled to match Malwarebytes' results. BitDefender, for instance, missed five samples, while F-Secure and Microsoft Defender each missed four. BitDefender and Microsoft also missed samples in the January 2023 test, meaning both products failed to get 100% in back-to-back tests.
The foundation for superior Endpoint Detection and Response (EDR)
Malwarebytes Endpoint Protection (EP) is not merely a standalone product; it's the bedrock of our advanced Malwarebytes Endpoint Detection and Response (EDR) solution.
Leveraging the robust detection and prevention capabilities validated by AVLab's tests, Malwarebytes EDR delivers comprehensive visibility and granular control over network endpoints. Learn more about our endpoint security solutions.
For a deeper dive into our performance, view the full AVLab report here.