Last week, OpenAI announced it had given ChatGPT users the option to turn off their chat history. ChatGPT is a "generative AI", a machine learning algorithm that can understand language and generate written responses. Users can interact with it by asking questions, and the conversations users have with it are in turn stored by OpenAI so they can be used to train its machine learning models. This new control feature allows users to choose which conversations to use to train OpenAI models.
"Conversations that are started when chat history is disabled won't be used to train and improve our models, and won't appear in the history sidebar," the company said in the announcement. "When chat history is disabled, we will retain new conversations for 30 days and review them only when needed to monitor for abuse, before permanently deleting."
Prior incidents involving ChatGPT may have prompted these changes. Early this month, reports revealed Samsung employees had erroneously shared confidential company information with ChatGPT. Before this, OpenAI took ChatGPT offline after it exposed some chat histories to others using the tool at the same time. This incident earned the attention of a data protection agency in Italy, which then ordered a temporary ban for the AI, pending an investigation.
Along with its announcement, OpenAI also revealed a ChatGPT Business subscription that will keep users' input out of its training data. "ChatGPT Business will follow our API's data usage policies, which means that end users' data won't be used to train our models by default," the company said.
How to opt out of OpenAI's training data
Log in to ChatGPT and click the three dots next to your name to open a menu.
Choose Settings from the menu.
The Settings menu will appear in the middle of the screen. Click Show next to Data Controls to expand the window, and then toggle the switch next to Chat History & Training to the off position to stop your data from being used to train ChatGPT.
Users can also export their chat history for local storage by clicking the Export data text in the expanded Settings window. Users will receive an email with a button link to the file containing all of their conversations.
Note that disabling Chat History & Training also turns off ChatGPT's conversation history feature. Chats created after disabling the option won't appear in the history sidebar, but cached conversations found in the sidebar of the page remain.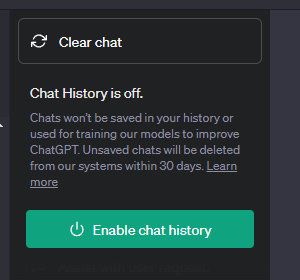 ---
Malwarebytes removes all remnants of ransomware and prevents you from getting reinfected. Want to learn more about how we can help protect your business? Get a free trial below.