It's common knowledge that Facebook knows everything about you, even the data you choose to withhold. Take, for example, your contact number or email address. Many of us opted out of giving this away when we signed up for Facebook, Facebook Messenger, or Instagram because we didn't want to be searchable using these pieces of data.
But, alas, many of us have realized that even if we don't provide data to Meta directly, someone else will. When someone signs up to any of Meta's services, they are asked if they want to share their entire address book to make it much easier to find connections. This is how Facebook got hold of details even if the user had never had a Facebook account.
Thankfully, we now have a tool to delete and keep our contact numbers and email addresses from Facebook permanently, even when someone we know agrees to share their entire address book.
A tool no one's talked about
According to Business Insider, Meta quietly rolled out this tool sometime in May 2022, but the company didn't say anything about it. The link to the tool appears to be pretty much tucked away in an obscure page in Facebook's help section where no user typically ventures.
Below are steps to remove your contact number or email address from all of Meta's apps.
1. Visit the contact info removal tool page.
2. You can then choose from three options: your mobile number, landline phone number, or email address. You can only pick one, so to remove all the above info from Meta, you must repeat these steps for each option.
For this example, we pick "mobile number."
3. Enter your mobile number. The tool also asks where it wants you to look for your data: Facebook and Messenger, Instagram, or both. You can tick both.
4. If you picked mobile number, you'll receive an SMS from Facebook containing your confirmation code. If you picked landline phone number, you'll receive an automated voice call to that number to give you a confirmation code. If you picked "email address," the tool will email you the confirmation code.
5. Clicking "Next" takes you to a page that tells you Meta has found your number and that someone (if not you) has uploaded it to Meta's platforms. By clicking "Confirm", you tell Meta you want your mobile number deleted from its database and block the number from being re-uploaded.
6. Once you have confirmed, the tool takes you to a page saying it has deleted and blocked your mobile.
7. During testing, I double-checked whether the tool had worked by going through the steps again with my mobile number. After entering the confirmation code the tool sent via SMS, I got the message that Meta doesn't have my mobile number anymore.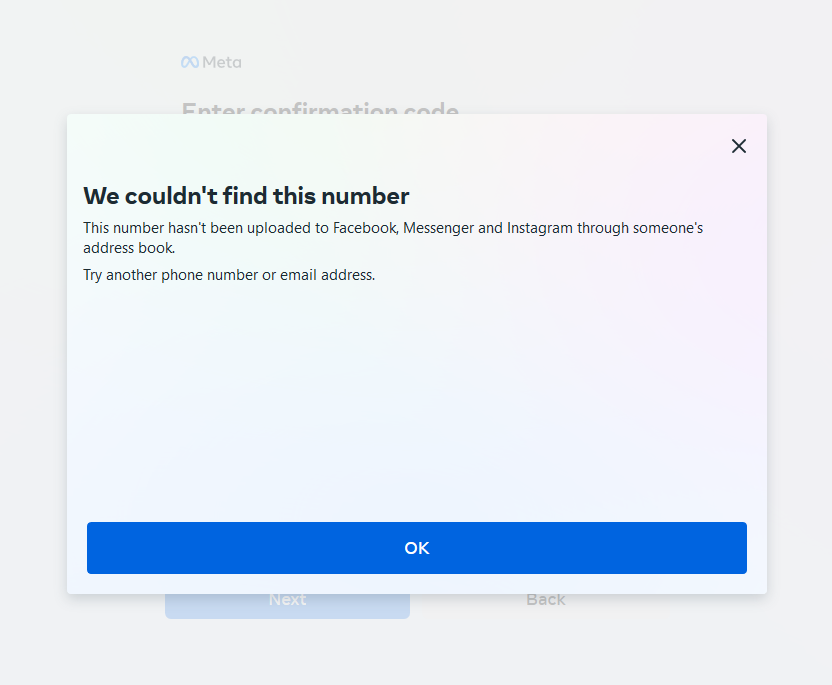 While many will take having their contact numbers and email address permanently removed or blocked in the future as a sign that Meta is serious about user privacy, Heather Burns, author of the book "Understanding Privacy", thinks that the tool is just "privacy labor."
"They collected data they should not have collected in the first place, and are now shifting responsibility on you to remove it," she told Insider.
---
We don't just report on threats—we remove them
Cybersecurity risks should never spread beyond a headline. Keep threats off your devices by downloading Malwarebytes today.