Empowering IT teams
With an easy-to-use cloud dashboard and in-product automations, ThreatDown Nebula enables teams of all skill levels to effectively deploy, monitor, and maintain their endpoint security.
Awareness & control
The Nebula platform provides awareness and appropriate responsive measures to take throughout the lifecycle of a cyberattack, enabling teams to proactively prepare an exceptional defense against malware.
EDR in the cloud
With powerful cloud-based capabilities like anomaly detection and suspicious activity monitoring, ThreatDown Nebula enables teams to rapidly detect and eliminate new cyberthreats.
Take actions on the go
In addition to the cloud console, busy admins can use the companion app, ThreatDown Admin, to easily handle critical incidents and simple tasks right from their smartphones.
Robust security features at the click of a button
Simplified Agent Deployment
Single agent with optimized footprint
Multiple deployment options: Active Directory, System Center Configuration Manager (SCCM), discovery and deployment tools, and more
Quick, easy visibility into the status and health of endpoints
Time-saving Policies and Configuration
Configuration and enforcement by admin rather than end users
1-click policy updates across groups or single endpoints
Comprehensive policies: reboot, scan, protect, software update, and more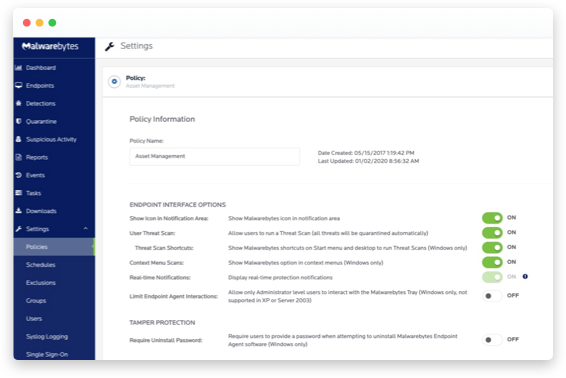 Dashboard Reporting
From a single console, view current status and health
Scheduled and on-demand reports
Weekly executive summary highlights ROI of your endpoint protection investment
Brute Force Protection
Helps stop brute force attacks of RDP connections before they compromise servers and workstations
Blocks malicious IPs running brute force attacks
Instantly alerts to security teams when new attacks are detected

Learn more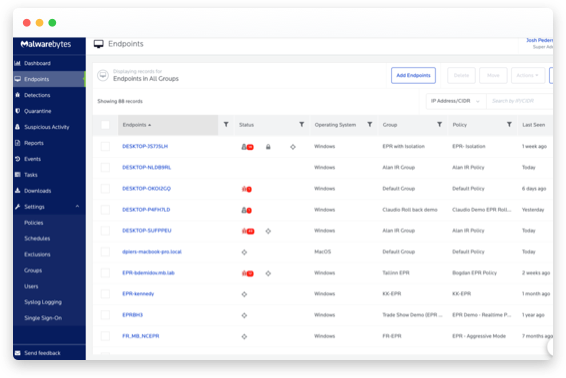 Threat Quarantine
View full list of quarantined threats across all endpoints
Drill down easily to address individual threats
Suggested actions and 1-click workflow initiation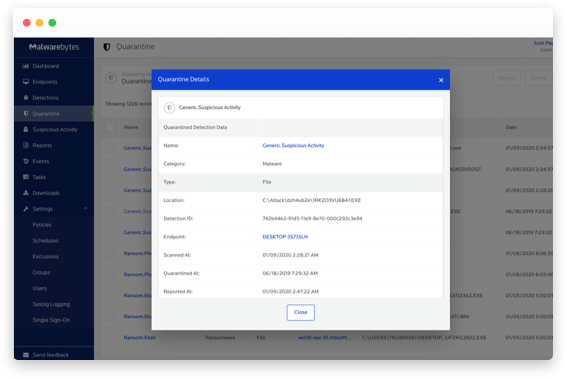 Up your security game
Leverage native capabilities that overcome gaps in team experience and bandwidth
1. Intuitive UI for streamlined administration
2. Threat activity replay
3. Simple API integrations
Master the threat lifecycle
Guiding and informing you at every step, get endpoint security from detection to remediation
1. 1-click policy updates
2. Pre-made and customized reporting
3. Integrated OS-level and time-series data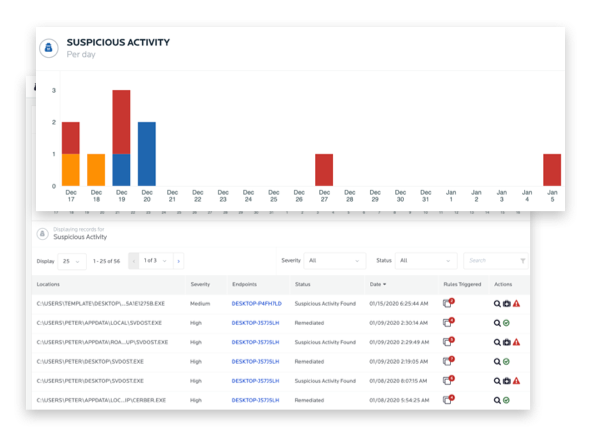 Leverage cloud performance
Streamlined endpoint processing by our agent offloading advanced activities via the cloud
1. Light-weight, high-performance agent
2. Detection of obfuscated malware
3. Cloud sandbox investigation
Flexible management options
Easily manage the solution from our full-featured cloud console or the companion mobile app. Our mobile app makes it easy to monitor the status or your endpoints and to act on priority issues, anywhere at anytime, including:
ThreatDown MDR service protects your business and responds to incidents 24×7—so you don't have to
ThreatDown Managed Detection and Response (MDR) provides powerful and affordable threat detection and remediation services with rapid set-up and 24×7 monitoring and investigations. Our top-tier MDR Analysts protect your organization from cyberthreats through accelerated threat detection and response to incidents—allowing you to focus on growing your business.
Elevate Threat Prevention for Safer Web Browsing
Keep threats originating from nefarious websites, web-based apps, or online content from wreaking havoc in your organization. Deliver end users a safer, more productive web experience with our DNS Filtering module for our cloud-based Nebula platform.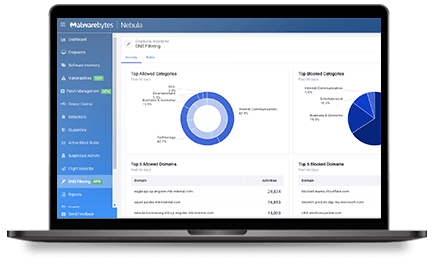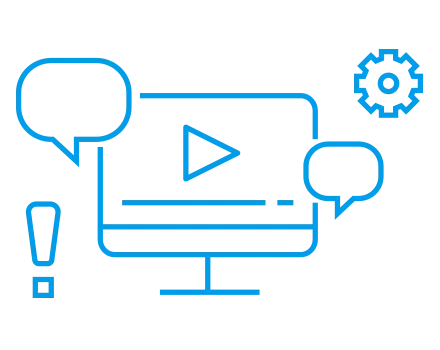 See our powerful business solutions in action
Watch a TheatDown for Business Product Demo and see how we protect large and small businesses from ransomware, malware, viruses, and other emerging threats. We'll show you how to secure your organization with a few simple clicks.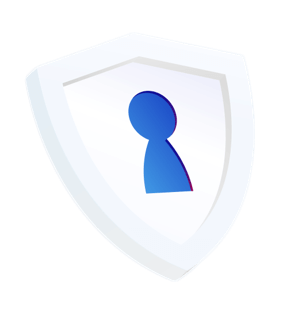 Secure your Remote Desktop Protocol (RDP)
More organizations use RDP to enable remote work, so more attackers are targeting RDP endpoints. Malwarebytes' Brute Force Protection helps secure remote desktop access by blocking Windows workstations and servers from brute force attackers that seek to hijack devices and infiltrate networks.
Start your journey today!
More ThreatDown solutions

Start your journey
Join the community of more than 60,000 Malwarebytes enterprise customers that have built their endpoint resilience.