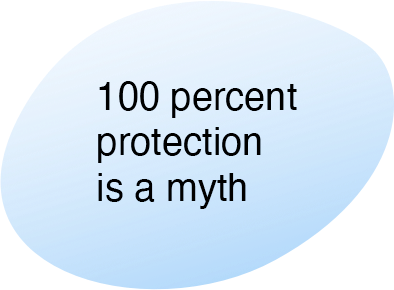 Narrowing the detection gap
No vendor is able to provide 100 percent protection. When a malware infection gets past security defenses and reaches an endpoint, it can infect files, collect confidential data, and spread laterally across the network. As breach numbers continue to rise, businesses are turning to endpoint detection and response (EDR) solutions to address incidents that are not handled adequately by existing defenses.

Your business needs immediate and effective response to stop the bleeding and repair damage.
Key benefits of an effective response solution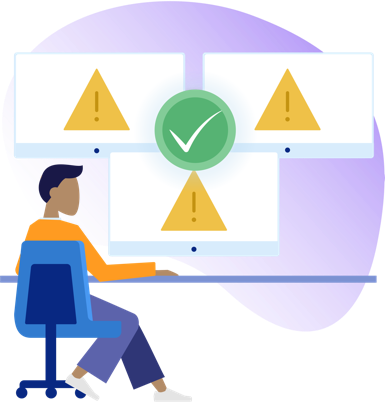 Effective response
Current EDR solutions identify a threat that has bypassed traditional protection. A response is typically generated in the form of logs, alerts, and emails. A threat analyst then uses tools to evaluate the code and the infected machines are re-imaged. Effective response extends beyond alerts and re-imaging to actually stop the attack and fix the damage.
Cuts dwell time
When attackers bypass defenses, they can go unnoticed (dwell time) for weeks or even months. In the Ponemon 2018 Cost of Data Breach study, the mean time to identify (MTTI) a breach was 197 days. The longer an infection goes undiscovered, the more damage it can do. And the cost of that damage can be significant. The average cost of a data breach according to Ponemon is US$3.9 million.

EDR solutions provide continuous monitoring and visibility into what is happening on your endpoints. Behavioral analytics continuously analyze events and activity on endpoints. This delivers powerful insights for your security team allowing them to rapidly investigate, prioritize, and respond to suspicious activity. With Malwarebytes EDR capabilities your security team can accelerate endpoint threat detection and cut the dwell time of zero-day cyberthreats.
Stops the bleeding
Sophisticated attacks often attempt to move laterally across the network. Endpoint isolation allows you to isolate systems. Network isolation can restrict which processes can communicate. Process isolation can restrict which processes can run. Desktop isolation can alert the end user and halt their interaction with the endpoint. This safely keeps the system online for detailed analysis. When an endpoint is compromised, Malwarebytes stops the bleeding with endpoint isolation.
Repairs the damage
Having an antivirus solution is no longer enough. Antivirus solutions often leave behind system changes made as a result of an attack. This can make the endpoint vulnerable to future attacks and expose your business to risk.

Businesses like yours need immediate response capabilities in the event of an infection. Complete and thorough remediation returns an endpoint to a truly healthy state and minimizes impact to the end user. In the case of a ransomware attack, you need the ability to easily roll back changes made by the threat, and recover files that were encrypted, deleted, or modified. Malwarebytes thorough remediation and Ransomware Rollback help repair the damage.
Rapid time to value
Centralized cloud-based deployment and management eliminate the need to acquire and maintain on-premises hardware. This approach provides effortless scalability saving your business time, effort, and costs.
Don't just stop breaches, clean them up
Malwarebytes Endpoint Detection and Response integrates Multi-Vector Protection with detection and response capabilities via a single agent. It provides endpoint monitoring and visibility, reduces dwell-time of zero-day threats, and offers remediation options beyond just alerts. Malwarebytes Endpoint Detection and Response eliminates the complexity found in current EDR solutions.