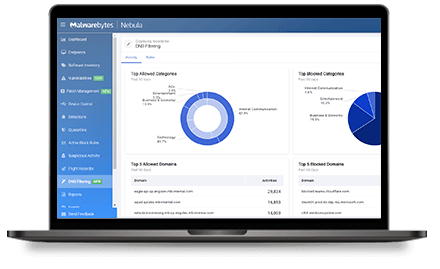 Easily deliver safer, more productive web access
Threats come from many sources, and ThreatDown customers trust us to prevent infections across vectors. Our DNS Filtering module extends our cloud-based security platform, blocking sites that introduce risk and impede productivity so you can better protect end users and your web-based applications.
Isolate the deep, dark corners of the web
For all its practical uses, the web is also a common source of phishing attacks, spyware, common viruses and malware, not to mention ransomware. DNS Filtering allows you to block whole categories of inappropriate sites, known, suspicious domains, and other nefarious content from wreaking havoc across your business. Ultimately, you want to ensure your end users are more safe and productive on the web.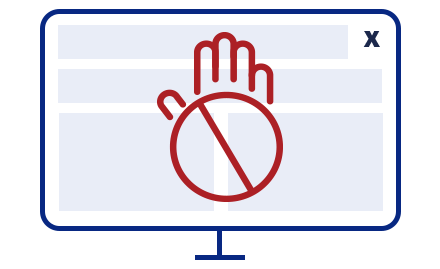 Block threats from infiltrating browsers and web-based apps
With our DNS Filtering module, you're able to block whole website categories such as gambling, adult content, etc. Gain access to an extensive database of pre-defined scores on known, suspicious web domains and manage specific site restrictions. Beyond browsing, you're able to better protect the web-based applications that run your operations, keeping your end users safe and productive.

Safe, productive web access

You want end users to be able to access websites and online content they need to get work done. But you need to keep your organization safe against cyberthreats.

Benefit from an extensive database of known, suspicious web domains, so you can easily deploy restrictions against these and whole categories of websites that don't comply with your organization's code of conduct policies for internet use.
Protect web-based systems

Web-based apps are central to your organization's mission, and you need to ensure these collaborative systems do not introduce threats to your digital ecosystem.

You may not have a complete picture of vendor and partner security posture, so you need prevention that keeps your shared databases and systems from being exposed to threats introduced from their environment.
Prevention aids compliance

Industry regulations or other mandates require organizations to demonstrate cyberprotection against several threat vectors. But they don't always define how to do it.
Adding our DNS Filtering module helps you on the path to compliance with protection from threat actors lurking on the internet. Coupled with our cloud-based EDR platform, you're well on your way to demonstrating compliance with HIPAA, GDPR, CIPA, and other industry requirements.
ThreatDown MDR service
protects your business and
responds to incidents 24×7—so
you don't have to
ThreatDown Managed Detection and Response (MDR) provides powerful and affordable threat detection and remediation services with rapid set-up and 24×7 monitoring and investigations. Our top-tier MDR Analysts protect your organization from cyberthreats through accelerated threat detection and response to incidents—allowing you to focus on growing your business.
Not a current customer?
Help prevent infections while delivering safer, more productive web access
in the same platform trusted for effective remediation. Our DNS Filtering
module extends your ThreatDown EDR, EP, IR or server solutions to
enhance your threat prevention initiatives.