Trusted by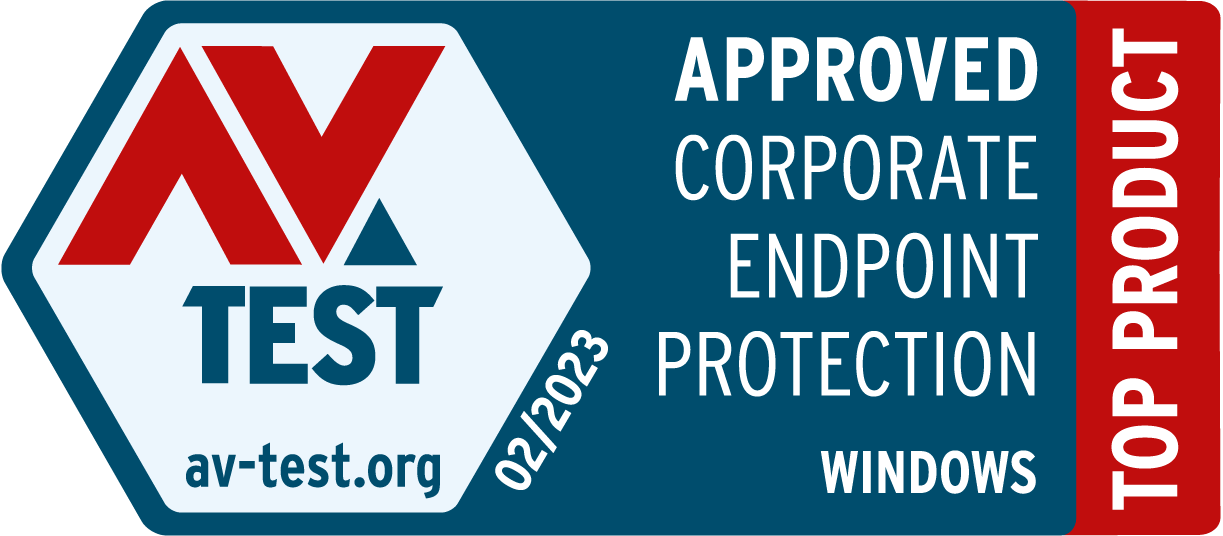 Business cyber security challenges
Escalating threats
Over 68% of firms suffered recent attacks and 80% were unknown "zero-day" threats.
Sources: 2020 EDR Solutions Study, Ponemon Institute
Zero-day detection
Almost 60% of firms need zero-day detection, but high false positives are a key concern.
Complex solutions
More than 61% of firms say complexities and limited staff are significant challenges with EDR products.
Three critical EDR features
Detection and protection against ransomware, malware, trojans, rootkits, backdoors, viruses, brute force attacks, and "zero-day" unknown threats that other EDR tools don't catch.
Easy
ThreatDown Endpoint Detection and Response for Windows and Mac can easily replace or augment other endpoint security solutions, including Microsoft Defender.
Non-disruptive, role-based access, deploy within minutes
Lightweight endpoint agent, robust integrations
Intuitive cloud-native management console
Effective
ThreatDown EDR uses unique Anomaly Detection machine learning to not only detect known threats, but also find unknown "zero-day" threats.
Granular isolation for processes, networks and Windows desktops
Collects detailed threat information for analysis and investigation
Proprietary Linking Engine removes executables, artifacts, and changes
Efficient
ThreatDown EDR offers remote worker optimization, industry-leading efficiency, high return on investment (ROI), and low total cost of ownership (TCO)
Guided threat hunting to search for Indicators of Compromise (IOCs)
72-hour ransomware rollback for Windows workstations
No performance impact, uses an order of magnitude fewer resources
ThreatDown next-gen EDR tool
Remote worker protection
Higher Remote Desktop Protocol (RDP) usage resulting from the COVID-19 pandemic have exposed an exploitable vector for ransomware.
ThreatDown Endpoint Detection and Response now includes ThreatDown Brute Force Protection to block malicious login attempts and prevent intrusion attacks targeting RDP on Windows workstations and servers.
Our powerful scan and detection engine provides stronger protection against infections from exploits and packaged and polymorphic malware, making it ideal for remote work environments where users may be easier targets.
Improved threat detection
Sophisticated attacks exploit entry points and security vulnerabilities, and once attackers are inside, they can set hooks that cause serious damage.
Low false positive alerts
The average enterprise security team spends over 25 percent of their time chasing thousands of false positive alerts each month (Ponemon).


Innovative active threat response
keeps endpoints productive
Attack isolation
If an endpoint is attacked, you can easily halt malware from spreading and causing harm.
Network isolation limits device communications, so attackers are locked out and malware can't "phone home."
Process isolation restricts which operations can run, halting malware and enabling remote retrieval of suspicious code for investigation while still allowing end users to work away.

Desktop isolation alerts the end user of the threat, temporarily blocks their access, yet keeps the device online for analysis.

With multiple modes of attack isolation, both security teams and end-users maximize their productivity even during attacks.
Automated remediation
Find and reverse all major and subtle changes made by malware.
While traditional approaches focus on removing only the active executable, they ignore residual change that leads to re-infection or pesky PUPs and PUMs. You're then left to reimage the device, or hope for the best.

Quite the opposite, the proprietary ThreatDown Linking Engine tracks every artifact, change, and process alteration (including memory executables others miss). A true "one and done" solution, it then maps out the correct path to remove all malware permanently, including PUPs and PUMs.

Ransomware rollback
For Windows environments, paying ransomware is no longer a requirement.
It's possible because we make use of local cache on each endpoint, storing all relevant changes to the device for up to 72 hours. If you're infected, ThreatDown simply backs out device changes and restores files that were encrypted, deleted, or modified. And data storage space isn't an issue, as our proprietary dynamic exclusion technology learns "good" behavior of applications and minimizes storage utilized.

The result is peace of mind knowing that ransomware won't damage your bottom line, reputation, customer experience, or team productivity.
See what our customers say
ThreatDown rocks for small, mobile teams
"Very user friendly and easy to manage with teams of tech-challenged crew members. Deploys easily and allows for cloud oversight. But the most important point is: it works, it has always been a go to for malware removal, now it is the go to real-time malware mitigation tool."
– Reviewer Role: CTO, Company Size: 50M USD, 03/27/2020
Strong service for protection against malware and threats
"…a well-equipped application and it can easily solve our all issues of threats. Its speed of scanning is very fast and scans complete systems in a few minutes. It keeps my online and offline data secure from all types of threats and automatically updates installed applications."
– Reviewer Role: Data and Analytics, Company Size: 3B – 10B USD, 05/29/2020
With a few simple clicks you can protect your business and brand, improve your regulatory compliance posture, and avoid costly downtime. ThreatDown Endpoint Detection and Response for Windows and Mac offers enterprise-class endpoint protection, advanced threat hunting, and reliable isolation, remediation, and response to cybersecurity attacks.
Protect your business in just a few clicks
See how ThreatDown delights our clients
"We know we have confidence that if we do get ransomware, we have the ability to roll back up to 72 hours per endpoint."
Robert Elworthy
Assistant Director of IT, Langdale Industries
ThreatDown MDR service
protects your business and
responds to incidents 24×7—so
you don't have to
ThreatDown Managed Detection and Response (MDR) provides powerful and affordable threat detection and remediation services with rapid set-up and 24×7 monitoring and investigations. Our top-tier MDR Analysts protect your organization from cyberthreats through accelerated threat detection and response to incidents—allowing you to focus on growing your business.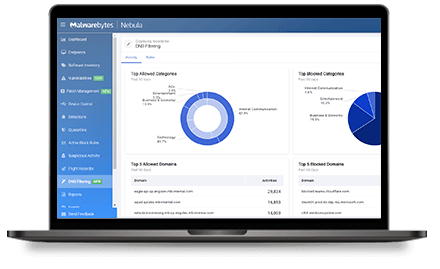 Elevate Threat Prevention for Safer Web Browsing
Keep threats originating from nefarious websites, web-based apps, or online content from wreaking havoc in your organization. Deliver end users a safer, more productive web experience with our DNS Filtering module for our cloud-based Nebula platform.
See our powerful business solutions in action
Watch a ThreatDown Product Demo and see how we protect large and small businesses from ransomware, malware, viruses, and other emerging threats. We'll show you how to secure your organization with a few simple clicks.