ThreatDown
Endpoint Protection
A powerful endpoint security solution that combines seven detection
and remediation technologies into a single cloud-managed agent.
Traditional Endpoint Protection (EP) approaches are not working
Many endpoint security solutions simply don't prevent zero-day exploits, ransomware, or malicious downloads. And cobbling together multiple tools impacts user productivity while providing more gaps for malware to evade defenses.
ThreatDown Endpoint Protection provides complete malware protection and remediation with precise threat detection, proactive threat blocking, and thorough remediation, driven from the cloud and easy to use for organizations of all sizes.
Comprehensive protection built for speed
Comprehensive protection built for speed. Don't choose between protection and performance. Quickly deploy endpoint protection that doesn't impact end user productivity.
Stop malware from getting a stranglehold on your organization
Lightweight Agent
Unlike old-school signature-based approaches that wait until attacks kick in, ThreatDown Endpoint Protection finds and blocks threats before devices are infected. This happens by recognizing and preventing both hostile code and bad behavior by people.
You'll now block threats others miss, including web-based attacks, zero-day malware, ransomware, PUPs, PUMs, infections from USB peripherals and more
All via an agent deployed with a small footprint, ensuring you won't strain end-user productivity. Security teams stay productive too, as you harden apps and devices without code modification.
Accurate Verdicts
While others use conventional techniques that fall short, ThreatDown employs innovative machine learning and artificial intelligence that applies our patented goodware model.
In a nutshell we whitelist properly-signed code from known vendors, as well as other code that passes rigorous inspection (our goodware library already includes over a billion lines of approved code). This code is omitted from future scans to save time, eliminate false positives, and provide increasingly accurate verdicts.
We also test for malicious code and bad behavior at all stages, from installation to execution and shutdown, including remote investigation of suspicious code that won't disrupt end user productivity
Simplified Management
Avoid the complexity of multiple consoles managing a patchwork of one-off tools. ThreatDown gives you a single dashboard with an easy-to-use interface, delivering real-time status of events and device health across your network.
The user interface also controls all functionality across our full suite of endpoint protection software. This includes the ability to easily prioritize remediation via multiple filters, like severity of threat, physical location, and other criteria.
Ideal for organizations large or small, ThreatDown Endpoint Protection makes blocking threats a matter or clicks not scripts.
See what our customers say
ThreatDown Endpoint Protection
"I can say without a shadow of a doubt that Malwarebytes' EPP for business solution is among the most complete and integrates full compatibility with new and old generation endpoints to adapt to both emerging scenarios…"

– Infrastructure and Operations professional in the services industry. Company size: 50M – 250M USD
ThreatDown Endpoint Protection
"Malwarebytes protects our end user devices completely and with very little effort on the staff to maintain. The company provides all the support you could need."
– Infrastructure and Operations professional in the education industry. Company size: < 5,000 Employees
What industry experts are saying
"We saved a month of downtime and firefighting."
Paul Yoder
El Camino Community College
"We stopped malware outbreaks for over four years."
Tyler Warren
Prologis
"We changed the game to automated protection."
Melissa Davenport
Skillsoft
ThreatDown MDR service
protects your business and
responds to incidents 24×7—so
you don't have to
ThreatDown Managed Detection and Response (MDR) provides powerful and affordable threat detection and remediation services with rapid set-up and 24×7 monitoring and investigations. Our top-tier MDR Analysts protect your organization from cyberthreats through accelerated threat detection and response to incidents—allowing you to focus on growing your business.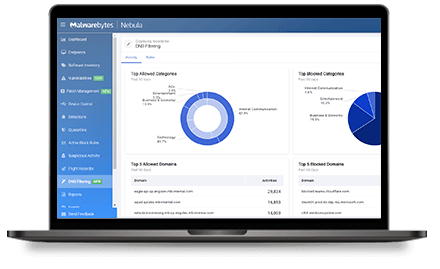 Elevate Threat Prevention for Safer Web Browsing
Keep threats originating from nefarious websites, web-based apps, or online content from wreaking havoc in your organization. Deliver end users a safer, more productive web experience with our DNS Filtering module for our cloud-based Nebula platform.
See our powerful business solutions in action
Watch a ThreatDown Product Demo and see how we protect large and small businesses from ransomware, malware, viruses, and other emerging threats. We'll show you how to secure your organization with a few simple clicks.