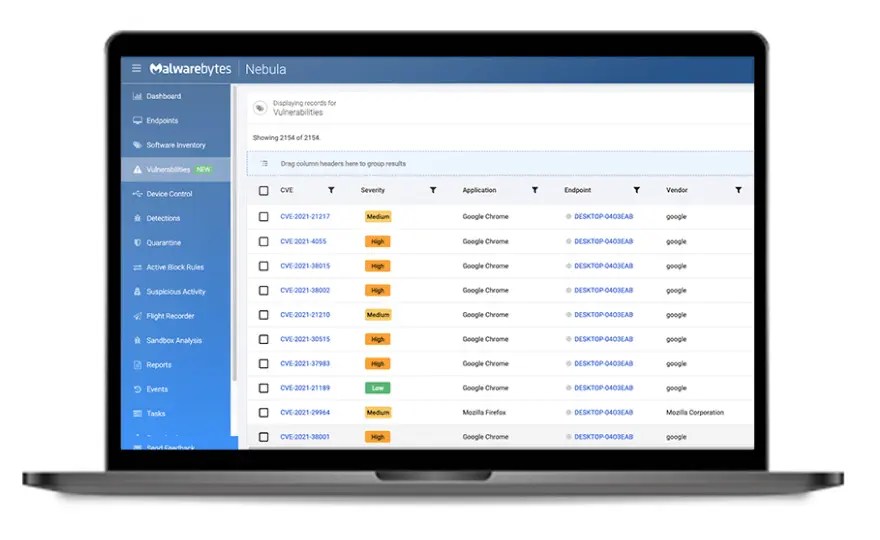 Gain a More Complete Picture of Risk in One Place
ThreatDown cyberprotection users already recognize the value of being able to detect threats and thoroughly remediate infections. We've expanded visibility into software vulnerabilities so you can take additional actions to strengthen your defenses.
A Constant Battle
Between Risks and Resources
To optimize threat prevention, you know what needs to be done. Still, the struggle for time continues:
More complex third-party app environments. Less time to manage and secure
More OS patch compatibility challenges. Less tolerance for impacting the user experience
More devices in more places. Fewer options for onsite patching or remediation
More time reacting to infections. Less team bandwidth for priority and strategic projects
Visibility is Essential to Prevention
287 days
It takes 287 days on average to identify and contain a breach.

$4.33M
The average cost of a breach originating from a third-party app vulnerability is $4.33 million.

60%
Almost 60 percent of breaches can be prevented by installing correct patches.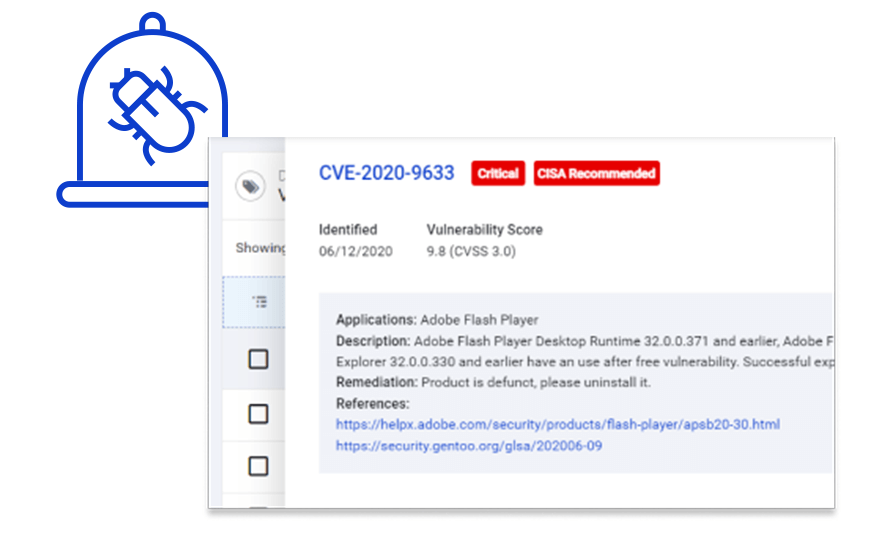 Get Help with Proactive Prevention
No surprise, the best way to avoid a security incident is to block threats from entering in the first place.

Our new Vulnerability Assessment module helps Endpoint Protection and Endpoint Detection & Response subscribers understand exposure, identify vulnerabilities, and prioritize action. This helps ensure defenses are up to date across device and server operating systems, and a wide range of third-party applications.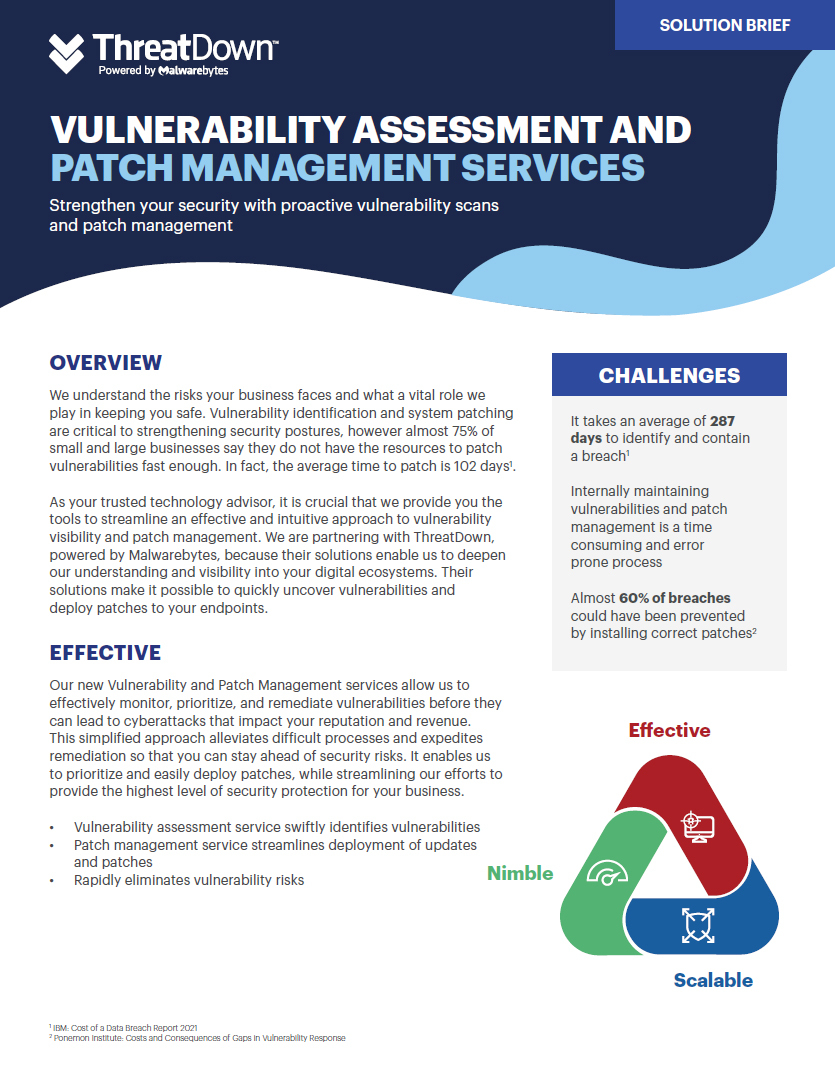 Schedule & Deploy Patches Easily
Our Patch Management module makes it easier to act swiftly through the patching process, helping ensure the greatest risks are neutralized, and updates are deployed or scheduled so you can regain bandwidth to focus on important, strategic initiatives.
Make Threat Prevention Easier
Enhance Threat Visibility
Patch OS and
third-party apps
Launch modules easily within the ThreatDown cloud platform.
The Vulnerability and Patch Management modules simply appear within the platform menu
Intuitive management with a consistent user experience
Identify security gaps across your attack surface, so you can prioritize action, reduce risk, and report results.
Scan, discover, assess, and manage vulnerabilities
See across third-party apps and Windows devices and servers
Use our Patch Management module to take swift action to limit exposure across your Windows endpoint and server OS, and third-party app portfolio.
Review, prepare and deploy patches
Schedule by severity, category or individually
Track patch and reboot status for each endpoint
Incorporate Vulnerability Assessment and Patch Management into your existing security workflows.
Extends the power of ThreatDown Endpoint Detection & Response, Endpoint Protection, and server protection solutions
Add value to SIEM, SOAR, and ITSM
Accelerate resolving actions including patching, software updates, configuration changes, and more
ThreatDown MDR service
protects your business and
responds to incidents 24×7—so
you don't have to
ThreatDown Managed Detection and Response (MDR) provides powerful and affordable threat detection and remediation services with rapid set-up and 24×7 monitoring and investigations. Our top-tier MDR Analysts protect your organization from cyberthreats through accelerated threat detection and response to incidents—allowing you to focus on growing your business.
See our powerful business solutions in action
Watch a ThreatDown Product Demo and see how we protect large and small businesses from ransomware, malware, viruses, and other emerging threats. We'll show you how to secure your organization with a few simple clicks.
Not a current customer?
Adding the Vulnerability Assessment and Patch Management modules to ThreatDown EDR, EP
and server solutions helps your organization see and respond to more vulnerabilities
using the same cloud-based Nebula platform used to remediate infections.
Statistics sources: "IBM Cost of a Data Breach report, 2021" and "Ponemon Institute: Costs and Consequences of Gaps in Vulnerability Response"