Managed Service
Provider Program
Meet the security needs of your customers while growing your business with differentiated easy-to-
manage cybersecurity solutions from the industry's most trusted vendor in remediation. Apply today
or reach out to us for a demo.
Are you a current Malwarebytes partner?
Dedicated to MSP
partner growth
Our commitment to successful partnerships begins with leveraging a robust, "partner first" MSP program designed to foster meaningful, profitable relationships. Using our award-winning, ThreatDown Nebula platform, and OneView MSP management console, your organization can offer easy access to the best-in-class endpoint security services your business customers demand.
Partner Benefits
Tools and incentives to expand your service catalog
Monthly usage / utility
Tiered discounts
Customer reporting
Strategic support to grow your sales and marketing
Partner portal access
Co-marketing support
Sales training
Enablement and training to deepen your expertise
Demo / NR license
Technical support
Technical training and on-demand resources
Grow your MSP business with
24×7 alert monitoring and
investigation provided by
ThreatDown MDR
ThreatDown MDR is a force multiplier for your MSP security operations. With our elite team of MDR Analysts monitoring your customer endpoints 24×7, ThreatDown MDR simply and effectively closes your security resources gap, reduces the risk of unknown threats to your customers, and increases your ability for new business growth.
ThreatDown OneView Dashboard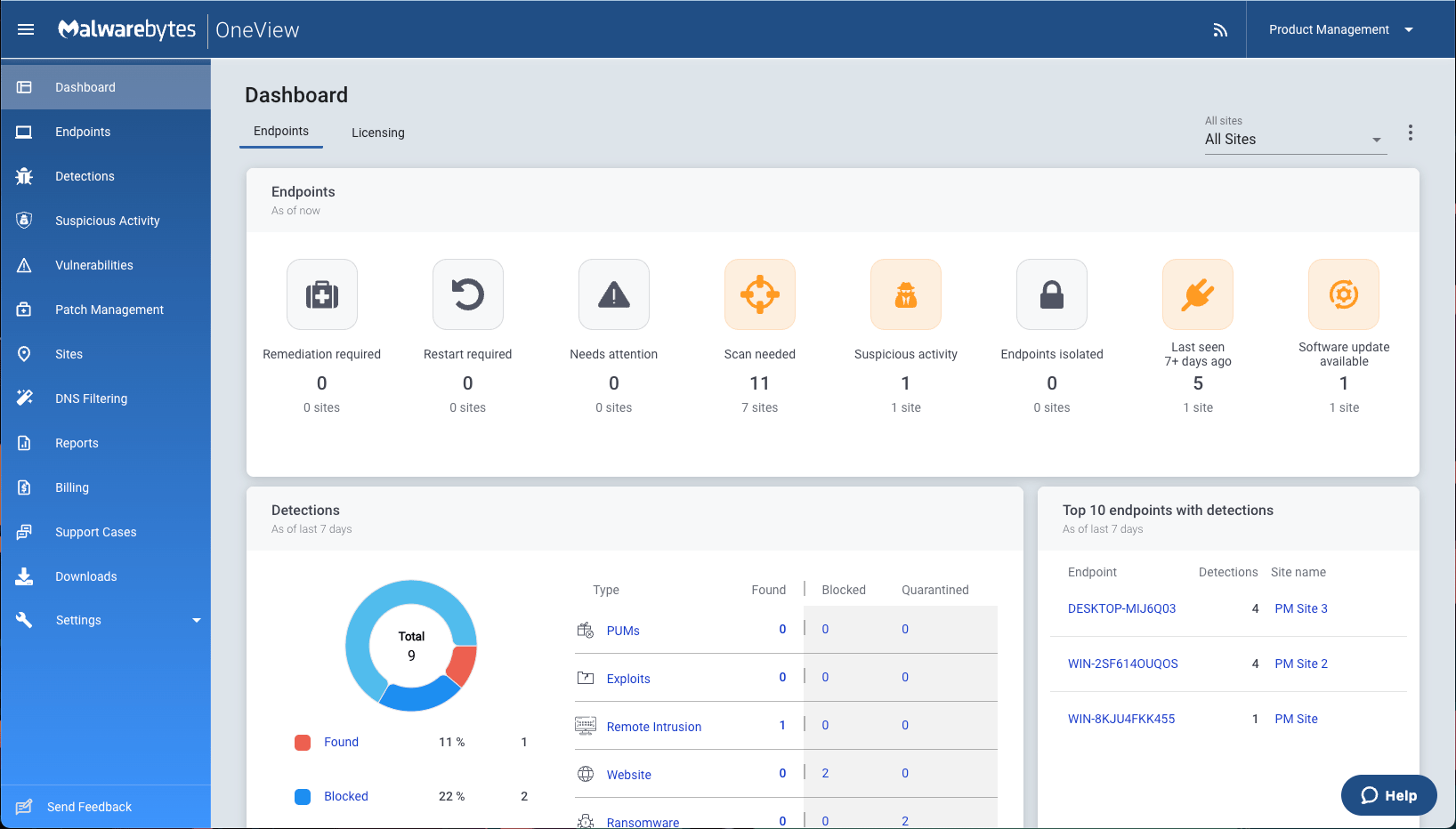 Single multi-tenant console
The ThreatDown OneView multi-tenant dashboard enables you to grow revenue while lowering costs with a single pane of glass to centrally manage customer and partner accounts, cloud subscriptions for servers and workstations, invoicing, and integrations. The admin console provides direct linkage to the ThreatDown internal team for rapid creation and resolution of support tickets.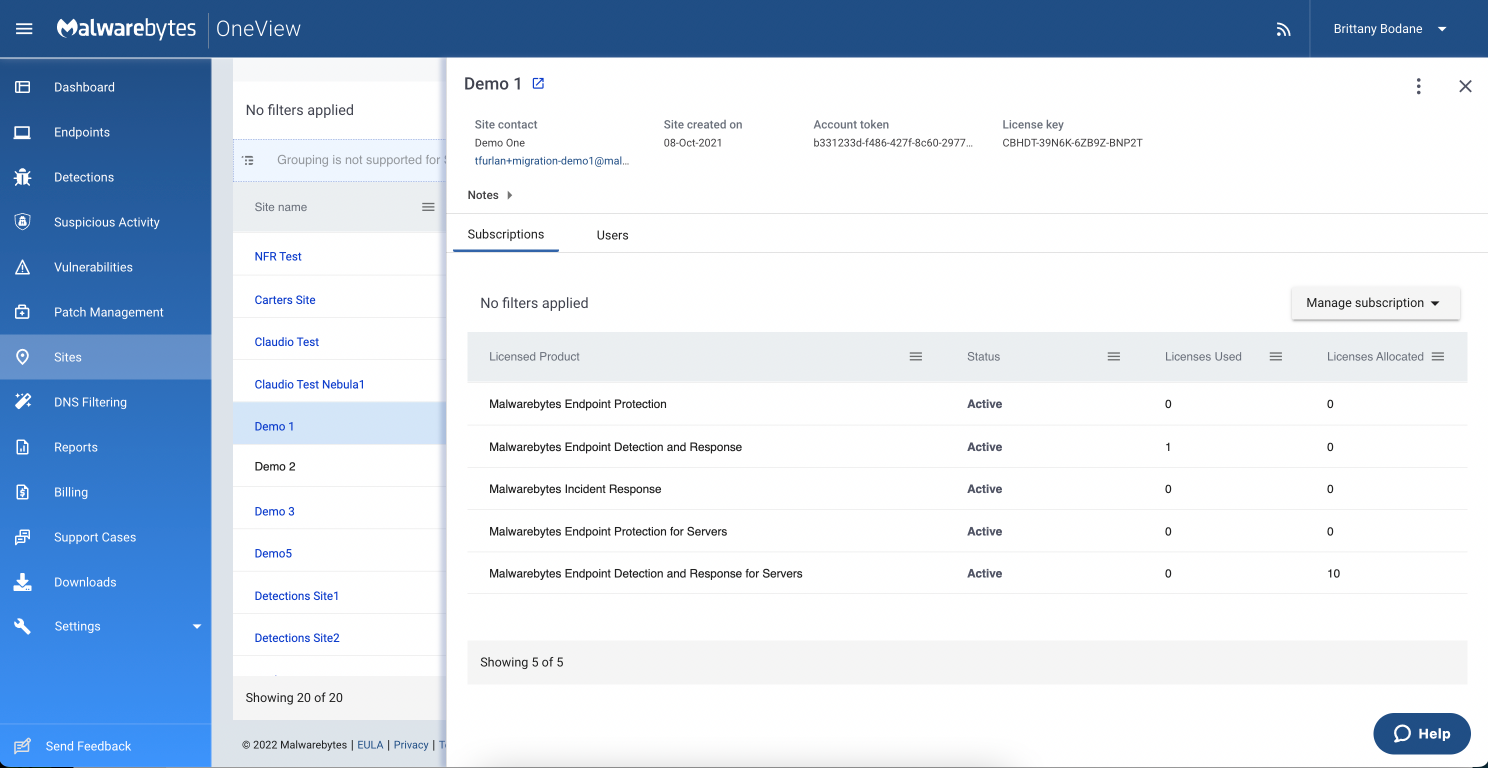 Subscription Management
With an intuitive display of customer sites and licenses, OneView allows MSPs to easily track and manage subscriptions across sites and provide a higher level of service and attention.
Site Administration
MSPs have full control over server and workstation policies, software updates, role based access, and other critical areas of customer site management within the guided UI provided by OneView.
Support Case Management
Within the Partner Program, MSPs have direct access to ThreatDown Level 2 Support Engineering services to help with the heavy lifting of endpoint security. A case management UI is provided natively within the OneView console for streamlined tracking of support tickets.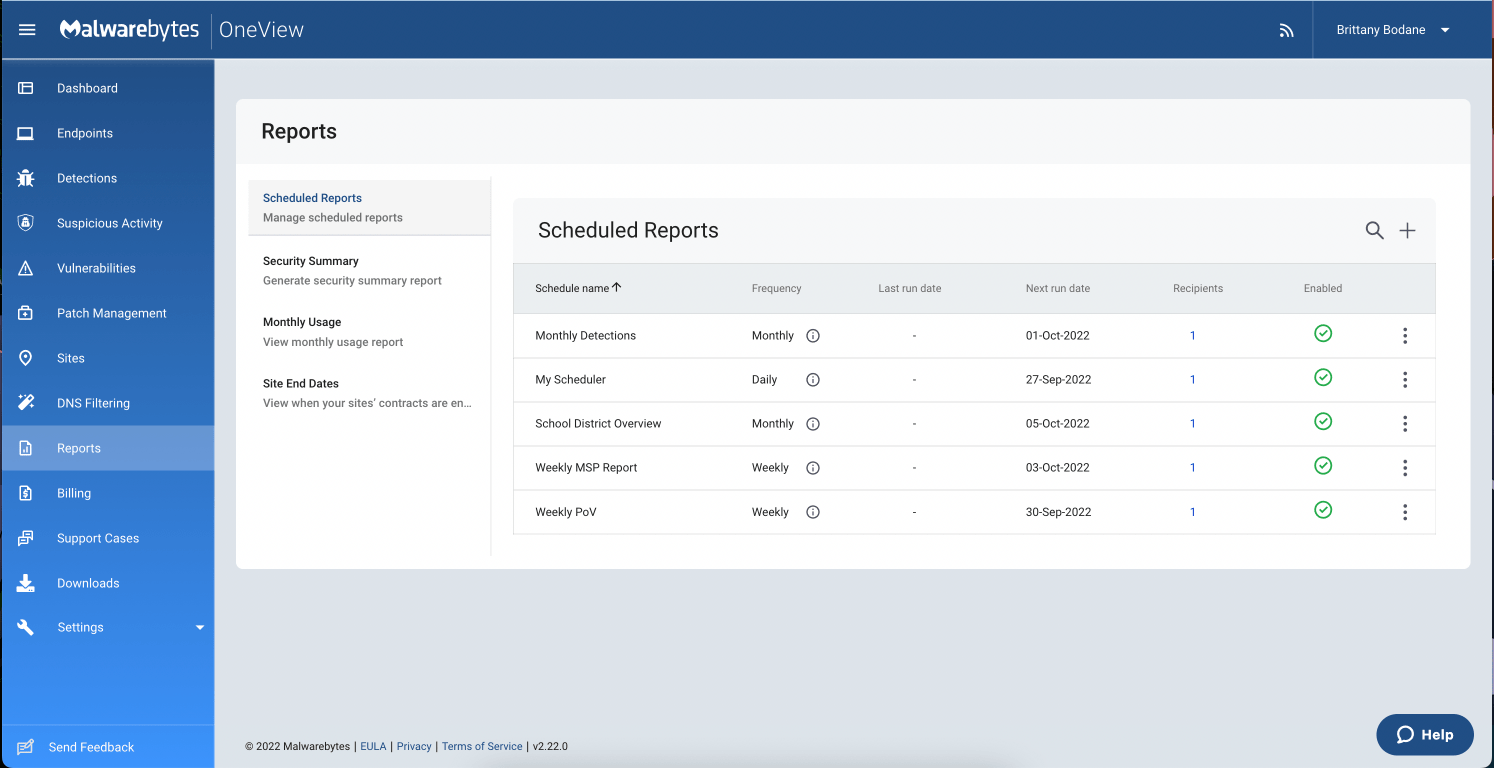 Monthly Reporting
OneView provides a wide range of reporting capabilities to enable MSPs to track customer endpoints, including an executive reporting that provides decision makers at customer sites with actionable data to support their investment in the MSP security services.


Cloud Security Modules
Available within the ThreatDown OneView security platform, our add-on cloud security modules further strengthen your ability to protect customers against specific threat vectors. With 1-click enablement and pre-built sales kits you can easily expand your security offering and open new lines of revenue with these value-add services.
RMM and PSA integrations
Optimize your customer management. The ThreatDown, powered by Malwarebytes, integration with Datto Autotask PSA enables MSPs to automate support ticket creation and streamline licensing, billing, and back-office operations.
Reduce overhead of your security service. The ThreatDown, powered by Malwarebytes, integration with Datto RMM streamlines onboarding of new endpoints and makes it easy to keep threat libraries up to date.
Extract more value from your ConnectWise investment. The ThreatDown, powered by Malwarebytes, integration with ConnectWise Automate enables MSPs to detect, deploy, and manage endpoint security from within their existing workstreams.
Streamline your back-office operations. The ThreatDown, powered by Malwarebytes, integration with ConnectWise Manage enables MSPs to consolidate license, billing, and account data of customers using ThreatDown products into a single platform.
Simplify endpoint security management. The ThreatDown, powered by Malwarebytes, integration with Kaseya VSA makes it easy to onboard new endpoints with default security controls in place right from the Kaseya VSA console, while also keeping your threat library up to date.
The ThreatDown, powered by Malwarebytes, integration with Kaseya BMS automates billing by syncing back usage data to Kaseya BMS contracts and makes it easy to view endpoint details right from Kaseya BMS configuration items.
Simplify deployment. The ThreatDown, powered by Malwarebytes, integration with Atera enables MSPs to provision new OneView licenses and streamlines deployment of the OneView agent across endpoints, all from within the Atera UI.
Don't take our word for it
"We believe Malwarebytes is the gold standard for providing complete and thorough remediation of threats…"

"…Malwarebytes' trusted solution is one that we are proud to offer, and their new OneView allows us to manage our customers from one easy console."
"Thanks to the Malwarebytes MSP program, we have this high-quality product in our stack. It's a great addition, and I have confidence that customers' systems are protected."