Adware.Amonetize
Short bio
Adware.Amonetize is Malwarebytes' generic detection name for a family of adwareapplications targeting Windows systems that combine programs perceived as useful with software that shows advertising or software that pays per install. In general, these types of software combining applications are known as bundlers.
Type and source of infection
Bundlers like Adware.Amonetize are generally downloaded from sites that offer numerous software packages for download, often categorized by functionality.
Protection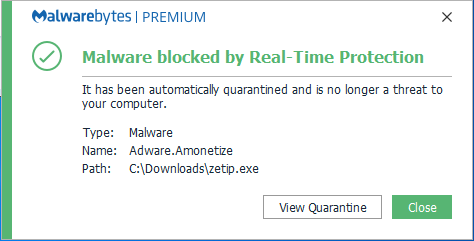 Remediation
Malwarebytes can remove Adware.Amonetize without further user interaction. If the bundler has been run on the affected system, there is a big chance more adware and PUPs will be found.
Please download Malwarebytesto your desktop.
Double-click MBSetup.exeand follow the prompts to install the program.
When your Malwarebytes for Windowsinstallation completes, the program opens to the Welcome to Malwarebytes screen.
Click on the Get started button.
Click Scan to start a Threat Scan.
Click Quarantineto remove the found threats.
Reboot the system if prompted to complete the removal process.