Adware.PennyBee
Short bio
Adware.PennyBee is the detection for a Windows-targeting family of adwarethat is related to the Linkury and DealPly families. Some members of this family are considered potentially unwanted programs (PUPs), but others qualify as adware.
Symptoms
Adware.PennyBee uses browser extensions and LSP hijackers to hijack Internet traffic, so users may notice advertisements not originating from the sites they are visiting.
Type and source of infection
Most Adware.PennyBee infections are caused by Trojansthat are capable of downloading and running several adware and PUP infections.
Protection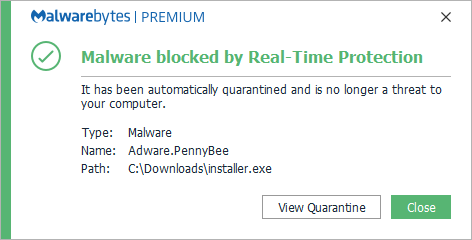 Remediation
Malwarebytes can detect and remove Adware.PennyBee without further user interaction.
Please download Malwarebytesto your desktop.
Double-click MBSetup.exeand follow the prompts to install the program.
When your Malwarebytes for Windowsinstallation completes, the program opens to the Welcome to Malwarebytes screen.
Click on the Get started button.
Click Scan to start a Threat Scan.
Click Quarantineto remove the found threats.
Reboot the system if prompted to complete the removal process.