Backdoor.SpamTool
Short bio
Backdoor.SpamTool is a generic detection for Trojan applications that may harvest stored credentials and email addresses for the purposes of spam distribution. Collected email addresses may be used to send spam email messages. Found credentials may be used to send spam email or post spam comments to forums, websites, social media websites, etc. on behalf of unsuspecting users.
Symptoms
Backdoor.SpamTool may run as a start-up entry and may be visible as running processes on compromised machines. Alternatively, Backdoor.SpamTool may be configured in a manner which prevents visible processes and start-up entries
Type and source of infection
Backdoor.SpamTool may be distributed using various methods. This software may be packaged with free online software, or could be disguised as a harmless program and distributed by email. Alternatively, this software may be installed by websites using software vulnerabilities. Infections that occur in this manner are usually silent and happen without user knowledge or consent.
Protection
Malwarebytes protects users from the installation of Backdoor.SpamTool.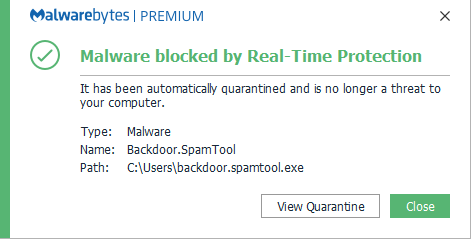 Malwarebytes detects and removes Backdoor.SpamTool.
Remediation
Malwarebytes can detect and remove many Backdoor.SpamTool infections without further user interaction.
Please download Malwarebytesto your desktop.
Double-click MBSetup.exeand follow the prompts to install the program.
When your Malwarebytes for Windowsinstallation completes, the program opens to the Welcome to Malwarebytes screen.
Click on the Get started button.
Click Scan to start a Threat Scan.
Click Quarantineto remove the found threats.
Reboot the system if prompted to complete the removal process.