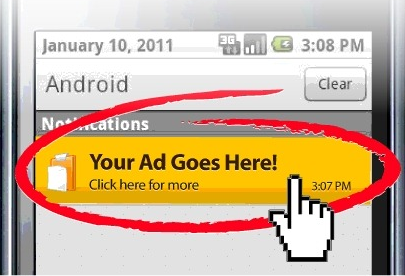 Seeing advertising in your Android app is something we're used to and for the most part we tolerate.
But there are some advertisers who take it a whole different level. These advertisers want to be in your face and aggressive about what they're pushing. They bring their advertising to the notification bar and add home screen shortcuts to more advertising.
To me, they've always been the scourge of the Android ecosystem and Google has taken another step to eliminate them.
Last Friday, Google released an update to their Developer's Policy, what stood out most for me was a couple of sections of the Content Policy (image below).
Basically they are looking to put the smackdown on ads with these aggressive behaviors such as displaying in notification bar, creating home screen and bookmark shortcuts for advertising purposes. Along with the annoying advertising tactics these libraries also require developers to request more permissions to functionality than the host app requires.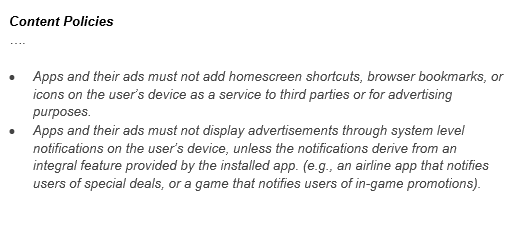 And it's about time.
Last year a change to their policy made it so developers needed to include a "Terms Agreement" notifying users this junk was bundled in the app. In my opinion, it wasn't good enough since some developers followed the policy and some skirted it.
So, this stuff was still rampant with more and more ad companies trying to skirt the policy.
Security companies and independent developers also took up the fight and began detecting apps that had these ad libraries bundled. Either by removing them or providing steps to remove.
Android malware gather the headlines and rightfully so, but adware is the biggest nuisance in the Play Store.
Most app developers utilize good practice and common sense when bundling an ad library, there are some reputable ones out there.
I understand that developers deserve to make money off their hard work, but interfering with the user experience isn't the way.
There are plenty of ad SDKs that do things the right way and also generate revenue.
Google might be walking a fine line here in making things more difficult for their advertising brethren, after all most of the Google's profits from Android likely come from advertising, but I see it as a win for the user experience.
Advertising is part of the mobile experience and we appreciate Google taking steps to corral its delivery.