"Welcome to the never ending fun! Unlimited games in just one click!
Games Desktop is a PC app that allows downloading the best rated games for FREE. Stop looking for free games on the internet; you have all of them wrapped just in one!"
As game related offers go, it sounds pretty good, right? I'm guessing many would be particularly excited by all the Super Mario imagery floating around in the splash image, too. This is a website offering up a game themed App located at
games-desktop(dot)com
Note that this file is also available in bundles, so you may not have to go looking for it specifically.
A brave new World of gaming apparently awaits, and all you have to do is download and install their awesome sounding App. Too good to be true? Let's check it out.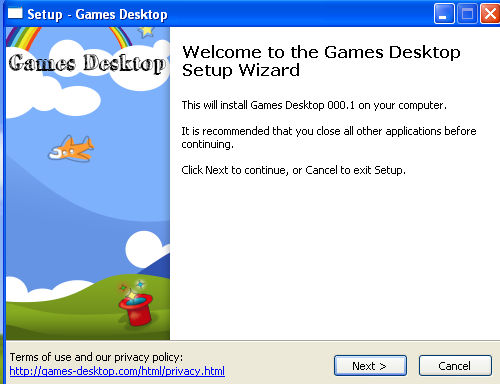 After a standard installation routine, we end up with what looks like an IM chatbox in the bottom right hand corner of the screen, with a short, scrollable "feed" of games listed:
The App lists a couple of attractive, big name titles – Garry's Mod, Plants Vs Zombies, Warcraft 3: Frozen Throne alongside a Solitaire title and, er, Sudoko. Clicking on the blurb under each entry pops an executable download, with the files all coming from a specific domain, cdn(dot)cloud4ads(dot)com: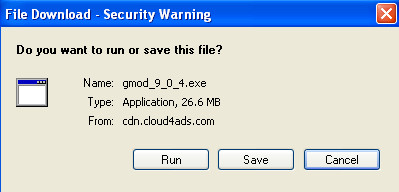 Unfortunately in testing, we didn't have much luck with the "big name" games. For anyone with an aversion to broken installers, you may want to look away now.
Here's Plants Vs Zombies: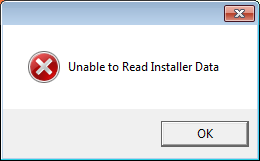 "Unable to read installer data"
We tried again, and what we got for our time and trouble was….a 60 minute shareware trial version.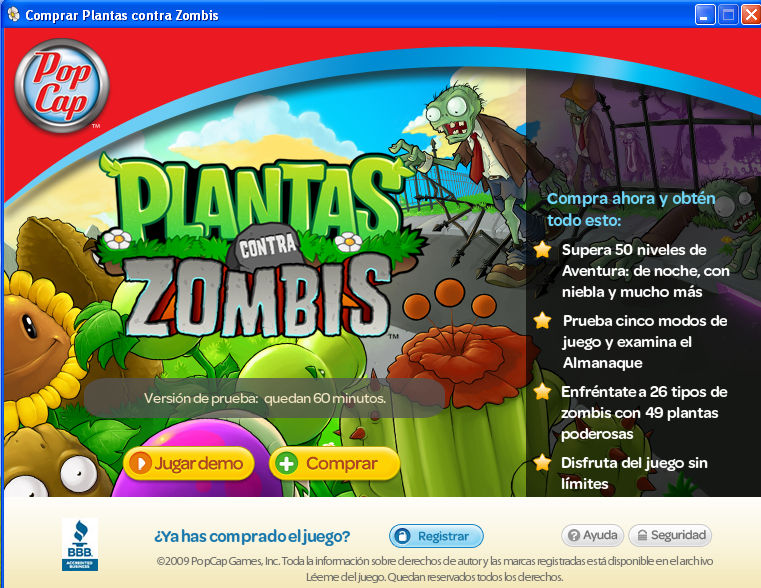 I'm summoning up the most sarcastic "Hooray" I can muster. Give me a few minutes.
Here's Garry's Mod (which is actually supposed to be a paid title, just like the desktop version of Plants Vs Zombies):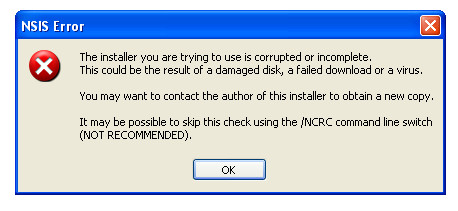 "The installer you are trying to use is corrupted or incomplete. This could be the result of a damaged disk, a failed download or a virus. You may want to contact the author of this installer to obtain a new copy."
We downloaded the file again and got a little bit further:
"No Steam installation detected! You MUST have Steam installed to use this mod AND you MUST have a LEGITIMATE version of Half-Life 2"
I'm not familiar with every version of Garry's Mod floating around out there, so it's possible this is an actual free edition of the Mod. However, given that your "Free" game now depends on running off, setting up a Steam account and buying a copy of Half-Life 2 for £6.99, you may need to revise your opinion of what "Free" actually means.
Here's the Warcraft file, which is particularly interesting:
"Blizzard PrePatch v2.70

An error has occured preparing the patch.

Blizzard PrePatch v2.70 compiled on Jul 7 2003

This program patches Warcraft 3″
Yes, it appears that this is just a patch file designed to update the main game. I haven't played Warcraft 3, but Frozen Throne (the game title mentioned in the app) is an expansion to the main game. I don't know if this patch would do anything with the game already installed, but so far we have a 60 minute trial, a Mod which requires additional accounts and purchases to play and a patch for an expansion of a game which you probably don't have installed.
This is not the "Unlimited games in just one click" I was hoping for.
Humorously, both Sudoko and Solitaire do load up though it's arguable if either of those are going to be the main draw for installing the App in the first place. The Solitaire game also pops a webpage asking for an email address to "Complete the installation", though the game played just fine without having to take this final step.
Users of Malwarebytes Anti-Malware will find we detect the initial installer as PUP.Optional.Tuto4PC.
Games are often used as a reason to download an App or installer; in this case, the thrill of seeing some popular titles offered up for "free" is quickly replaced by a sinking sensation of "The three reasons I probably downloaded this are all tinged with hoop jumping and payments" and a nagging feeling that you should read a very large Sudoko instruction manual.
Christopher Boyd (Thanks to Pieter for finding / additional research, and please check out our removal guide).