Online marketplaces such as Google Play and Apple's App Store have various checks in place to ensure rogue / fake apps don't slip through the cracks, but you can't stop them all.
Sure enough, here's one which came crashing into, er, number 105 with a vengeance:
Fallout 4 – Biohazard, priced at $6.99.
Fallout 4 is currently selling like digital hotcakes on console and PC, which makes it a prime target for scammers. The game actually had new DLC released today, so with the fresh attention being sent its way, it's no surprise apps like the above are winding their way onto digital storefronts. "Fallout 4 – Biohazard" is a now-pulled app which was most definitely not Fallout 4.
Here's the App page: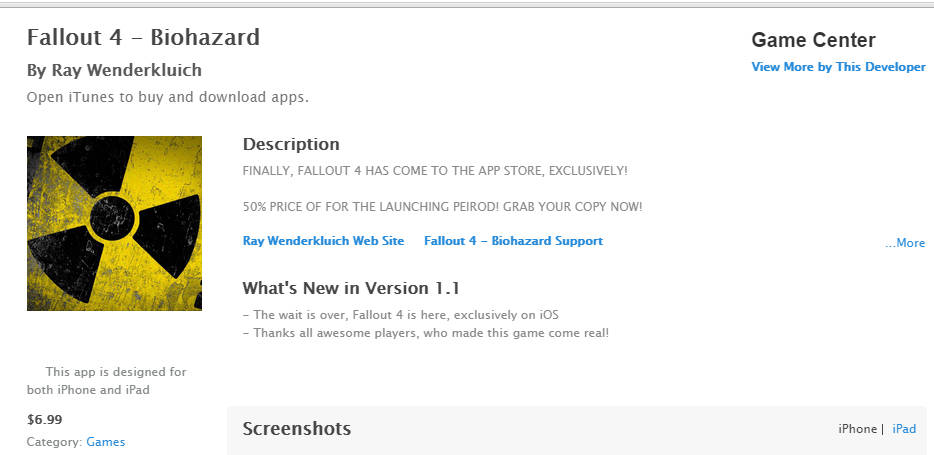 Description FINALLY, FALLOUT 4 HAS COME TO THE APP STORE, EXCLUSIVELY!

50% PRICE OF FOR THE LAUNCHING PEIROD! GRAB YOUR COPY NOW!

- The wait is over, Fallout 4 is here, exclusively on iOS - Thanks all awesome players, who made this game come real!
Note that the supposed screenshots are just wallpapers culled from across the web.
The reviews weren't particularly illuminating, with one of them clearly a drive-by spam post and the other seeming to think they were reviewing a dating app.
The bottom review seemed a little more informative, however:
I literally did not know that the app store would have this problem or games would either. This is the only way we get our apps and we can't even trust the app store anymore. Anyway the game is actually just a flappy bird looking game so stay away
Who would have thought Flappy Bird would wind its way into a post-apocalyptic wasteland?
Anyway, despite the app page listing its website as the official Fallout 4 URL (fallout4(dot)com) and the Developer's Help page as "Support", there were definitely some shenanigans taking place here. We can't say for sure what this app contained – Flappy Bird or otherwise – as it was offline by the time we heard about it, though the Reddit thread author claims to have read reviews stating it was "nothing but a picture of vintage TV static".
Curiously, whoever made this fake app decided to name themselves after an actual app developer, which I'm sure likely caused some headaches for the real thing along the way.
At one point according to Google Cache, the app was even listed for $119: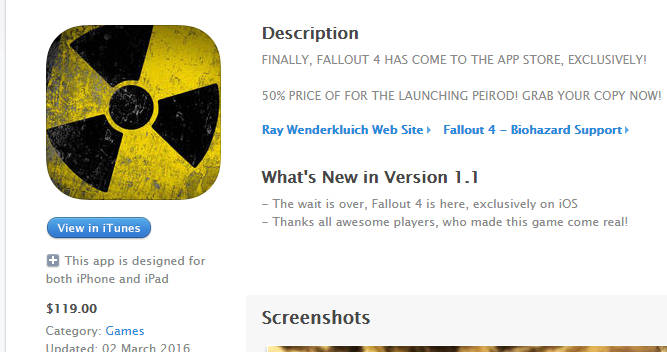 We also saw some app reviews on another site mentioning the app. Or rather, real reviews of the actual console / PC game, but with fake references to the iOS app dropped into the mix:
Bethesda's REAL entry into iOS gaming is awesome. Game of the month
Fallout 4 sets the new golden standard for iOS gaming experience
I also quite liked that elsewhere the scam waffle text refered to "Super Deluxe Pixels", but anyway.
Although many mentions of the app have now vanished, one site which still cited stats claimed it was downloaded 1,760 times. If that's correct, then the scammer could have made off with some serious cash to the tune of $6.99 a purchase. Given the app has now been pulled, one would assume refunds are winging their way back to anybody who fell for it.
Looking at various sites which collect information about apps and their developers, it seems that the person behind this was only focusing on their fake Fallout title with nothing else on offer. For what it's worth, the app was 12MB (or thereabouts) in size – in actuality, Fallout 4 on PC alone is around 26GB.
There's no way a title such as this is appearing on a mobile device anytime soon. In fact, that would likely be why there's a genuine Fallout themed game for phone and tablet – you're never going to get the main game on a handheld. Fake apps will always try and ride some coat-tails to a fast sale, and we need to ensure we do everything possible to hold on to our hard-earned cash. Many of these scams frequently target youngsters, but teens and adults aren't immune from scams aimed in their general direction.
One thing's for sure – you won't lead the Commonwealth to victory by handing scammers money, no matter how many settlements need your help…
Christopher Boyd