"Maria" (not her real name), a friend of mine based in the Philippines, received an SMS recently, that said:
I have important information I need to tell you. Please email me at turx4@outlook.com
The message came between 1 a.m. to 2 a.m. from a number belonging to a local telco company. Since the sender didn't introduce themselves, Maria assumed it had something to do with one of her job applications. Curious yet somewhat hesitant, she emailed this nameless sender using an anonymous account. Maria received the following reply in the afternoon: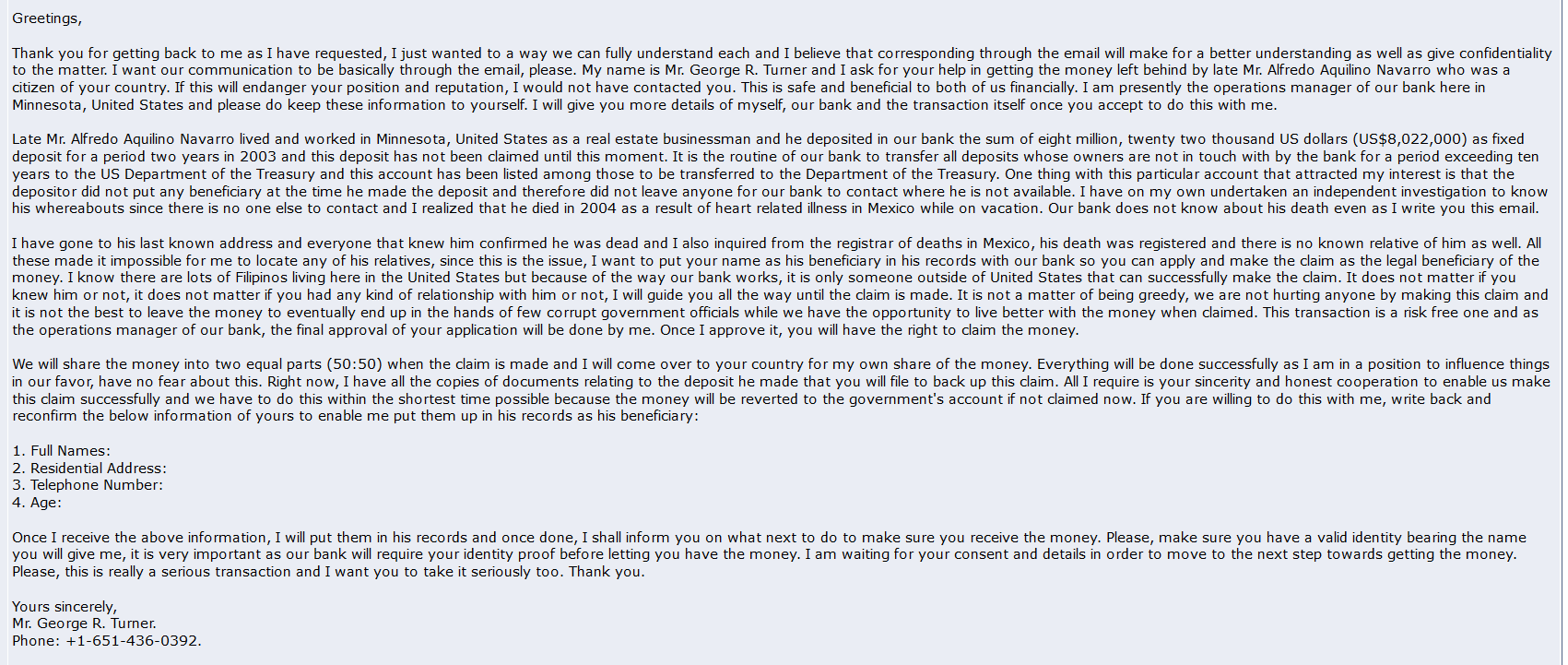 click to enlarge
Greetings, 

Thank you for getting back to me as I have requested, I just wanted to a way we can fully understand each and I  believe that corresponding through the email will make for a better understanding as well as give confidentiality to the matter. I want our communication to be basically through the email, please. My name is Mr. George R. Turner  and I ask for your help in getting the money left behind by late Mr. Alfredo Aquilino Navarro who was a citizen of your country. If this will endanger your position and reputation, I would not have contacted you. This is safe and  beneficial to both of us financially. I am presently the operations manager of our bank here in Minnesota, United States and please do keep these information to yourself. I will give you more details of myself, our bank and the transaction itself once you accept to do this with me. 

Late Mr. Alfredo Aquilino Navarro lived and worked in Minnesota, United States as a real estate businessman and he deposited in our bank the sum of eight million, twenty two thousand US dollars (US$8,022,000) as fixed deposit for a period two years in 2003 and this deposit has not been claimed until this moment. It is the routine of our bank to transfer all deposits whose owners are not in touch with by the bank for a period exceeding ten years to the US Department of the Treasury and this account has been listed among those to be transferred to the Department of the Treasury. One thing with this particular account that attracted my interest is that the depositor did not put any beneficiary at the time he made the deposit and therefore did not leave anyone for our bank to contact where he is not available. I have on my own undertaken an independent investigation to know his whereabouts since there is no one else to contact and I realized that he died in 2004 as a result of heart related illness in Mexico while on vacation. Our bank does not know about his death even as I write you this email. 

I have gone to his last known address and everyone that knew him confirmed he was dead and I also inquired from the registrar of deaths in Mexico, his death was registered and there is no known relative of him as well. All these made it impossible for me to locate any of his relatives, since this is the issue, I want to put your name as his beneficiary in his records with our bank so you can apply and make the claim as the legal beneficiary of the money. I know there are lots of Filipinos living here in the United States but because of the way our bank works, it is only someone outside of United States that can successfully make the claim. It does not matter if you knew him or not, it does not matter if you had any kind of relationship with him or not, I will guide you all the way until the claim is made. It is not a matter of being greedy, we are not hurting anyone by making this claim and it is not the best to leave the money to eventually end up in the hands of few corrupt government officials while we have the opportunity to live better with the money when claimed. This transaction is a risk free one and as the operations manager of our bank, the final approval of your application will be done by me. Once I approve it, you will have the right to claim the money. 

We will share the money into two equal parts (50:50) when the claim is made and I will come over to your country for my own share of the money. Everything will be done successfully as I am in a position to influence things in our favor, have no fear about this. Right now, I have all the copies of documents relating to the deposit he made that you will file to back up this claim. All I require is your sincerity and honest cooperation to enable us make this claim successfully and we have to do this within the shortest time possible because the money will be reverted to the government's account if not claimed now. If you are willing to do this with me, write back and reconfirm the below information of yours to enable me put them up in his records as his beneficiary: 

1. Full Names:  2. Residential Address:  3. Telephone Number:  4. Age: 

Once I receive the above information, I will put them in his records and once done, I shall inform you on what next to do to make sure you receive the money. Please, make sure you have a valid identity bearing the name you will give me, it is very important as our bank will require your identity proof before letting you have the money. I am waiting for your consent and details in order to move to the next step towards getting the money. Please, this is really a serious transaction and I want you to take it seriously too. Thank you. 

Yours sincerely,  Mr. George R. Turner.  Phone: +1-651-436-0392.
We did a quick Google search and, lo and behold, this wasn't the first time Mr. Turner is sending out SMSs and emails to random individuals in countries within Southeast Asia, asking for their personal information in exchange for millions of dollars.
The earliest reported appearance of Mr. Turner as a scammer was in November 2015. Digging a little deeper, we also found several reports of dubious emails containing very similar text but with varying names of the deceased in question, place and date of death, and the sender details. These are known signs of a classic 419 scam.
---
Ever wondered where the "419" came from? It came from "Article 419" of the Nigerian Criminal Code, a section of law that outlaws fraud.
419 scams are classified as advance-fee scams or confidence schemes.
---
Luckily, Maria knew about this type of scam before becoming a target herself. Most Internet users may only get to know about this when they do a search online or when they've already fallen victim.
Some might argue that only naive and gullible people fall for 419 scams; however, a 2014 report [PDF] published by Ultrascan AGI, an international research organization, has revealed that "high-achieving professionals are the most likely to be defrauded".
To date, a total of $80 billion has been lost to fraudsters. In 2013 alone, victims have handed over $12.7 billion to fake job offers, fake inheritance from long-lost relatives, and fake friend requests for financial assistance among others.
What most of us probably don't know is that 419 scams can escalate to more dangerous scenarios, such as:
Revictimization, wherein scammers would pose as a "recovery agency" asking for an up-front fee in order to supposedly recover the victim's lost money once he/she realizes that they have been scammed
Kidnapping for ransom and/or Death, wherein scammers, after inviting the target to travel to Nigeria or South Africa to "close the deal", gets physical when he/she refuses to pay more "fees" and wants out. There are known real-life cases of such incidents: a Romanian businessman was kidnapped in 1999 and held for a half a million dollar ransom but later rescued by police; a Japanese businessman escaped his captors without serious injury after being forced to call his son to give the ransom; the burnt body of a 29-year old Greek male was found in Johannesburg after a ransom demand of £80,000 from the scammers wasn't paid by his brother; a Norwegian national and businessman was also murdered in South Africa with evidence in his hotel room pointing to his involvement with the Nigerian mafia.
You can read more stories retold by victims on this Crimes of Persuasion page.
Continuously educating Internet users about 419 scams is as important as getting up to date with the latest threats on the Web. Such scams may be as old as the hills, but they persist up to this day because people, no matter how smart, continue to fall for them. IT or system admins in businesses, most especially, should alert their users about this and other existing scams targeting their industry.
Helpful link(s):
Jovi Umawing