Last spring, we found yet another piece of riskware on Google Play we call Android/PUP.Riskware.FakeGift. Based on Hindi characters found in the code, we can assume it originates from India. With over 50,000 installs before being removed from Google Play, FakeGift apparently kept on giving—frustration to its users, that is.
Gift cash money
As the name implies, FakeGift offers just that—fake gifts. Admittedly, it does so in a kind of fun way. Here's how it works: Every day you are given 10 free "gifts." As shown below, after the opening splash screen, the home page displays a gift box.
Press the gift box and you'll receive a "gift" in rupees. The amount of rupees gifted is random. The gifted amount is then added to a balance found in the upper right part of the screen.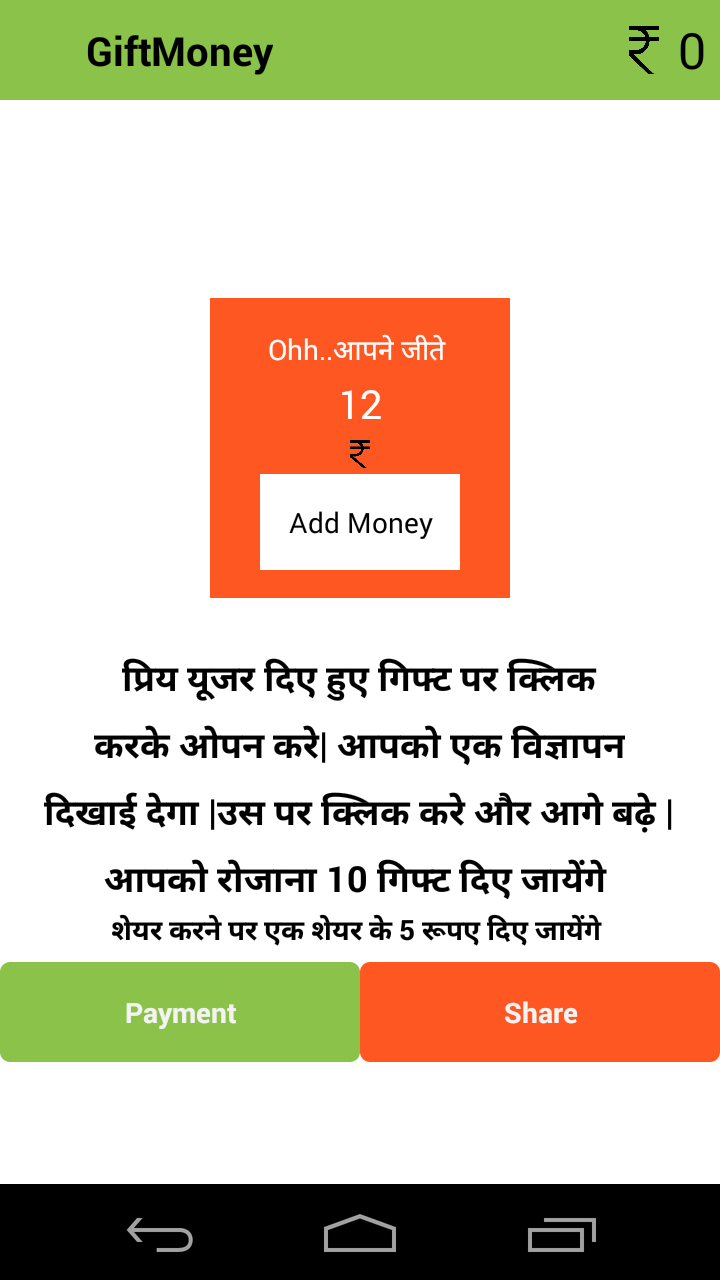 After pressing the gift box 10 times, it will let you know you're done for the day—even after closing and reopening.
You can also accumulate rupees by pressing "Share," which redirects you to WhatsApp. Note that if you don't have Whatsapp, it just gives an error message stating, "Whatsapp not installed on this device." Once in Whatsapp, simply pick a victim…er…friend to send a message. In Hindi, the message says:
सभी स्मार्टफोन यूजर ध्यान दे 📱📱📱ऑनलाइन पैसे 💰कमाने का एक बहुत ही सुनहरा अवसर हैं आपके पास, "इसे एक बार जरूर पढ़े"| 👇👇👇👇👇 🎁🎁🎁 गिफ्ट मनी में आपका स्वागत हैं🎁🎁🎁गिफ्ट मनी दे रहा हैं पैसे कमाने का एक सुनहरा मौका गिफ्ट खोले और पैसा कमाए | गिफ्ट मनी अप्प में आप रोजाना 400-500 रूपए आसानी से कमा सकते हो | महीने के 15000 से 20000 रूपए आपकी इनकम हो सकती हैं | दोस्तों आपको 1 दिन में 10 गिफ्ट मिलेंगे उन गिफ्ट को आपको खोलना हैं आपके लक के अनुसार गिफ्ट में कितने भी रूपए निकल सकते हैं और गिफ्ट मनी आपको फ्री में गिफ्ट नहीं दे रहा हैं आपको रोजाना अप्प में 10 मिनट का वर्क करना हैं उसी के पैसे आपको दे रहा हैं तो दोस्तों पैसे कमाने के इस अच्छे मोके को गवांये नहीं और अभी डाउनलोड करे और वर्क स्टार्ट कर दे| Download this link
Rough translation using Google Translate:
All Smartphone users pay attention 📱📱📱 Online money is a great opportunity to make money, "You must read it once." 👇👇👇👇👇 में Welcome to Gift MoneyGift Money is giving you a golden opportunity to earn money, open gifts and earn money. You can easily earn 400-500 rupees per day in the Gift Money App. You can earn from 15,000 to 20000 rupees a month. Friends, you will get 10 gifts in 1 day, you have to open those gifts according to your luck, how many rupees can get in the gift and gift gift is not giving you a free gift. You have to work 10 minutes daily in the work of the money If you are giving it, then guys do not miss this good thing to earn money and download it now and start work. Download this link
Every WhatsApp message sent is an additional 10 rupees.
FakeGift, the gift that keeps on giving…absolutely nothing
After accumulating some rupees, you can then press "Payment" from the home screen to redeem. As shown below, you have three payment options.
Picking PayPal, it pops up this message.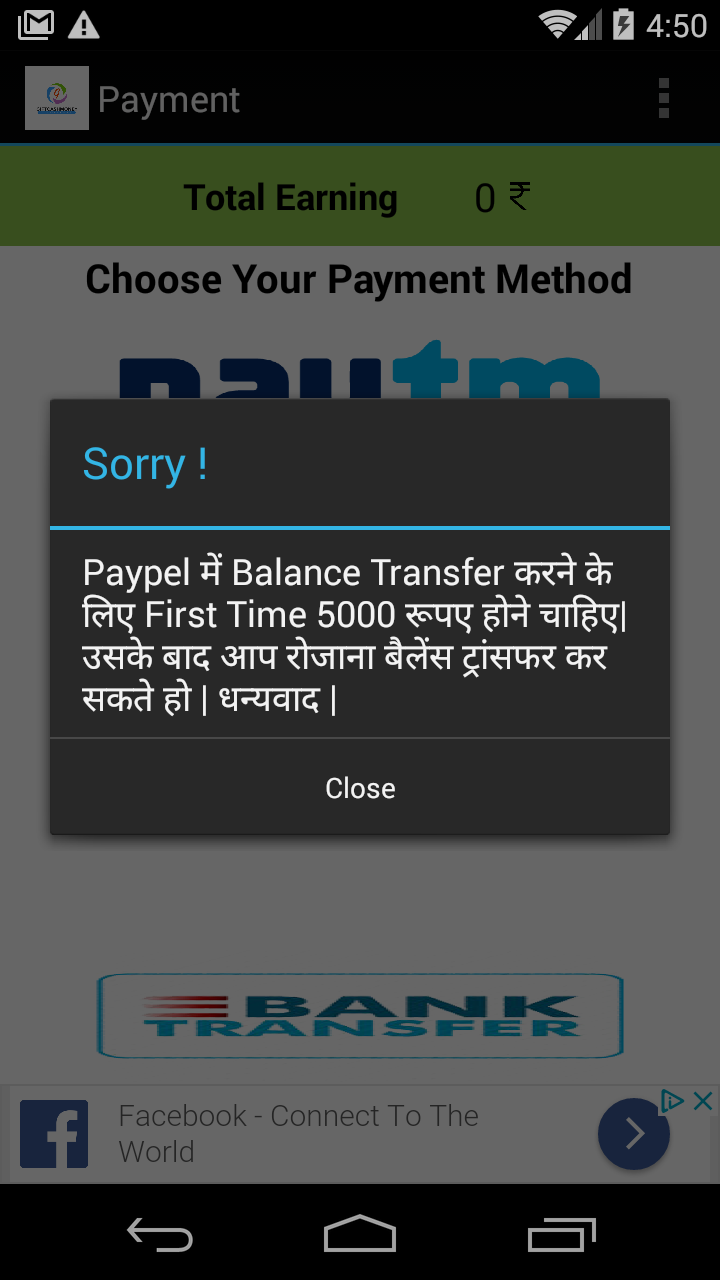 Translation: For Balance Transfer in Paypel First Time should be 5000 rupees. After that you can transfer the balance daily. Thank you.
Here's where it gets shady. After you accumulate the required 5,000 rupees, you still can't transfer the money. Angry Google Play reviews show the disappointment.
One review (very) roughly translates to, "The money has to be 5000 every time you are cutting money and not being added, this is a fake app. Friends, do not waste your time."
The fun ends
Although fun at first, the realization that there's no award at the end turns fun into frustration. For many, this comes only after sharing with multiple friends via WhatsApp. Using this method, the app was able to gain over 50,000 installs. Also, another variant was found using a different name, but playing the same game. It also received around 50,000 installs. The good news is the only damage done is wasted time and nothing worse. Stay safe out there!