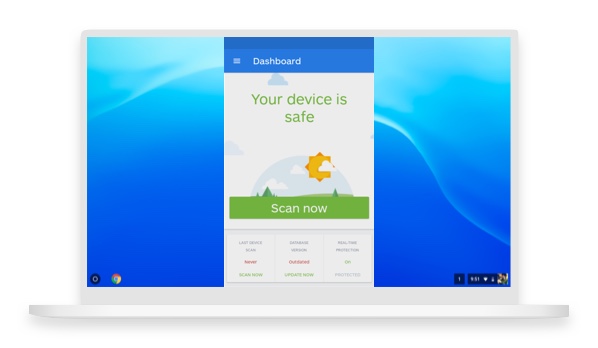 One good app to crush all the bad apps
Because your Chromebook runs Android apps it is vulnerable to the same threats you face on your phone. Threats like malicious apps, adware, and potentially unwanted programs. With this in mind, we've taken the world-famous Malwarebytes security and engineered it for your Chromebook.
Finds and removes adware and malware
Aggressively targets adware, spyware, potentially unwanted programs (PUPs), and browser hijackers with technology specially engineered to remove these threats.
Conducts privacy audit for all apps
Identifies the access privileges of every app on your Chromebook so you know exactly what information you're sharing. Keep tabs on which apps can track your location or can read your personal information.
Want a safer and faster
web browsing experience?
We recommend adding our free Malwarebytes Browser Guard extension for faster page loading and protection against risky sites, such as phishing and tech support scams.
Tech specs
Supported operating systems
Malwarebytes for Chromebook is only available for Chromebooks that can install apps from the Google Play Store.
Dutch, English, French, German, Italian, Polish, Portuguese, Russian, Spanish