Make your Mac
stronger
Proven Malwarebytes technology crushes the growing threat of Mac malware. So you are protected and your machine keeps running silky smooth. Finally, cybersecurity smart enough for the Mac.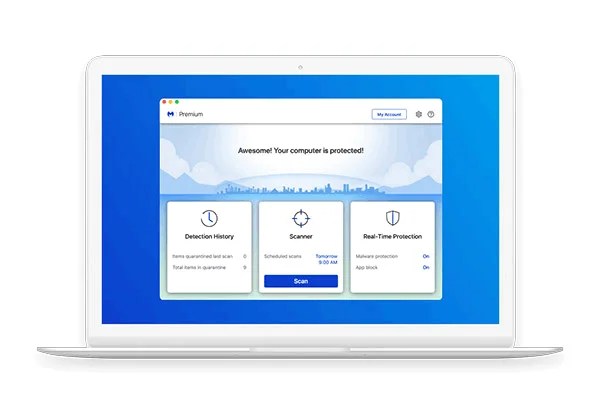 Protects you from Mac threats
Detects and removes viruses, ransomware, and other malware in real time with advanced anti-malware technology. Catches dangerous threats automatically, so you're protected without having to even think about it.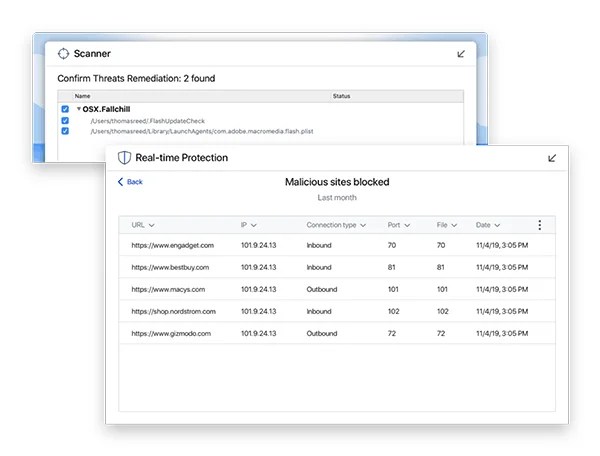 Removes adware and unwanted programs
Crushes adware and potentially unwanted programs that slow your Mac. Your Mac experience will remain clean and pristine.
Scans Mac-fast
Scans the average Mac in under 30 seconds. Run the malware scanner in the background while you boot up your favorite game and it's done by the time you're ready to play. You can even customize your scans to run when you're not using your Mac at all, at any day, at any time.
Light and lean
Only the size of three digital music files. That means more disk space for your movies, music, and apps.




Stops unwanted apps
Blocks applications from developers who are known to release unwanted software like malware, PUPs, or adware. App Block outsmarts developers who try to bypass security by releasing a slightly different version of their app. Learn more
Active protection or
simple disinfection?
Download Malwarebytes for Mac (the free version) and you get a 14-day trial of the premium version with automatic (real-time) virus and malware protection. After 14 days, your trial reverts to a limited disinfection scanner. Buy the premium version now to prevent infection in the first place.
Triple your protection with
Malwarebytes
Premium + Privacy VPN bundle
Get total protection with smart antivirus, cleaner web and next-gen VPN to protect
your online privacy. Go beyond just online privacy. Get your bundle today.
3 device
$59.99 billed annually
1 device
$79.99 $59.99 billed annually
Limited time Offer
Expires July 6th
5 device
$99.99 billed annually
Includes the following features
Malwarebytes Premium
Advanced antivirus, anti-malware, anti-spyware & more
Malicious links/websites & phishing protection*
Ransomware and zero-day exploits protection*
Monthly health reports for your peace of mind
Malwarebytes Browser Guard
Removes annoying ads that follow you around
Blocks third-party ad trackers that tracks your data
Helps protect against tech support and online scams
Blocks malicious web pages, stops in-browser cryptojackers
Malwarebytes Privacy
Next-gen, no-log VPN to protect your online digital footprint
Wi-Fi security to protect your sensative information
One-click, intuitive UI to manage your online privacy
380+ servers in 30+ countries
FREE

PREMIUM

Cleans infected Mac

Prevents Mac virus, spyware, and malware infections
Expires after 14 days
Proactively blocks adware and unwanted programs

Expires after 14 days

Scans can be scheduled to run at any time
Expires after 14 days

Updates to the latest Malwarebytes protection automatically
Expires after 14 days

Blocks apps from developers of unwanted software
Expires after 14 days
Take a look inside
Don't take our word for it
"As the top Apple tutorialist on YouTube, Malwarebytes for Mac is one of very few pieces of software that I recommend to ALL Mac users."
"The scan literally (I'm not even lying) took less than five seconds to find the malware! No doubt the best malware-removing software I've ever used, and I've used many in the past. Whoever made this software needs to be given a Nobel prize."
"I have been surprised at the number of "sleeper" viruses that have sneaked into my computer, despite my vigilant attempts to avoid suspicious sites. And I must compliment Malwarebytes for 100% sensitivity for picking up these invasions and keeping my mac safe."
Tech specs
macOS 10.12 (or higher)
Active Internet connection for protection and
product updates
Any hardware capable of running macOS 10.12 is
able to run the Malwarebytes software

English, French, German, Spanish, Portuguese
Brazilian, Italian, Dutch, Swedish, Danish,
Norwegian, Polish and Russian

Want to stop your next infection?
Buy Malwarebytes for Mac Premium or take it for a spin for 14 days free. Up to you.