Adware.BrowserIO
Short bio
Adware.BrowserIO is Malwarebytes' detection name for a large family of installers that install many kinds of adware and potentially unwanted programs (PUPs) on Windows systems.
Symptoms
If Adware.BrowserIO has been run users may notice various methods of browser hijackes like:
changed startpage
changed newtab
search hijacks
Type and source of infection
Adware.BrowserIO is usually installed by users themselves due to aggressive and misleading advertising because they are promoted as useful additional browser extensions for a specific subject (f.e. file converters).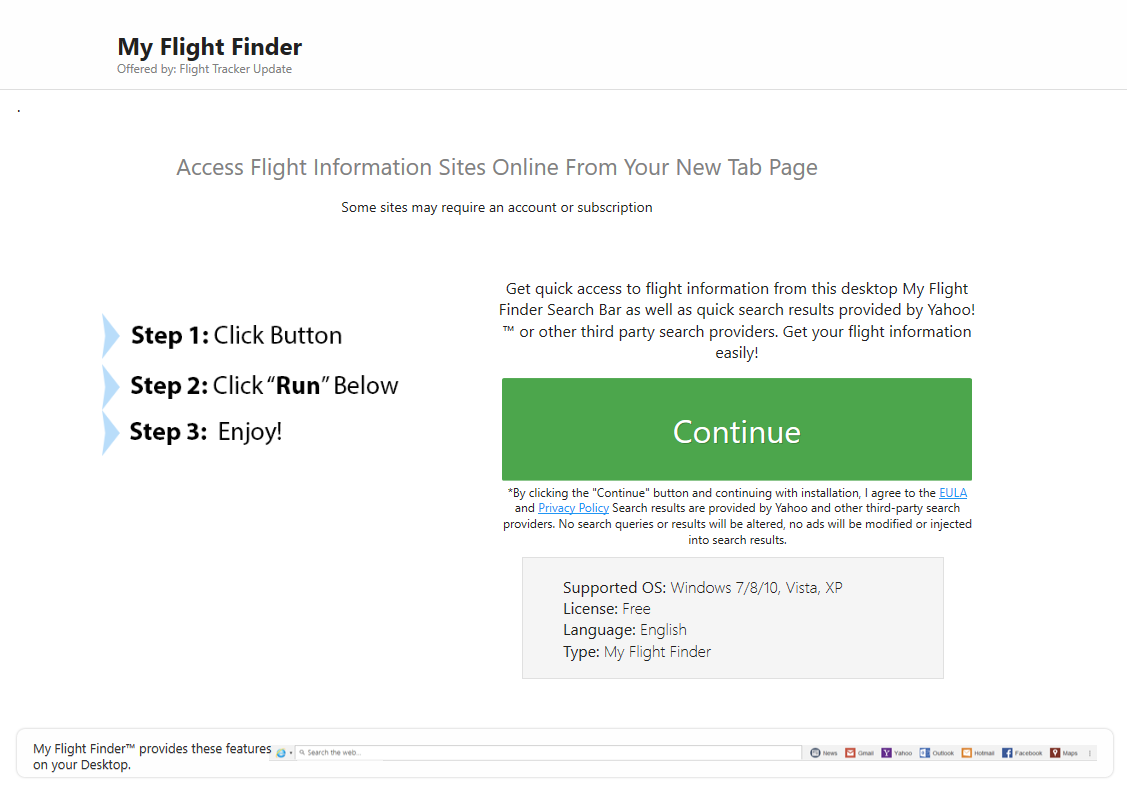 Protection
Remediation
Malwarebytes can detect and remove Adware.BrowserIO without further user interaction.
Please download Malwarebytes to your desktop.
Double-click MBSetup.exe and follow the prompts to install the program.
When your Malwarebytes for Windows installation completes, the program opens to the Welcome to Malwarebytes screen.
Click on the Get started button.
Click Scan to start a Threat Scan.
Click Quarantine to remove the found threats.
Reboot the system if prompted to complete the removal process.
Malwarebytes removal log
A Malwarebytes log of removal will look similar to this:
Malwarebytes
www.malwarebytes.com
-Log Details-
Scan Date: 10/24/19
Scan Time: 1:53 PM
Log File: f35924ee-f654-11e9-a22d-00ffdcc6fdfc.json

-Software Information-
Version: 3.8.3.2965
Components Version: 1.0.629
Update Package Version: 1.0.13047
License: Premium

-System Information-
OS: Windows 7 Service Pack 1
CPU: x64
File System: NTFS
User: {computername}\{username}

-Scan Summary-
Scan Type: Threat Scan
Scan Initiated By: Manual
Result: Completed
Objects Scanned: 234402
Threats Detected: 44
Threats Quarantined: 44
Time Elapsed: 18 min, 46 sec

-Scan Options-
Memory: Enabled
Startup: Enabled
Filesystem: Enabled
Archives: Enabled
Rootkits: Enabled
Heuristics: Enabled
PUP: Detect
PUM: Detect

-Scan Details-
Process: 0
(No malicious items detected)

Module: 0
(No malicious items detected)

Registry Key: 2
PUP.Optional.Spigot.Generic, HKCU\SOFTWARE\MICROSOFT\INTERNET EXPLORER\SEARCHSCOPES\{4A223147-F24A-49C7-9BCA-1AE261B1E0D5}, Quarantined, [209], [368913],1.0.13047
PUP.Optional.Spigot, HKCU\SOFTWARE\MICROSOFT\WINDOWS\CURRENTVERSION\UNINSTALL\{28e56cfb-e30e-4f66-85d8-339885b726b8}, Quarantined, [158], [373879],1.0.13047

Registry Value: 2
PUP.Optional.Spigot.Generic, HKCU\SOFTWARE\MICROSOFT\INTERNET EXPLORER\SEARCHSCOPES\{4A223147-F24A-49C7-9BCA-1AE261B1E0D5}|URL, Quarantined, [209], [368913],1.0.13047
PUP.Optional.Spigot.Generic, HKCU\SOFTWARE\GOOGLE\CHROME\PREFERENCEMACS\Default\extensions.settings|jcojppmbommbjimpoopbbgpkjbemnafa, Quarantined, [209], [752296],1.0.13047

Registry Data: 1
PUP.Optional.Spigot.Generic, HKCU\SOFTWARE\MICROSOFT\INTERNET EXPLORER\MAIN|START PAGE, Replaced, [209], [613267],1.0.13047

Data Stream: 0
(No malicious items detected)

Folder: 11
PUP.Optional.Spigot, C:\USERS\{username}\APPDATA\ROAMING\{28E56CFB-E30E-4F66-85D8-339885B726B8}, Quarantined, [158], [373878],1.0.13047
PUP.Optional.Spigot.Generic, C:\USERS\{username}\APPDATA\LOCAL\GOOGLE\CHROME\USER DATA\Default\Extensions\jcojppmbommbjimpoopbbgpkjbemnafa, Quarantined, [209], [752296],1.0.13047
PUP.Optional.Spigot.Generic, C:\USERS\{username}\APPDATA\LOCAL\GOOGLE\CHROME\USER DATA\Default\Sync Extension Settings\jcojppmbommbjimpoopbbgpkjbemnafa, Quarantined, [209], [752296],1.0.13047
PUP.Optional.Spigot.Generic, C:\Users\{username}\AppData\Local\Google\Chrome\User Data\Default\Extensions\jcojppmbommbjimpoopbbgpkjbemnafa\1.1_0\html\bAction, Quarantined, [209], [752296],1.0.13047
PUP.Optional.Spigot.Generic, C:\Users\{username}\AppData\Local\Google\Chrome\User Data\Default\Extensions\jcojppmbommbjimpoopbbgpkjbemnafa\1.1_0\_locales\en, Quarantined, [209], [752296],1.0.13047
PUP.Optional.Spigot.Generic, C:\Users\{username}\AppData\Local\Google\Chrome\User Data\Default\Extensions\jcojppmbommbjimpoopbbgpkjbemnafa\1.1_0\newtabhtml, Quarantined, [209], [752296],1.0.13047
PUP.Optional.Spigot.Generic, C:\Users\{username}\AppData\Local\Google\Chrome\User Data\Default\Extensions\jcojppmbommbjimpoopbbgpkjbemnafa\1.1_0\_metadata, Quarantined, [209], [752296],1.0.13047
PUP.Optional.Spigot.Generic, C:\Users\{username}\AppData\Local\Google\Chrome\User Data\Default\Extensions\jcojppmbommbjimpoopbbgpkjbemnafa\1.1_0\_locales, Quarantined, [209], [752296],1.0.13047
PUP.Optional.Spigot.Generic, C:\Users\{username}\AppData\Local\Google\Chrome\User Data\Default\Extensions\jcojppmbommbjimpoopbbgpkjbemnafa\1.1_0\html, Quarantined, [209], [752296],1.0.13047
PUP.Optional.Spigot.Generic, C:\Users\{username}\AppData\Local\Google\Chrome\User Data\Default\Extensions\jcojppmbommbjimpoopbbgpkjbemnafa\1.1_0\js, Quarantined, [209], [752296],1.0.13047
PUP.Optional.Spigot.Generic, C:\USERS\{username}\APPDATA\LOCAL\GOOGLE\CHROME\USER DATA\DEFAULT\EXTENSIONS\JCOJPPMBOMMBJIMPOOPBBGPKJBEMNAFA\1.1_0, Quarantined, [209], [752296],1.0.13047

File: 28
PUP.Optional.Spigot, C:\Users\{username}\AppData\Roaming\{28e56cfb-e30e-4f66-85d8-339885b726b8}\Uninstall.exe, Quarantined, [158], [373878],1.0.13047
PUP.Optional.Spigot.Generic, C:\Users\{username}\AppData\Local\Google\Chrome\User Data\Default\Sync Extension Settings\jcojppmbommbjimpoopbbgpkjbemnafa\000003.log, Quarantined, [209], [752296],1.0.13047
PUP.Optional.Spigot.Generic, C:\Users\{username}\AppData\Local\Google\Chrome\User Data\Default\Sync Extension Settings\jcojppmbommbjimpoopbbgpkjbemnafa\CURRENT, Quarantined, [209], [752296],1.0.13047
PUP.Optional.Spigot.Generic, C:\Users\{username}\AppData\Local\Google\Chrome\User Data\Default\Sync Extension Settings\jcojppmbommbjimpoopbbgpkjbemnafa\LOCK, Quarantined, [209], [752296],1.0.13047
PUP.Optional.Spigot.Generic, C:\Users\{username}\AppData\Local\Google\Chrome\User Data\Default\Sync Extension Settings\jcojppmbommbjimpoopbbgpkjbemnafa\LOG, Quarantined, [209], [752296],1.0.13047
PUP.Optional.Spigot.Generic, C:\Users\{username}\AppData\Local\Google\Chrome\User Data\Default\Sync Extension Settings\jcojppmbommbjimpoopbbgpkjbemnafa\LOG.old, Quarantined, [209], [752296],1.0.13047
PUP.Optional.Spigot.Generic, C:\Users\{username}\AppData\Local\Google\Chrome\User Data\Default\Sync Extension Settings\jcojppmbommbjimpoopbbgpkjbemnafa\MANIFEST-000001, Quarantined, [209], [752296],1.0.13047
PUP.Optional.Spigot.Generic, C:\USERS\{username}\APPDATA\LOCAL\GOOGLE\CHROME\USER DATA\Default\Secure Preferences, Replaced, [209], [752296],1.0.13047
PUP.Optional.Spigot.Generic, C:\USERS\{username}\APPDATA\LOCAL\GOOGLE\CHROME\USER DATA\Default\Preferences, Replaced, [209], [752296],1.0.13047
PUP.Optional.Spigot.Generic, C:\USERS\{username}\APPDATA\LOCAL\GOOGLE\CHROME\USER DATA\DEFAULT\EXTENSIONS\JCOJPPMBOMMBJIMPOOPBBGPKJBEMNAFA\1.1_0\JS\DAILYFEATURE.JS, Quarantined, [209], [752296],1.0.13047
PUP.Optional.Spigot.Generic, C:\Users\{username}\AppData\Local\Google\Chrome\User Data\Default\Extensions\jcojppmbommbjimpoopbbgpkjbemnafa\1.1_0\html\bAction\about.html, Quarantined, [209], [752296],1.0.13047
PUP.Optional.Spigot.Generic, C:\Users\{username}\AppData\Local\Google\Chrome\User Data\Default\Extensions\jcojppmbommbjimpoopbbgpkjbemnafa\1.1_0\html\bAction\newtabpage.html, Quarantined, [209], [752296],1.0.13047
PUP.Optional.Spigot.Generic, C:\Users\{username}\AppData\Local\Google\Chrome\User Data\Default\Extensions\jcojppmbommbjimpoopbbgpkjbemnafa\1.1_0\js\browseraction.js, Quarantined, [209], [752296],1.0.13047
PUP.Optional.Spigot.Generic, C:\Users\{username}\AppData\Local\Google\Chrome\User Data\Default\Extensions\jcojppmbommbjimpoopbbgpkjbemnafa\1.1_0\js\config.js, Quarantined, [209], [752296],1.0.13047
PUP.Optional.Spigot.Generic, C:\Users\{username}\AppData\Local\Google\Chrome\User Data\Default\Extensions\jcojppmbommbjimpoopbbgpkjbemnafa\1.1_0\js\diagnostic.js, Quarantined, [209], [752296],1.0.13047
PUP.Optional.Spigot.Generic, C:\Users\{username}\AppData\Local\Google\Chrome\User Data\Default\Extensions\jcojppmbommbjimpoopbbgpkjbemnafa\1.1_0\js\log.js, Quarantined, [209], [752296],1.0.13047
PUP.Optional.Spigot.Generic, C:\Users\{username}\AppData\Local\Google\Chrome\User Data\Default\Extensions\jcojppmbommbjimpoopbbgpkjbemnafa\1.1_0\js\newTab.js, Quarantined, [209], [752296],1.0.13047
PUP.Optional.Spigot.Generic, C:\Users\{username}\AppData\Local\Google\Chrome\User Data\Default\Extensions\jcojppmbommbjimpoopbbgpkjbemnafa\1.1_0\js\search.js, Quarantined, [209], [752296],1.0.13047
PUP.Optional.Spigot.Generic, C:\Users\{username}\AppData\Local\Google\Chrome\User Data\Default\Extensions\jcojppmbommbjimpoopbbgpkjbemnafa\1.1_0\js\store.js, Quarantined, [209], [752296],1.0.13047
PUP.Optional.Spigot.Generic, C:\Users\{username}\AppData\Local\Google\Chrome\User Data\Default\Extensions\jcojppmbommbjimpoopbbgpkjbemnafa\1.1_0\js\utility.js, Quarantined, [209], [752296],1.0.13047
PUP.Optional.Spigot.Generic, C:\Users\{username}\AppData\Local\Google\Chrome\User Data\Default\Extensions\jcojppmbommbjimpoopbbgpkjbemnafa\1.1_0\newtabhtml\newtabpage.html, Quarantined, [209], [752296],1.0.13047
PUP.Optional.Spigot.Generic, C:\Users\{username}\AppData\Local\Google\Chrome\User Data\Default\Extensions\jcojppmbommbjimpoopbbgpkjbemnafa\1.1_0\_locales\en\messages.json, Quarantined, [209], [752296],1.0.13047
PUP.Optional.Spigot.Generic, C:\Users\{username}\AppData\Local\Google\Chrome\User Data\Default\Extensions\jcojppmbommbjimpoopbbgpkjbemnafa\1.1_0\_metadata\computed_hashes.json, Quarantined, [209], [752296],1.0.13047
PUP.Optional.Spigot.Generic, C:\Users\{username}\AppData\Local\Google\Chrome\User Data\Default\Extensions\jcojppmbommbjimpoopbbgpkjbemnafa\1.1_0\_metadata\verified_contents.json, Quarantined, [209], [752296],1.0.13047
PUP.Optional.Spigot.Generic, C:\Users\{username}\AppData\Local\Google\Chrome\User Data\Default\Extensions\jcojppmbommbjimpoopbbgpkjbemnafa\1.1_0\central.js, Quarantined, [209], [752296],1.0.13047
PUP.Optional.Spigot.Generic, C:\Users\{username}\AppData\Local\Google\Chrome\User Data\Default\Extensions\jcojppmbommbjimpoopbbgpkjbemnafa\1.1_0\icon.png, Quarantined, [209], [752296],1.0.13047
PUP.Optional.Spigot.Generic, C:\Users\{username}\AppData\Local\Google\Chrome\User Data\Default\Extensions\jcojppmbommbjimpoopbbgpkjbemnafa\1.1_0\manifest.json, Quarantined, [209], [752296],1.0.13047
Adware.BrowserIO, C:\USERS\{username}\DOWNLOADS\MYFLIGHTFINDER-26321233.EXE, Quarantined, [738], [661366],1.0.13047

Physical Sector: 0
(No malicious items detected)

WMI: 0
(No malicious items detected)


(end)
Traces/IOCs
Publishers:
Better Cloud Solutions LTD
SpringTech Ltd
Polarity Technologies Ltd
Associated threats