Adware.Cmptch
Short bio
Adware.Cmptch is Malwarebytes generic detection name for a family of adware targeting Windows systems.
Type and source of infection
Adware.Cmptch are Chrome and Firefox extensions that show advertisements fetched from the domain cmptch.com. It is usually installed by bundlers.
Protection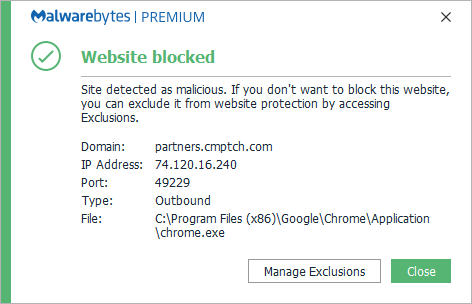 Remediation
Malwarebytes can detect and remove Adware.Cmptch without further user interaction.
Please download Malwarebytes to your desktop.
Double-click MBSetup.exe and follow the prompts to install the program.
When your Malwarebytes for Windows installation completes, the program opens to the Welcome to Malwarebytes screen.
Click on the Get started button.
Click Scan to start a Threat Scan.
Click Quarantine to remove the found threats.
Reboot the system if prompted to complete the removal process.
Malwarebytes removal log
A Malwarebytes log of removal will look similar to this:
Malwarebytes
www.malwarebytes.com
-Log Details-
Scan Date: 3/28/18
Scan Time: 4:05 PM
Log File: 15b1a324-3291-11e8-b59f-080027235d76.json
Administrator: Yes

-Software Information-
Version: 3.3.1.2183
Components Version: 1.0.262
Update Package Version: 1.0.4522
License: Premium

-System Information-
OS: Windows 7 Service Pack 1
CPU: x64
File System: NTFS
User: {computername}\{username}

-Scan Summary-
Scan Type: Threat Scan
Result: Completed
Objects Scanned: 244698
Threats Detected: 162
Threats Quarantined: 162
Time Elapsed: 5 min, 51 sec

-Scan Options-
Memory: Enabled
Startup: Enabled
Filesystem: Enabled
Archives: Enabled
Rootkits: Enabled
Heuristics: Enabled
PUP: Detect
PUM: Detect

-Scan Details-
Process: 0
(No malicious items detected)

Module: 0
(No malicious items detected)

Registry Key: 0
(No malicious items detected)

Registry Value: 0
(No malicious items detected)

Registry Data: 0
(No malicious items detected)

Data Stream: 0
(No malicious items detected)

Folder: 19
Adware.Cmptch.Generic, C:\Users\{username}\AppData\Local\Google\Chrome\User Data\Default\Local Extension Settings\gcddnkpnineojbpkngblgamaciopbama, Delete-on-Reboot, [14662], [504607],1.0.4522
Adware.Cmptch.Generic, C:\Users\{username}\AppData\Local\Google\Chrome\User Data\Default\Extensions\gcddnkpnineojbpkngblgamaciopbama\1.0.18.221_0\dist\vendor\jquery\images, Delete-on-Reboot, [14662], [504607],1.0.4522
Adware.Cmptch.Generic, C:\Users\{username}\AppData\Local\Google\Chrome\User Data\Default\Extensions\gcddnkpnineojbpkngblgamaciopbama\1.0.18.221_0\dist\font-awesome\fonts, Delete-on-Reboot, [14662], [504607],1.0.4522
Adware.Cmptch.Generic, C:\Users\{username}\AppData\Local\Google\Chrome\User Data\Default\Extensions\gcddnkpnineojbpkngblgamaciopbama\1.0.18.221_0\dist\font-awesome\less, Delete-on-Reboot, [14662], [504607],1.0.4522
Adware.Cmptch.Generic, C:\Users\{username}\AppData\Local\Google\Chrome\User Data\Default\Extensions\gcddnkpnineojbpkngblgamaciopbama\1.0.18.221_0\dist\font-awesome\scss, Delete-on-Reboot, [14662], [504607],1.0.4522
Adware.Cmptch.Generic, C:\Users\{username}\AppData\Local\Google\Chrome\User Data\Default\Extensions\gcddnkpnineojbpkngblgamaciopbama\1.0.18.221_0\dist\font-awesome\css, Delete-on-Reboot, [14662], [504607],1.0.4522
Adware.Cmptch.Generic, C:\Users\{username}\AppData\Local\Google\Chrome\User Data\Default\Extensions\gcddnkpnineojbpkngblgamaciopbama\1.0.18.221_0\dist\vendor\jquery, Delete-on-Reboot, [14662], [504607],1.0.4522
Adware.Cmptch.Generic, C:\Users\{username}\AppData\Local\Google\Chrome\User Data\Default\Extensions\gcddnkpnineojbpkngblgamaciopbama\1.0.18.221_0\dist\font-awesome, Delete-on-Reboot, [14662], [504607],1.0.4522
Adware.Cmptch.Generic, C:\Users\{username}\AppData\Local\Google\Chrome\User Data\Default\Extensions\gcddnkpnineojbpkngblgamaciopbama\1.0.18.221_0\newtab\images, Delete-on-Reboot, [14662], [504607],1.0.4522
Adware.Cmptch.Generic, C:\Users\{username}\AppData\Local\Google\Chrome\User Data\Default\Extensions\gcddnkpnineojbpkngblgamaciopbama\1.0.18.221_0\newtab\fonts, Delete-on-Reboot, [14662], [504607],1.0.4522
Adware.Cmptch.Generic, C:\Users\{username}\AppData\Local\Google\Chrome\User Data\Default\Extensions\gcddnkpnineojbpkngblgamaciopbama\1.0.18.221_0\dist\vendor, Delete-on-Reboot, [14662], [504607],1.0.4522
Adware.Cmptch.Generic, C:\Users\{username}\AppData\Local\Google\Chrome\User Data\Default\Extensions\gcddnkpnineojbpkngblgamaciopbama\1.0.18.221_0\_metadata, Delete-on-Reboot, [14662], [504607],1.0.4522
Adware.Cmptch.Generic, C:\Users\{username}\AppData\Local\Google\Chrome\User Data\Default\Extensions\gcddnkpnineojbpkngblgamaciopbama\1.0.18.221_0\dist\css, Delete-on-Reboot, [14662], [504607],1.0.4522
Adware.Cmptch.Generic, C:\Users\{username}\AppData\Local\Google\Chrome\User Data\Default\Extensions\gcddnkpnineojbpkngblgamaciopbama\1.0.18.221_0\dist\js, Delete-on-Reboot, [14662], [504607],1.0.4522
Adware.Cmptch.Generic, C:\Users\{username}\AppData\Local\Google\Chrome\User Data\Default\Extensions\gcddnkpnineojbpkngblgamaciopbama\1.0.18.221_0\newtab, Delete-on-Reboot, [14662], [504607],1.0.4522
Adware.Cmptch.Generic, C:\Users\{username}\AppData\Local\Google\Chrome\User Data\Default\Extensions\gcddnkpnineojbpkngblgamaciopbama\1.0.18.221_0\icons, Delete-on-Reboot, [14662], [504607],1.0.4522
Adware.Cmptch.Generic, C:\Users\{username}\AppData\Local\Google\Chrome\User Data\Default\Extensions\gcddnkpnineojbpkngblgamaciopbama\1.0.18.221_0\dist, Delete-on-Reboot, [14662], [504607],1.0.4522
Adware.Cmptch.Generic, C:\Users\{username}\AppData\Local\Google\Chrome\User Data\Default\Extensions\gcddnkpnineojbpkngblgamaciopbama\1.0.18.221_0, Delete-on-Reboot, [14662], [504607],1.0.4522
Adware.Cmptch.Generic, C:\USERS\{username}\APPDATA\LOCAL\GOOGLE\CHROME\USER DATA\DEFAULT\EXTENSIONS\GCDDNKPNINEOJBPKNGBLGAMACIOPBAMA, Delete-on-Reboot, [14662], [504607],1.0.4522

File: 143
Adware.Cmptch, C:\USERS\{username}\APPDATA\ROAMING\MOZILLA\FIREFOX\PROFILES\{PROFILE}.DEFAULT\EXTENSIONS\{70CFAB72-EE99-428A-B5FB-26D924BE3ACB}.XPI, Delete-on-Reboot, [4798], [504606],1.0.4522
Adware.Cmptch.Generic, C:\USERS\{username}\APPDATA\LOCAL\GOOGLE\CHROME\USER DATA\Default\Secure Preferences, Replaced, [14662], [504607],1.0.4522
Adware.Cmptch.Generic, C:\USERS\{username}\APPDATA\LOCAL\GOOGLE\CHROME\USER DATA\Default\Preferences, Replaced, [14662], [504607],1.0.4522
Adware.Cmptch.Generic, C:\Users\{username}\AppData\Local\Google\Chrome\User Data\Default\Local Extension Settings\gcddnkpnineojbpkngblgamaciopbama\000003.log, Delete-on-Reboot, [14662], [504607],1.0.4522
Adware.Cmptch.Generic, C:\Users\{username}\AppData\Local\Google\Chrome\User Data\Default\Local Extension Settings\gcddnkpnineojbpkngblgamaciopbama\CURRENT, Delete-on-Reboot, [14662], [504607],1.0.4522
Adware.Cmptch.Generic, C:\Users\{username}\AppData\Local\Google\Chrome\User Data\Default\Local Extension Settings\gcddnkpnineojbpkngblgamaciopbama\LOCK, Delete-on-Reboot, [14662], [504607],1.0.4522
Adware.Cmptch.Generic, C:\Users\{username}\AppData\Local\Google\Chrome\User Data\Default\Local Extension Settings\gcddnkpnineojbpkngblgamaciopbama\LOG, Delete-on-Reboot, [14662], [504607],1.0.4522
Adware.Cmptch.Generic, C:\Users\{username}\AppData\Local\Google\Chrome\User Data\Default\Local Extension Settings\gcddnkpnineojbpkngblgamaciopbama\LOG.old, Delete-on-Reboot, [14662], [504607],1.0.4522
Adware.Cmptch.Generic, C:\Users\{username}\AppData\Local\Google\Chrome\User Data\Default\Local Extension Settings\gcddnkpnineojbpkngblgamaciopbama\MANIFEST-000001, Delete-on-Reboot, [14662], [504607],1.0.4522
Adware.Cmptch.Generic, C:\USERS\{username}\APPDATA\LOCAL\GOOGLE\CHROME\USER DATA\DEFAULT\EXTENSIONS\GCDDNKPNINEOJBPKNGBLGAMACIOPBAMA\1.0.18.221_0\BACKGROUND.JS, Delete-on-Reboot, [14662], [504607],1.0.4522
Adware.Cmptch.Generic, C:\Users\{username}\AppData\Local\Google\Chrome\User Data\Default\Extensions\gcddnkpnineojbpkngblgamaciopbama\1.0.18.221_0\dist\css\style.css, Delete-on-Reboot, [14662], [504607],1.0.4522
Adware.Cmptch.Generic, C:\Users\{username}\AppData\Local\Google\Chrome\User Data\Default\Extensions\gcddnkpnineojbpkngblgamaciopbama\1.0.18.221_0\dist\font-awesome\css\font-awesome.css, Delete-on-Reboot, [14662], [504607],1.0.4522
Adware.Cmptch.Generic, C:\Users\{username}\AppData\Local\Google\Chrome\User Data\Default\Extensions\gcddnkpnineojbpkngblgamaciopbama\1.0.18.221_0\dist\font-awesome\css\font-awesome.min.css, Delete-on-Reboot, [14662], [504607],1.0.4522
Adware.Cmptch.Generic, C:\Users\{username}\AppData\Local\Google\Chrome\User Data\Default\Extensions\gcddnkpnineojbpkngblgamaciopbama\1.0.18.221_0\dist\font-awesome\fonts\fontawesome-webfont.eot, Delete-on-Reboot, [14662], [504607],1.0.4522
Adware.Cmptch.Generic, C:\Users\{username}\AppData\Local\Google\Chrome\User Data\Default\Extensions\gcddnkpnineojbpkngblgamaciopbama\1.0.18.221_0\dist\font-awesome\fonts\fontawesome-webfont.svg, Delete-on-Reboot, [14662], [504607],1.0.4522
Adware.Cmptch.Generic, C:\Users\{username}\AppData\Local\Google\Chrome\User Data\Default\Extensions\gcddnkpnineojbpkngblgamaciopbama\1.0.18.221_0\dist\font-awesome\fonts\fontawesome-webfont.ttf, Delete-on-Reboot, [14662], [504607],1.0.4522
Adware.Cmptch.Generic, C:\Users\{username}\AppData\Local\Google\Chrome\User Data\Default\Extensions\gcddnkpnineojbpkngblgamaciopbama\1.0.18.221_0\dist\font-awesome\fonts\fontawesome-webfont.woff, Delete-on-Reboot, [14662], [504607],1.0.4522
Adware.Cmptch.Generic, C:\Users\{username}\AppData\Local\Google\Chrome\User Data\Default\Extensions\gcddnkpnineojbpkngblgamaciopbama\1.0.18.221_0\dist\font-awesome\fonts\fontawesome-webfont.woff2, Delete-on-Reboot, [14662], [504607],1.0.4522
Adware.Cmptch.Generic, C:\Users\{username}\AppData\Local\Google\Chrome\User Data\Default\Extensions\gcddnkpnineojbpkngblgamaciopbama\1.0.18.221_0\dist\font-awesome\fonts\FontAwesome.otf, Delete-on-Reboot, [14662], [504607],1.0.4522
Adware.Cmptch.Generic, C:\Users\{username}\AppData\Local\Google\Chrome\User Data\Default\Extensions\gcddnkpnineojbpkngblgamaciopbama\1.0.18.221_0\dist\font-awesome\less\animated.less, Delete-on-Reboot, [14662], [504607],1.0.4522
Adware.Cmptch.Generic, C:\Users\{username}\AppData\Local\Google\Chrome\User Data\Default\Extensions\gcddnkpnineojbpkngblgamaciopbama\1.0.18.221_0\dist\font-awesome\less\bordered-pulled.less, Delete-on-Reboot, [14662], [504607],1.0.4522
Adware.Cmptch.Generic, C:\Users\{username}\AppData\Local\Google\Chrome\User Data\Default\Extensions\gcddnkpnineojbpkngblgamaciopbama\1.0.18.221_0\dist\font-awesome\less\core.less, Delete-on-Reboot, [14662], [504607],1.0.4522
Adware.Cmptch.Generic, C:\Users\{username}\AppData\Local\Google\Chrome\User Data\Default\Extensions\gcddnkpnineojbpkngblgamaciopbama\1.0.18.221_0\dist\font-awesome\less\fixed-width.less, Delete-on-Reboot, [14662], [504607],1.0.4522
Adware.Cmptch.Generic, C:\Users\{username}\AppData\Local\Google\Chrome\User Data\Default\Extensions\gcddnkpnineojbpkngblgamaciopbama\1.0.18.221_0\dist\font-awesome\less\font-awesome.less, Delete-on-Reboot, [14662], [504607],1.0.4522
Adware.Cmptch.Generic, C:\Users\{username}\AppData\Local\Google\Chrome\User Data\Default\Extensions\gcddnkpnineojbpkngblgamaciopbama\1.0.18.221_0\dist\font-awesome\less\icons.less, Delete-on-Reboot, [14662], [504607],1.0.4522
Adware.Cmptch.Generic, C:\Users\{username}\AppData\Local\Google\Chrome\User Data\Default\Extensions\gcddnkpnineojbpkngblgamaciopbama\1.0.18.221_0\dist\font-awesome\less\larger.less, Delete-on-Reboot, [14662], [504607],1.0.4522
Adware.Cmptch.Generic, C:\Users\{username}\AppData\Local\Google\Chrome\User Data\Default\Extensions\gcddnkpnineojbpkngblgamaciopbama\1.0.18.221_0\dist\font-awesome\less\list.less, Delete-on-Reboot, [14662], [504607],1.0.4522
Adware.Cmptch.Generic, C:\Users\{username}\AppData\Local\Google\Chrome\User Data\Default\Extensions\gcddnkpnineojbpkngblgamaciopbama\1.0.18.221_0\dist\font-awesome\less\mixins.less, Delete-on-Reboot, [14662], [504607],1.0.4522
Adware.Cmptch.Generic, C:\Users\{username}\AppData\Local\Google\Chrome\User Data\Default\Extensions\gcddnkpnineojbpkngblgamaciopbama\1.0.18.221_0\dist\font-awesome\less\path.less, Delete-on-Reboot, [14662], [504607],1.0.4522
Adware.Cmptch.Generic, C:\Users\{username}\AppData\Local\Google\Chrome\User Data\Default\Extensions\gcddnkpnineojbpkngblgamaciopbama\1.0.18.221_0\dist\font-awesome\less\rotated-flipped.less, Delete-on-Reboot, [14662], [504607],1.0.4522
Adware.Cmptch.Generic, C:\Users\{username}\AppData\Local\Google\Chrome\User Data\Default\Extensions\gcddnkpnineojbpkngblgamaciopbama\1.0.18.221_0\dist\font-awesome\less\screen-reader.less, Delete-on-Reboot, [14662], [504607],1.0.4522
Adware.Cmptch.Generic, C:\Users\{username}\AppData\Local\Google\Chrome\User Data\Default\Extensions\gcddnkpnineojbpkngblgamaciopbama\1.0.18.221_0\dist\font-awesome\less\stacked.less, Delete-on-Reboot, [14662], [504607],1.0.4522
Adware.Cmptch.Generic, C:\Users\{username}\AppData\Local\Google\Chrome\User Data\Default\Extensions\gcddnkpnineojbpkngblgamaciopbama\1.0.18.221_0\dist\font-awesome\less\variables.less, Delete-on-Reboot, [14662], [504607],1.0.4522
Adware.Cmptch.Generic, C:\Users\{username}\AppData\Local\Google\Chrome\User Data\Default\Extensions\gcddnkpnineojbpkngblgamaciopbama\1.0.18.221_0\dist\font-awesome\scss\font-awesome.scss, Delete-on-Reboot, [14662], [504607],1.0.4522
Adware.Cmptch.Generic, C:\Users\{username}\AppData\Local\Google\Chrome\User Data\Default\Extensions\gcddnkpnineojbpkngblgamaciopbama\1.0.18.221_0\dist\font-awesome\scss\_animated.scss, Delete-on-Reboot, [14662], [504607],1.0.4522
Adware.Cmptch.Generic, C:\Users\{username}\AppData\Local\Google\Chrome\User Data\Default\Extensions\gcddnkpnineojbpkngblgamaciopbama\1.0.18.221_0\dist\font-awesome\scss\_bordered-pulled.scss, Delete-on-Reboot, [14662], [504607],1.0.4522
Adware.Cmptch.Generic, C:\Users\{username}\AppData\Local\Google\Chrome\User Data\Default\Extensions\gcddnkpnineojbpkngblgamaciopbama\1.0.18.221_0\dist\font-awesome\scss\_core.scss, Delete-on-Reboot, [14662], [504607],1.0.4522
Adware.Cmptch.Generic, C:\Users\{username}\AppData\Local\Google\Chrome\User Data\Default\Extensions\gcddnkpnineojbpkngblgamaciopbama\1.0.18.221_0\dist\font-awesome\scss\_fixed-width.scss, Delete-on-Reboot, [14662], [504607],1.0.4522
Adware.Cmptch.Generic, C:\Users\{username}\AppData\Local\Google\Chrome\User Data\Default\Extensions\gcddnkpnineojbpkngblgamaciopbama\1.0.18.221_0\dist\font-awesome\scss\_icons.scss, Delete-on-Reboot, [14662], [504607],1.0.4522
Adware.Cmptch.Generic, C:\Users\{username}\AppData\Local\Google\Chrome\User Data\Default\Extensions\gcddnkpnineojbpkngblgamaciopbama\1.0.18.221_0\dist\font-awesome\scss\_larger.scss, Delete-on-Reboot, [14662], [504607],1.0.4522
Adware.Cmptch.Generic, C:\Users\{username}\AppData\Local\Google\Chrome\User Data\Default\Extensions\gcddnkpnineojbpkngblgamaciopbama\1.0.18.221_0\dist\font-awesome\scss\_list.scss, Delete-on-Reboot, [14662], [504607],1.0.4522
Adware.Cmptch.Generic, C:\Users\{username}\AppData\Local\Google\Chrome\User Data\Default\Extensions\gcddnkpnineojbpkngblgamaciopbama\1.0.18.221_0\dist\font-awesome\scss\_mixins.scss, Delete-on-Reboot, [14662], [504607],1.0.4522
Adware.Cmptch.Generic, C:\Users\{username}\AppData\Local\Google\Chrome\User Data\Default\Extensions\gcddnkpnineojbpkngblgamaciopbama\1.0.18.221_0\dist\font-awesome\scss\_path.scss, Delete-on-Reboot, [14662], [504607],1.0.4522
Adware.Cmptch.Generic, C:\Users\{username}\AppData\Local\Google\Chrome\User Data\Default\Extensions\gcddnkpnineojbpkngblgamaciopbama\1.0.18.221_0\dist\font-awesome\scss\_rotated-flipped.scss, Delete-on-Reboot, [14662], [504607],1.0.4522
Adware.Cmptch.Generic, C:\Users\{username}\AppData\Local\Google\Chrome\User Data\Default\Extensions\gcddnkpnineojbpkngblgamaciopbama\1.0.18.221_0\dist\font-awesome\scss\_screen-reader.scss, Delete-on-Reboot, [14662], [504607],1.0.4522
Adware.Cmptch.Generic, C:\Users\{username}\AppData\Local\Google\Chrome\User Data\Default\Extensions\gcddnkpnineojbpkngblgamaciopbama\1.0.18.221_0\dist\font-awesome\scss\_stacked.scss, Delete-on-Reboot, [14662], [504607],1.0.4522
Adware.Cmptch.Generic, C:\Users\{username}\AppData\Local\Google\Chrome\User Data\Default\Extensions\gcddnkpnineojbpkngblgamaciopbama\1.0.18.221_0\dist\font-awesome\scss\_variables.scss, Delete-on-Reboot, [14662], [504607],1.0.4522
Adware.Cmptch.Generic, C:\Users\{username}\AppData\Local\Google\Chrome\User Data\Default\Extensions\gcddnkpnineojbpkngblgamaciopbama\1.0.18.221_0\dist\js\newtab.js, Delete-on-Reboot, [14662], [504607],1.0.4522
Adware.Cmptch.Generic, C:\Users\{username}\AppData\Local\Google\Chrome\User Data\Default\Extensions\gcddnkpnineojbpkngblgamaciopbama\1.0.18.221_0\dist\js\newtab.js.map, Delete-on-Reboot, [14662], [504607],1.0.4522
Adware.Cmptch.Generic, C:\Users\{username}\AppData\Local\Google\Chrome\User Data\Default\Extensions\gcddnkpnineojbpkngblgamaciopbama\1.0.18.221_0\dist\vendor\jquery\images\ui-bg_flat_0_aaaaaa_40x100.png, Delete-on-Reboot, [14662], [504607],1.0.4522
Adware.Cmptch.Generic, C:\Users\{username}\AppData\Local\Google\Chrome\User Data\Default\Extensions\gcddnkpnineojbpkngblgamaciopbama\1.0.18.221_0\dist\vendor\jquery\images\ui-bg_flat_75_ffffff_40x100.png, Delete-on-Reboot, [14662], [504607],1.0.4522
Adware.Cmptch.Generic, C:\Users\{username}\AppData\Local\Google\Chrome\User Data\Default\Extensions\gcddnkpnineojbpkngblgamaciopbama\1.0.18.221_0\dist\vendor\jquery\images\ui-bg_glass_55_fbf9ee_1x400.png, Delete-on-Reboot, [14662], [504607],1.0.4522
Adware.Cmptch.Generic, C:\Users\{username}\AppData\Local\Google\Chrome\User Data\Default\Extensions\gcddnkpnineojbpkngblgamaciopbama\1.0.18.221_0\dist\vendor\jquery\images\ui-bg_glass_65_ffffff_1x400.png, Delete-on-Reboot, [14662], [504607],1.0.4522
Adware.Cmptch.Generic, C:\Users\{username}\AppData\Local\Google\Chrome\User Data\Default\Extensions\gcddnkpnineojbpkngblgamaciopbama\1.0.18.221_0\dist\vendor\jquery\images\ui-bg_glass_75_dadada_1x400.png, Delete-on-Reboot, [14662], [504607],1.0.4522
Adware.Cmptch.Generic, C:\Users\{username}\AppData\Local\Google\Chrome\User Data\Default\Extensions\gcddnkpnineojbpkngblgamaciopbama\1.0.18.221_0\dist\vendor\jquery\images\ui-bg_glass_75_e6e6e6_1x400.png, Delete-on-Reboot, [14662], [504607],1.0.4522
Adware.Cmptch.Generic, C:\Users\{username}\AppData\Local\Google\Chrome\User Data\Default\Extensions\gcddnkpnineojbpkngblgamaciopbama\1.0.18.221_0\dist\vendor\jquery\images\ui-bg_glass_95_fef1ec_1x400.png, Delete-on-Reboot, [14662], [504607],1.0.4522
Adware.Cmptch.Generic, C:\Users\{username}\AppData\Local\Google\Chrome\User Data\Default\Extensions\gcddnkpnineojbpkngblgamaciopbama\1.0.18.221_0\dist\vendor\jquery\images\ui-bg_highlight-soft_75_cccccc_1x100.png, Delete-on-Reboot, [14662], [504607],1.0.4522
Adware.Cmptch.Generic, C:\Users\{username}\AppData\Local\Google\Chrome\User Data\Default\Extensions\gcddnkpnineojbpkngblgamaciopbama\1.0.18.221_0\dist\vendor\jquery\images\ui-icons_222222_256x240.png, Delete-on-Reboot, [14662], [504607],1.0.4522
Adware.Cmptch.Generic, C:\Users\{username}\AppData\Local\Google\Chrome\User Data\Default\Extensions\gcddnkpnineojbpkngblgamaciopbama\1.0.18.221_0\dist\vendor\jquery\images\ui-icons_2e83ff_256x240.png, Delete-on-Reboot, [14662], [504607],1.0.4522
Adware.Cmptch.Generic, C:\Users\{username}\AppData\Local\Google\Chrome\User Data\Default\Extensions\gcddnkpnineojbpkngblgamaciopbama\1.0.18.221_0\dist\vendor\jquery\images\ui-icons_454545_256x240.png, Delete-on-Reboot, [14662], [504607],1.0.4522
Adware.Cmptch.Generic, C:\Users\{username}\AppData\Local\Google\Chrome\User Data\Default\Extensions\gcddnkpnineojbpkngblgamaciopbama\1.0.18.221_0\dist\vendor\jquery\images\ui-icons_888888_256x240.png, Delete-on-Reboot, [14662], [504607],1.0.4522
Adware.Cmptch.Generic, C:\Users\{username}\AppData\Local\Google\Chrome\User Data\Default\Extensions\gcddnkpnineojbpkngblgamaciopbama\1.0.18.221_0\dist\vendor\jquery\images\ui-icons_cd0a0a_256x240.png, Delete-on-Reboot, [14662], [504607],1.0.4522
Adware.Cmptch.Generic, C:\Users\{username}\AppData\Local\Google\Chrome\User Data\Default\Extensions\gcddnkpnineojbpkngblgamaciopbama\1.0.18.221_0\dist\vendor\jquery\jquery-1.8.3.js, Delete-on-Reboot, [14662], [504607],1.0.4522
Adware.Cmptch.Generic, C:\Users\{username}\AppData\Local\Google\Chrome\User Data\Default\Extensions\gcddnkpnineojbpkngblgamaciopbama\1.0.18.221_0\dist\vendor\jquery\jquery-ui.css, Delete-on-Reboot, [14662], [504607],1.0.4522
Adware.Cmptch.Generic, C:\Users\{username}\AppData\Local\Google\Chrome\User Data\Default\Extensions\gcddnkpnineojbpkngblgamaciopbama\1.0.18.221_0\dist\vendor\jquery\jquery-ui.js, Delete-on-Reboot, [14662], [504607],1.0.4522
Adware.Cmptch.Generic, C:\Users\{username}\AppData\Local\Google\Chrome\User Data\Default\Extensions\gcddnkpnineojbpkngblgamaciopbama\1.0.18.221_0\dist\vendor\autocomplete.js, Delete-on-Reboot, [14662], [504607],1.0.4522
Adware.Cmptch.Generic, C:\Users\{username}\AppData\Local\Google\Chrome\User Data\Default\Extensions\gcddnkpnineojbpkngblgamaciopbama\1.0.18.221_0\icons\128.png, Delete-on-Reboot, [14662], [504607],1.0.4522
Adware.Cmptch.Generic, C:\Users\{username}\AppData\Local\Google\Chrome\User Data\Default\Extensions\gcddnkpnineojbpkngblgamaciopbama\1.0.18.221_0\icons\16.png, Delete-on-Reboot, [14662], [504607],1.0.4522
Adware.Cmptch.Generic, C:\Users\{username}\AppData\Local\Google\Chrome\User Data\Default\Extensions\gcddnkpnineojbpkngblgamaciopbama\1.0.18.221_0\icons\32.png, Delete-on-Reboot, [14662], [504607],1.0.4522
Adware.Cmptch.Generic, C:\Users\{username}\AppData\Local\Google\Chrome\User Data\Default\Extensions\gcddnkpnineojbpkngblgamaciopbama\1.0.18.221_0\icons\48.png, Delete-on-Reboot, [14662], [504607],1.0.4522
Adware.Cmptch.Generic, C:\Users\{username}\AppData\Local\Google\Chrome\User Data\Default\Extensions\gcddnkpnineojbpkngblgamaciopbama\1.0.18.221_0\newtab\fonts\Roboto-Thin-webfont.eot, Delete-on-Reboot, [14662], [504607],1.0.4522
Adware.Cmptch.Generic, C:\Users\{username}\AppData\Local\Google\Chrome\User Data\Default\Extensions\gcddnkpnineojbpkngblgamaciopbama\1.0.18.221_0\newtab\fonts\Roboto-Thin-webfont.svg, Delete-on-Reboot, [14662], [504607],1.0.4522
Adware.Cmptch.Generic, C:\Users\{username}\AppData\Local\Google\Chrome\User Data\Default\Extensions\gcddnkpnineojbpkngblgamaciopbama\1.0.18.221_0\newtab\fonts\Roboto-Thin-webfont.ttf, Delete-on-Reboot, [14662], [504607],1.0.4522
Adware.Cmptch.Generic, C:\Users\{username}\AppData\Local\Google\Chrome\User Data\Default\Extensions\gcddnkpnineojbpkngblgamaciopbama\1.0.18.221_0\newtab\fonts\Roboto-Thin-webfont.woff, Delete-on-Reboot, [14662], [504607],1.0.4522
Adware.Cmptch.Generic, C:\Users\{username}\AppData\Local\Google\Chrome\User Data\Default\Extensions\gcddnkpnineojbpkngblgamaciopbama\1.0.18.221_0\newtab\analytics.js, Delete-on-Reboot, [14662], [504607],1.0.4522
Adware.Cmptch.Generic, C:\Users\{username}\AppData\Local\Google\Chrome\User Data\Default\Extensions\gcddnkpnineojbpkngblgamaciopbama\1.0.18.221_0\newtab\colors.js, Delete-on-Reboot, [14662], [504607],1.0.4522
Adware.Cmptch.Generic, C:\Users\{username}\AppData\Local\Google\Chrome\User Data\Default\Extensions\gcddnkpnineojbpkngblgamaciopbama\1.0.18.221_0\newtab\index.html, Delete-on-Reboot, [14662], [504607],1.0.4522
Adware.Cmptch.Generic, C:\Users\{username}\AppData\Local\Google\Chrome\User Data\Default\Extensions\gcddnkpnineojbpkngblgamaciopbama\1.0.18.221_0\_metadata\computed_hashes.json, Delete-on-Reboot, [14662], [504607],1.0.4522
Adware.Cmptch.Generic, C:\Users\{username}\AppData\Local\Google\Chrome\User Data\Default\Extensions\gcddnkpnineojbpkngblgamaciopbama\1.0.18.221_0\_metadata\verified_contents.json, Delete-on-Reboot, [14662], [504607],1.0.4522
Adware.Cmptch.Generic, C:\Users\{username}\AppData\Local\Google\Chrome\User Data\Default\Extensions\gcddnkpnineojbpkngblgamaciopbama\1.0.18.221_0\content.js, Delete-on-Reboot, [14662], [504607],1.0.4522
Adware.Cmptch.Generic, C:\Users\{username}\AppData\Local\Google\Chrome\User Data\Default\Extensions\gcddnkpnineojbpkngblgamaciopbama\1.0.18.221_0\manifest.json, Delete-on-Reboot, [14662], [504607],1.0.4522
Adware.Cmptch.Generic, C:\Users\{username}\AppData\Local\Google\Chrome\User Data\Default\Extensions\gcddnkpnineojbpkngblgamaciopbama\1.0.18.221_0\settings.json, Delete-on-Reboot, [14662], [504607],1.0.4522

Physical Sector: 0
(No malicious items detected)


(end)
Traces/IOCs
You may see these entries in FRST logs:
FF Extension: No Name - C:\Users\{username}\AppData\Roaming\Mozilla\Firefox\Profiles\{profile}.default\Extensions\{70cfab72-ee99-428a-b5fb-26d924be3acb}.xpi [2018-03-28]
 CHR Extension: (Arcadetab) - C:\Users\{username}\AppData\Local\Google\Chrome\User Data\Default\Extensions\gcddnkpnineojbpkngblgamaciopbama [2018-03-28]
Associated threats