Ransom.Sodinokibi
Short bio
Ransom.Sodinokibi is Malwarebytes' detection name for a family of Ransomware that targets Windows systems. Ransom.Sodinokibi encrypts important files and asks for a ransom to decrypt them.
Symptoms
The first thing users of affected systems notice is usually the ransom note when the encryption has altready finished. The ransom instructions are visible on the desktop as well.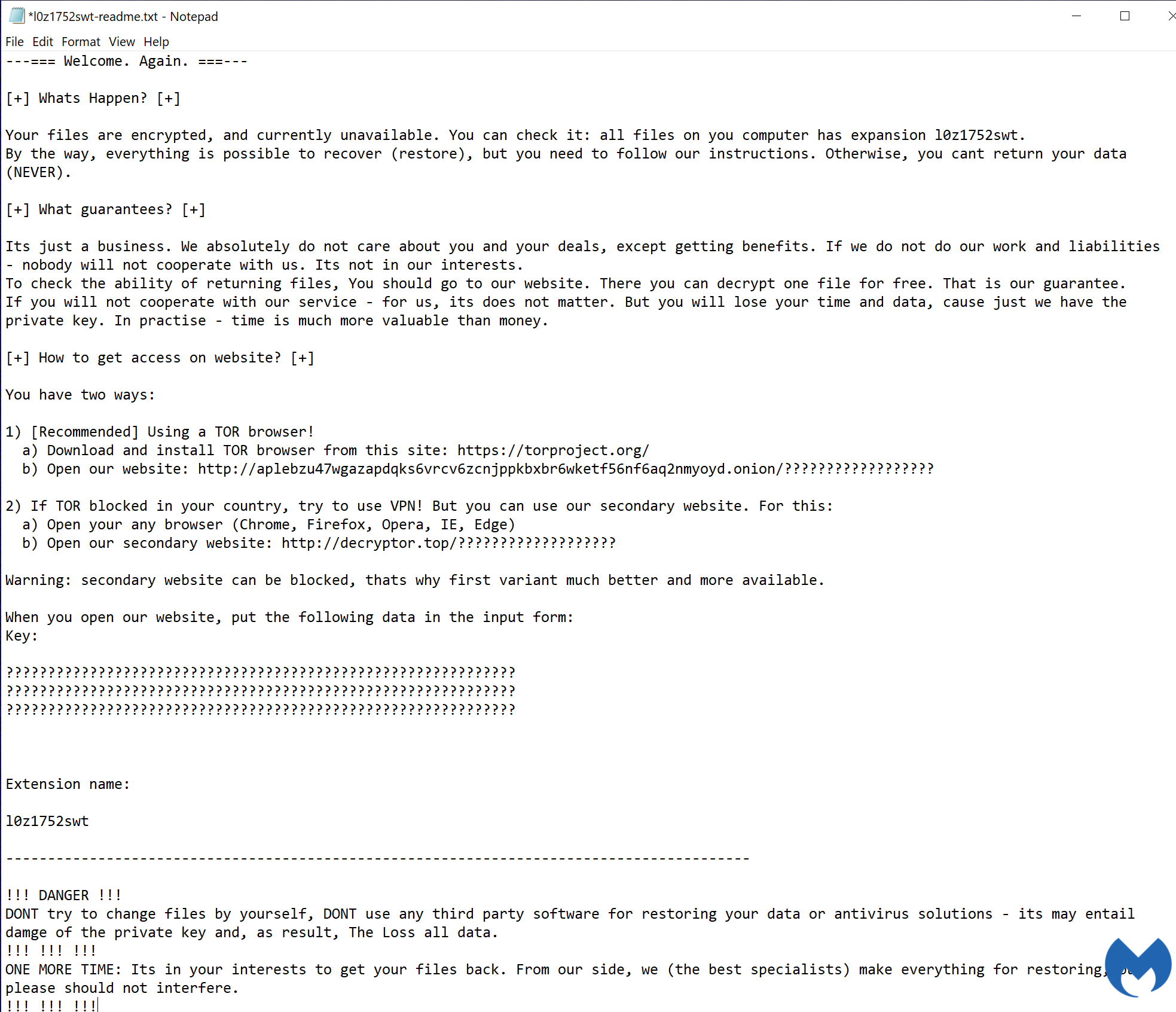 Type and source of infection
Ransom.Sodinokibi is ransomware that encrypts all the files on local drives except for those that are listed in their configuration file. We see Ransom.Sodinokibi being dropped by variants of Trojan.MalPack.GS that previously used to drop Ransom.GandCrab.
Targeted files have the extensions .jpg, .jpeg, .raw, .tif, .png, .bmp, .3dm, .max, .accdb, .db, .mdb, .dwg, .dxf, .cpp, .cs, .h, ,php, .asp, .rb, .java, .aaf, .aep, .aepx, .plb, .prel, .aet, .ppj, .gif, and .psd.
Aftermath
Without backups, a roll-back system, or other ways to recover the encrypted files, the affected systems are usable, but all the important information stored on them will be inaccessible.
Protection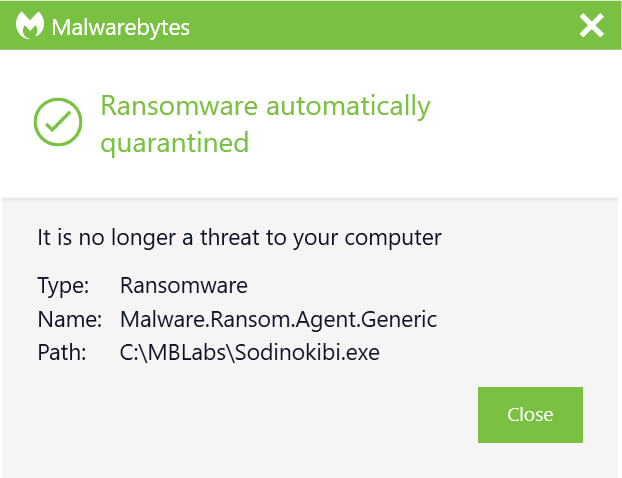 Home remediation
Malwarebytes can detect and remove Ransom.Sodinokibi without further user interaction.
Please download Malwarebytes to your desktop.
Double-click MBSetup.exe and follow the prompts to install the program.
When your Malwarebytes for Windows installation completes, the program opens to the Welcome to Malwarebytes screen.
Click on the Get started button.
Click Scan to start a Threat Scan.
Click Quarantine to remove the found threats.
Reboot the system if prompted to complete the removal process.
Take note, however, that removing this ransomware does not decrypt your files. You can only get your files back from backups you made before the infection happened.
Business remediation
To remove Ransom.Sodinokibi using Malwarebytes business products, follow the instructions below.
How to remove Ransom.Sodinokibi with Malwarebytes Endpoint Protection
Go to the Malwarebytes Cloud console.
To allow you to invoke a scan while the machine is off the network, go to Settings > Policies > your policy > General.
Under Endpoint Interface Options, turn ON:

Show Malwarebytes icon in notification area
Allow users to run a Threat Scan (all threats will be quarantined automatically)
If you have infected machines that are not registered endpoints in Malwarebytes Endpoint Protection, you can remove Ransom.Sodinokibi with our Breach Remediation tool (MBBR).
Log into your My Account page and copy your license key. The key is needed to activate MBBR tool.
Open your Cloud console.
From a clean and safe machine, go to Endpoints > Add > Malwarebytes Breach Remediation. This will download the MBBR zip package.
Unzip the package.
Access a Windows command line prompt and issue the following commands: mbbr register –key: mbbr update Note: You must substitute your license key for .
Copy the MBBR folder to a flash drive.
From an infected, offline machine, copy the MBBR folder from the flash drive.
Start a scan using the following command: mbbr scan –full –ark –remove –noreboot
Refer to the Malwarebytes Breach Remediation Windows Administrator Guide for all supported scanning commands.
IOCs
File hashes (SHA-256): f0a16b0224a24647e9e8cf2f6f4479d93c8fb540a7ca656023a41f399e6c69c2 963e31fef7c8db9e002c56ee30fd3cd4b240db466bc23687979e2f161ba5606e e5d23a3bb61b99e227bb8cbfc0e7f1e40fea34aac4dcb80acc925cfd7e3d18ec
Ransom note: *****-readme.txt (where ****** are 5-8 randomized characters)