Twitter users should be aware that mentioning the new Apple Watch could result in spam headed their way: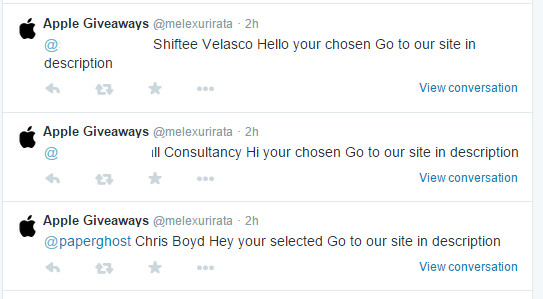 Hello your [sic] chosen go to our site in description
Well, as long as you've been "chosen".
The so-called Apple Giveaways profile says the following in its Bio space:
To celebrate the announcement of the Apple Watch we are giving away watches at our link! Be one of the first to have one
It may sound promising, but what follows is a semi-exhausting jaunt around a couple of different websites with instructions to follow along the way. Clicking the is.gd link takes the would-be watch owner to
applewatchevent(dot)com/confirm(dot)php
which doesn't get things off to a promising start – a blank page with a popup which says
Please follow the instructions on our Facebook page to claim your Apple Watch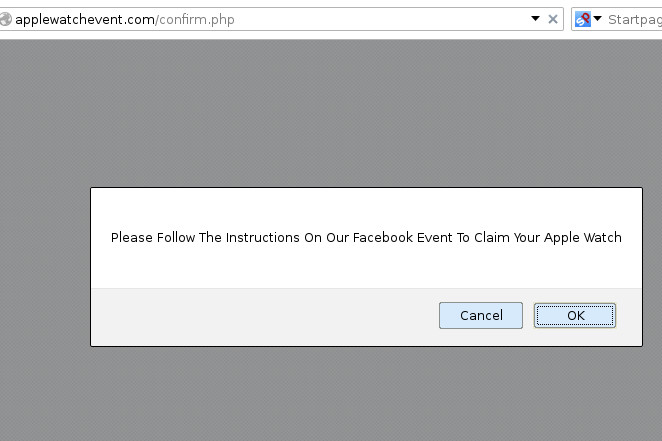 In terms of "inspire me", that isn't Tim Cook hyping the crowd as a large screen zooms out from a gently illuminating globe to the Apple Watch reveal – it's not even Developers, Developers, Developers. But maybe the next page will prompt a standing ovation?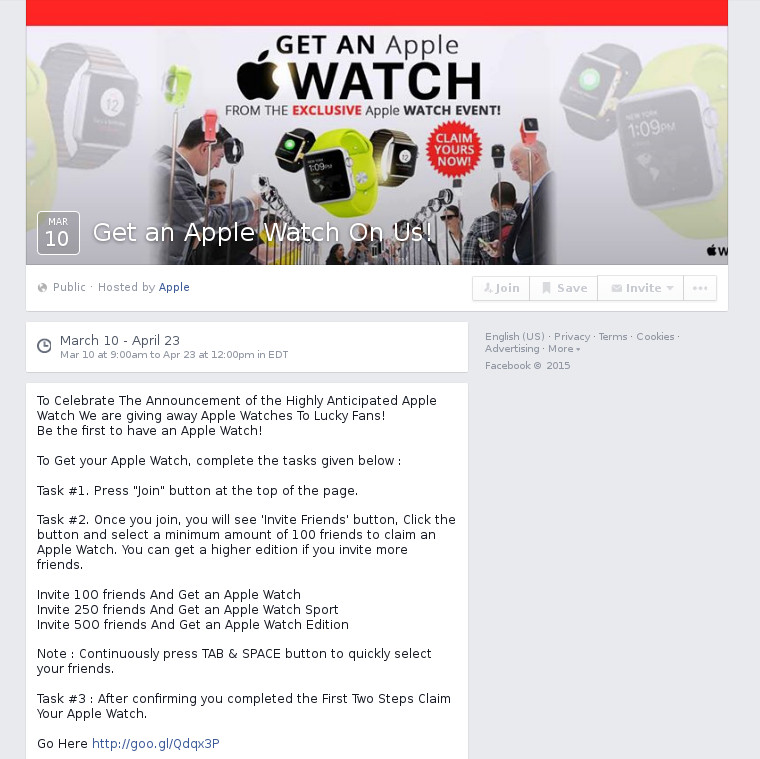 Oh.
What we do end up with is a wall of text on a Facebook page with some very specific hoops to jump through in order to obtain the watch.
To Celebrate The Announcement of the Highly Anticipated Apple Watch We are giving away Apple Watches To Lucky Fans! Be the first to have an Apple Watch!

To Get your Apple Watch, complete the tasks given below :

Task #1. Press "Join" button at the top of the page.

Task #2. Once you join, you will see 'Invite Friends' button, Click the button and select a minimum amount of 100 friends to claim an Apple Watch. You can get a higher edition if you invite more friends.

Invite 10O friends And Get an Apple Watch Invite 25O friends And Get an Apple Watch Sport Invite 5OO friends And Get an Apple Watch Edition

Note : Continuously press TAB & SPACE button to quickly select your friends.

Task #3 : After confirming you completed the First Two Steps Claim Your Apple Watch.
That's an awful lot of friend invites to start firing about the place.
Clicking the goo.gl link (which was only created about six hours ago and has 90+ clicks at time of writing) directs visitors back to the Apple Watch Event website.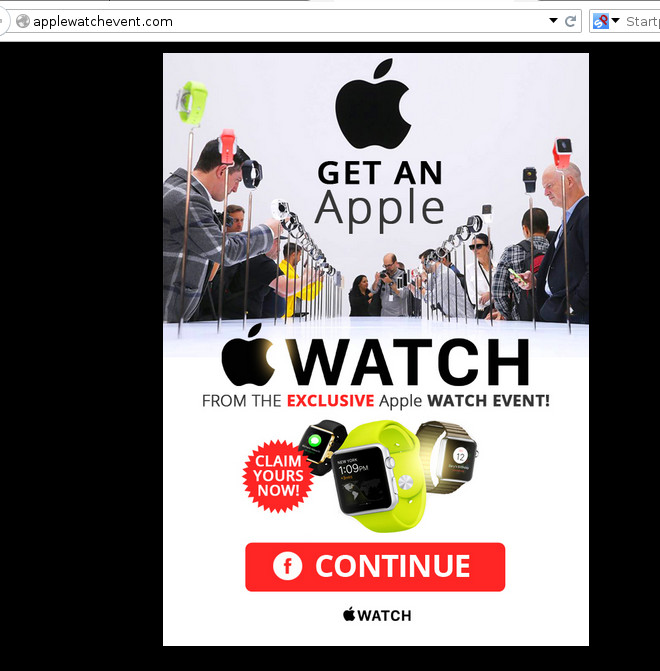 Hitting the continue button launches the destination on this watch hunt – a request for name and "Facebook handle".
If you've completed all the required steps, they claim they'll direct message within 72 hours with a "confirmation link". The creation date for the website is listed as March 9th, and the Whois details are hidden behind a Whoisguard so there's no way to know who you're sending your information to.
I love a good watch as much as the next person (actually I don't, and tell the time via complicated system of ropes, birdsong and Scandinavian daymarks) but this seems like a long shot in terms of "winning" the incredibly expensive watch of your dreams.
For now, I'd just rely on this instead…
Christopher Boyd