Every 23rd of April, the world commemorates and celebrates World Book Day, otherwise known as International Day of the Book. During the evening, World Book Night then takes place. Regardless of when you prefer to read, it is no doubt that today is a special day for book lovers and knowledge-seekers alike.
In 2014, we reviewed a privacy-centric book entitled "The Smart Girl's Guide to Privacy" as a way to celebrate this day. This year, we're not reviewing one book but two. Both can be finished in one day as they are very short. Let's begin!
Book 1: Make Your Smartphone 007 Smart by Conrad Jaeger
One doesn't have to be James Bond to be worthy of a gadget used for intelligence and counter-intelligence. In this digital age, privacy has become too essential a commodity that some are willing to jump through hoops to protect it.
A smartphone that is "Bond smart", as the book intuits, is free of malicious apps (that may be pre-installed to steal information or spy on you), untrackable, covert, yet affords much freedom the user needs to communicate and surf both the shallow and deeper areas of the Web.
It sounds unachievable, but readers may find that simple steps are sufficient to make a 007 phone a reality. Jaeger, the author, emphasized on 12 points that should be done when customizing the user's phone. Some of them are basic computer security tips we already know by heart: install an antivirus, avoid opening email attachments or clicking links if the mail's origin is unknown, use strong passwords.
Known as an expert of Deepnet, he also provided a chunk of material on .onion URLs the curious may want to explore when surfing the hidden Web.
Published date: January 6, 2014 by DeepWebGuides.com (for v 3.2) Pages: 34 (estimated) Available at: Amazon
Book 2: Zero Day: The Threat in Cyberspace by Robert O'Harrow, Jr.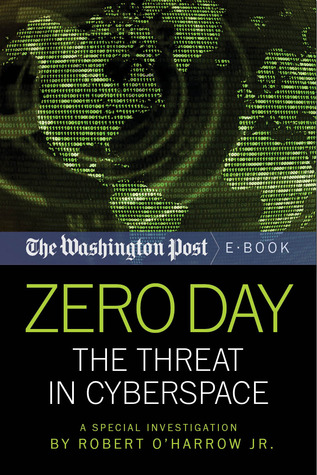 This ebook came into fruition with one goal in mind: "to help regular people, lawmakers and others to better understand one critical aspect of a fast-changing world." Zero-day vulnerabilities continue to be a challenge for security researchers to hunt and online criminals to exploit.
A renowned investigative journalist for the Washington Post, O'Harrow followed vulnerability stories from June 2012, when Charlie Miller was attempting to find holes in Apple's iPhone 5, to December of the same year, when he touched on the hackability of health-care systems—a topic that remains relevant today. Other in-depth, published news pieces included in this ebook compilation are:
Cyber search engine Shodan exposes industrial control systems to new risks
Tridium's Niagara Framework: Marvel of connectivity illustrates new cyber risks
In cyberattacks, hacking humans is highly effective way to access systems
Hacking tool kits, available free online, fuel growing cyberspace arms race
CyberCity allows government hackers to train for attacks
If software vulnerabilities and the malware made to exploit them are new concepts for you, Zero Day: The Threat in Cyberspace is a great primer. We also recommend this ebook to readers who wish to have references on zero-day news stories they can keep going back to without the hassle of retrieving each piece online.
Published date: January 9, 2014 by Diversion Books Pages: 73 (estimated) Available at: Amazon
Happy reading!