We've noticed some oddities on singer Dido's website and thought we'd take a closer look. The news page has been silent since January, until the 6th of May rolled around and now we have two decidedly not-very-Dido updates about "cheap flower delivery":
The text reads as follows, complete with links to the flowers site and her Tumblr:
Cheap Flower Delivery 6 May, 2016

Beautiful fresh flowers by post from only £12.99 including FREE UK Delivery by Royal Mail first class post.

cheap flower delivery uk

All bunches(dot)co(dot)uk flowers by post are delivered with your personal message card, flower food, care instructions and a FREE bag of delicious milk chocolates with all online orders.

cheap flowers delivered uk

tumblr link: dido(dot)tumblr(dot)com/post/143937570620
Curiously, her Tumblr seems to have been wiped of content a few months back – the last time it looks legit is in March, and sometime after that everything has been removed.
This is how it looks now, with a definite splash of "Here are your cheap flowers":
The website the links lead to appears to be harmless: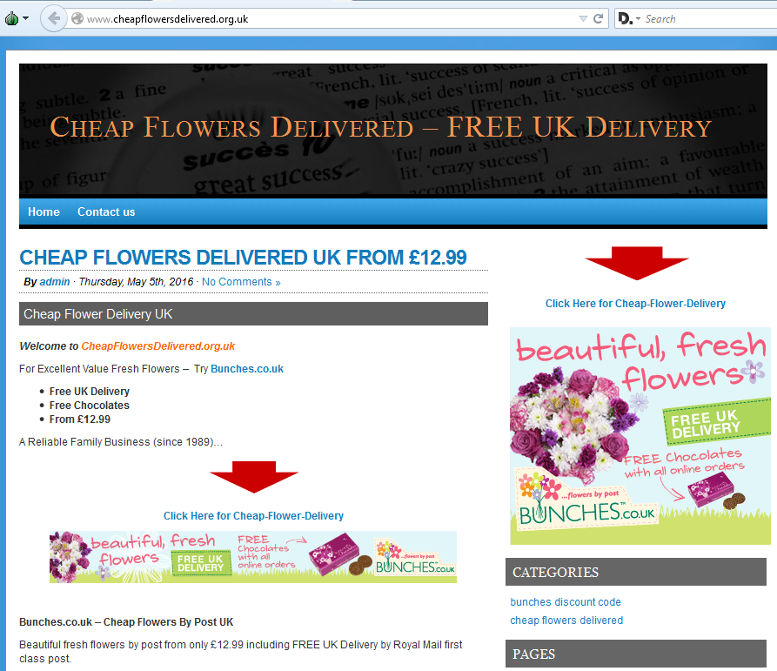 This is certainly an odd one, and we've notified the singer via social media so they can investigate further. For the time being, you may wish to hold off on visiting the site until exactly what happened can be established.
Christopher Boyd