I don't do lotteries, but if I did, I'd probably never, ever win in a million years. That's not a problem faced by 20-year-old Shane Missler, winner of the fourth-largest haul in Mega Millions' 21 years of handing out large bundles of cash.
He's on record as saying he wants to "do some good" for humanity, but I suspect he may have to do some good in the identification verification sweepstakes first.
An account has popped up on Twitter claiming to be him, and claiming he'll be giving away large amounts of money for retweets. I mean, it's not exactly donating a million to medical science, but it's definitely going to help random recipients.
Only problem is, the account seems a little too good to be true. In fact, it's just one of many currently being retweeted into the stratosphere: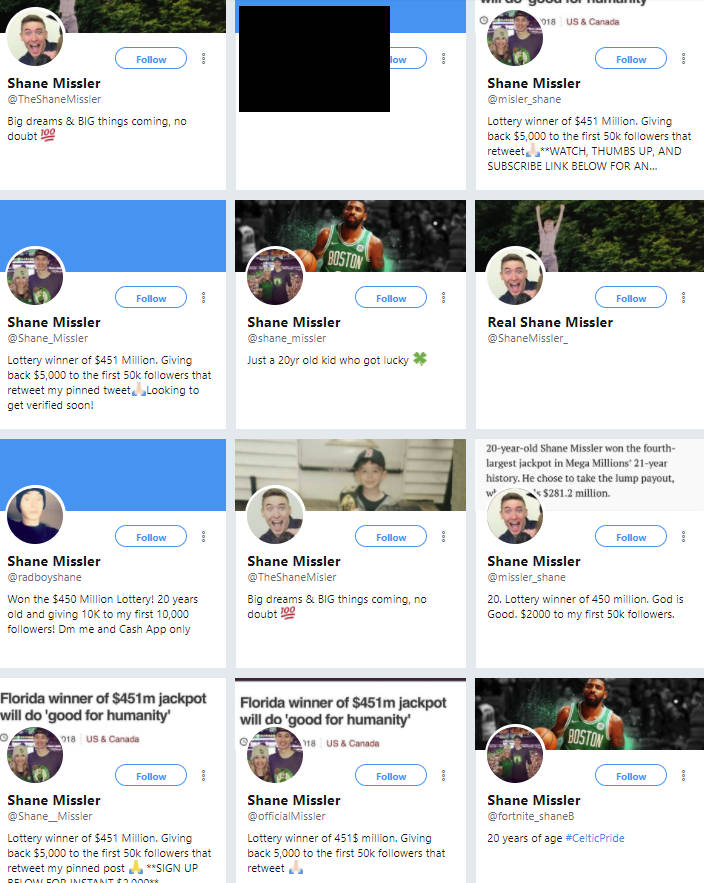 Click to enlarge
Shall we take a look?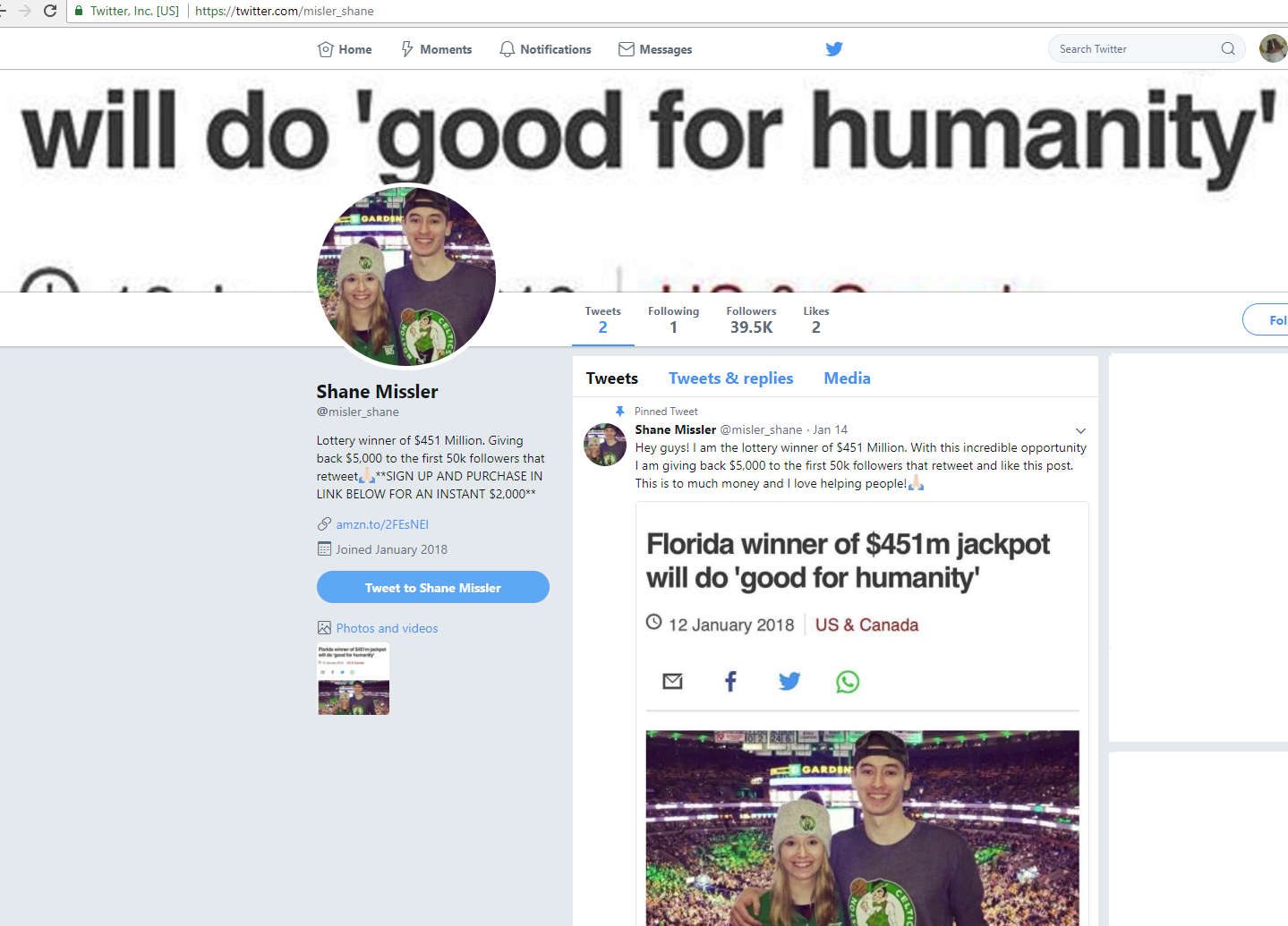 Click to enlarge
First off: the bio.
Lottery winner of $451 Million. Giving back $5,000 to the first 50k followers that retweet **SIGN UP AND PURCHASE IN LINK BELOW FOR AN INSTANT $2,000**
Well, that's interesting. You have to "sign up" AND "purchase" via a link to receive $2,000?
The link in question is an Amazon referral link, and for some reason our very rich lottery winner wants you to purchase an Amazon fire stick. If you won $451m, would you be bothering with Amazon referral sales, which would generate tiny amounts of money for the Amazon associate before handing over $2,000? What's the point?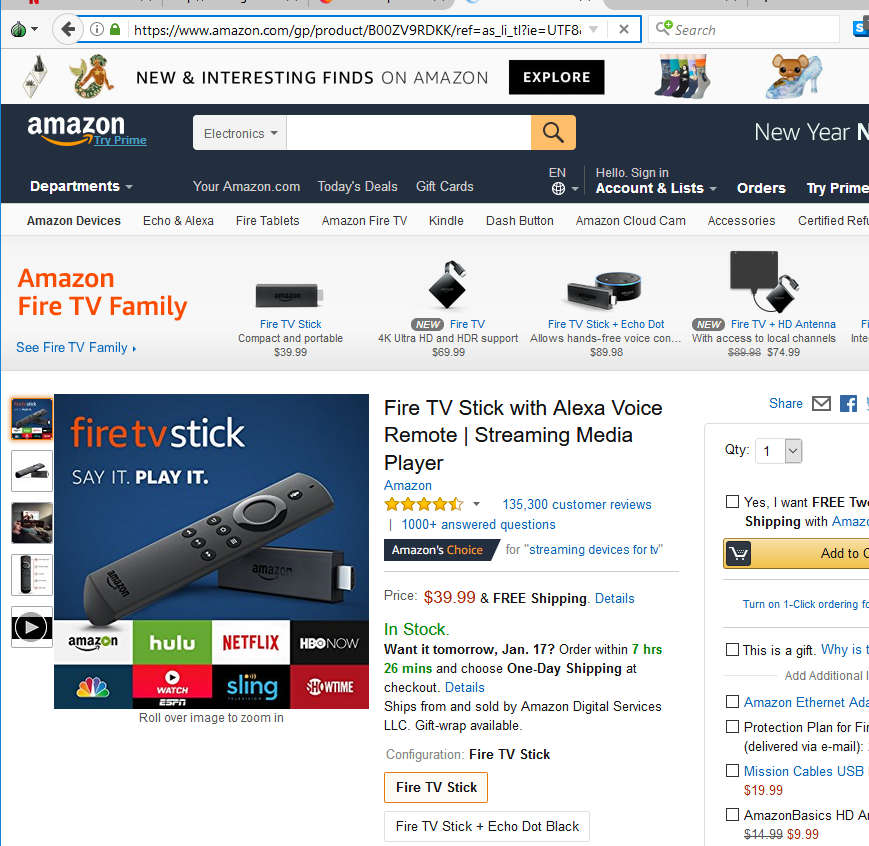 Click to enlarge
Even better is the claim that $5,000 will be winging its way to 50k followers who retweet the original post. From the BBC article:
He opted to receive a one-time payment of $282m, instead of the full amount over a longer period of time.
Uh oh.
5,000 x 50,000 is $250m, except according to this article after you account for taxes he'll likely be left with around $211m.
So there's that, plus the apparently ability to keep giving people $2,000 from a bottomless well of cash for every Amazon stick purchased…somehow.
I don't know about you, but I think I'll pass on retweeting this and/or going on an Amazon spree, because there's no way this guy is planning on re-enacting Catch Me If You Can immediately after scoring the cash windfall of his dreams. It just doesn't make any sense.
A number of similar accounts are also doing the rounds, all of which are claiming much the same things (along with the claim that his account is being "verified soon").
I can tell you now, there's no way anyone can confidently predict their Twitter account will be verified, much less when. After the application is sent off to the verification team, you could be verified the next day, week, month, or never. It's simply not something you can claim is going to happen, because no timescales are given to applicants by Twitter. Also of note: the above account retweeted the below tweet to make it look as though money was indeed being fired off to people:
Click to enlarge
Some problems with this: neither account is verified. All of these people could be real or playing along or the same individual. Worse, all of the accounts claim the $5,000 will be sent to the "first 50k followers that retweet my pinned tweet."
Great, except look at the retweet numbers at time of writing:

…and the follower count?
Why has someone been sent money already? Looking at all of the evidence on offer, we feel it's better to take the stance that without verification this is very, very likely to be a scam. Whatever the winner has planned for his money—and it seems most of what he's said involves treating his family—there's a good chance it doesn't involve giving away all (or, hilariously, more than all) of his recently received winnings. Some of the other accounts floating around don't even spell his name correctly.
Sorry, Twitter. This isn't the golden ticket you're looking for.