One of the biggest wrestling stars around, Mick Foley, had his Twitter account hijacked in an attempt to legitimize a very popular scam. When a well known individual has their social media accounts compromised, disaster looms, as everything from phishing to malware distribution waits in the wings for potential victims.
But this time, we traded messages with the scammer to see what was up.
The fake Mick Foley PS5 giveaway extravaganza
At some point in the last 24 hours, Mick Foley lost control of his Twitter account. It's now playing host to multiple Tweets offering up PS5 giveaways. Well, I say "giveaway." There is a catch, of the financially shaped variety.
Mick's Twitter account is selling these PS5 consoles "for retail price," with the proceeds going directly to charity. Note that there is no word of which charity will be receiving the money. I've never known a celebrity wrestler to get involved in charity work of some kind and not explain at length who is benefitting.
Some of the other tweets throw in the promise of "free tickets" to his next show as an incentive to paying up. Every tweet related to these PS5s has the replies turned off, which means people can't easily question the legitimacy of this offer.
At the very least, you'd think Mick would take some photos of the supposed PS5s sitting in front of him. Did Mick take this picture in one of the many tweets promoting the PS5 sale, for example?
Hold that thought, because here is the same photo being used on a totally unrelated seller listing. An unexpected PS5 sale, replies turned off, and stolen images used for the consoles in question? This isn't a few red flags, it's a parade.
Asking the important questions
The person running Mick Foley's account asked would-be buyers to contact him via direct message. I always wanted to hang out with a WWE wrestler, so off I went to see how this scam plays out. I asked how to obtain the PS5, and whoever is running the account seemed oddly reticent to explain where to send my money.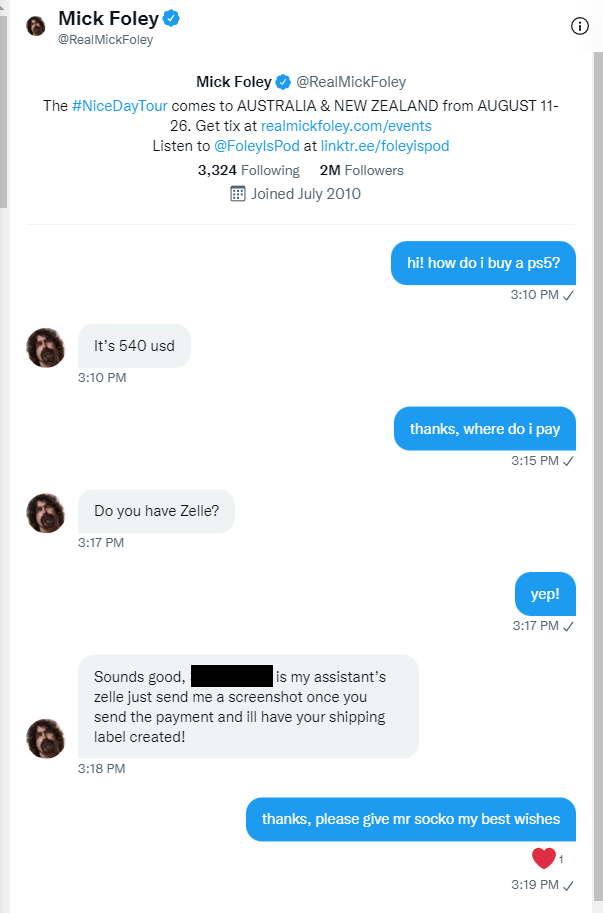 Eventually I was told to organise a Zelle payment for $540 USD through Mick's definitely-real-and-not-at-all-fictional assistant. Considering Foley has 2 million followers on social media, this has the potential for an awful lot of stolen payments. Scammers targeting verified accounts is a popular tactic, and helps to give their fraudulent activities a sheen of legitimacy.
Lock it down
You may not have the social media reach of a WWE superstar, but you can still do your bit for a safer social experience. Here's what Twitter recommends to keep things secure where your social experience is concerned:
Use a strong password that you don't reuse on other websites.
Require email and phone number to request a reset password link or code.
Be cautious of suspicious links and always make sure you're on twitter.com before you enter your login information.
Never give your username and password out to third parties, especially those promising to get you followers, make you money, or verify you.
Make sure your computer software, including your browser, is up-to-date with the most recent upgrades and anti-virus software.
Check to see if your account has been compromised.