Adware.BrowserAssistant
Short bio
Adware.BrowserAssistant is Malwarebytes' detection name for a family of adware signed by Astral Media Inc. and aimed at Windows systems.
Symptoms
Users will typically see advertisements that are not coming from the website they are visiting.
Type and source of infection
Adware is typically a standalone program which displays adverts to the end-user in a variety of forms, including:
inside the program itself via pop-ups and pop-unders, in or outside the browser slide-in adverts launching a browser window inserted adverts, or otherwise altered website content
Adware has traditionally been spread through the affiliate model, where individuals or supposed business entities sign up with the adware vendor then distribute it via websites, bundled products, and other offers.
Protection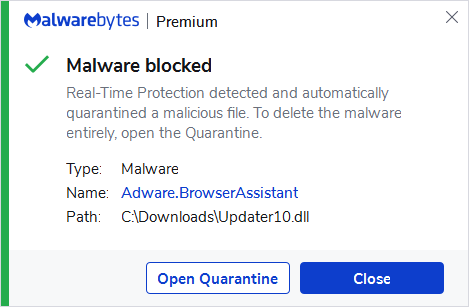 Remediation
Malwarebytes can detect and remove Adware.BrowserIO without further user interaction.
Please download Malwarebytes to your desktop.
Double-click MBSetup.exe and follow the prompts to install the program.
When your Malwarebytes for Windows installation completes, the program opens to the Welcome to Malwarebytes screen.
Click on the Get started button.
Click Scan to start a Threat Scan.
Click Quarantine to remove the found threats.
Reboot the system if prompted to complete the removal process.
Traces/IOC's
Files: