Backdoor.Zapchast
Short bio
Backdoor.Zapchast is Malwarebytes' detection name for a family of Trojansthat installs an mIRC client on the affected system.
Type and source of the infection
Backdoor.Zapchast allows the threat actorto take control of the affected system. They often deploy a keylogger given this chance.These Trojans are spread by email as attachments most of the time.
Protection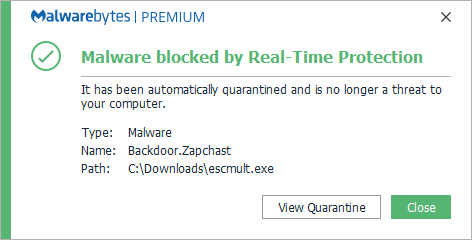 Remediation
Malwarebytes can remove Backdoor.Zapchast without further user interaction.
Please download Malwarebytesto your desktop.
Double-click MBSetup.exeand follow the prompts to install the program.
When your Malwarebytes for Windowsinstallation completes, the program opens to the Welcome to Malwarebytes screen.
Click on the Get started button.
Click Scan to start a Threat Scan.
Click Quarantineto remove the found threats.
Reboot the system if prompted to complete the removal process.
You may find additional malwareif this Trojan has been active.