nerdpol.ovh
Short bio
The domain nerdpol.ovh is blocked by Malwarebytes because it was associated with a Trojan.
Malicious behavior
Subdomains in this domain are regularly abused to distribute malware and spam.
Protection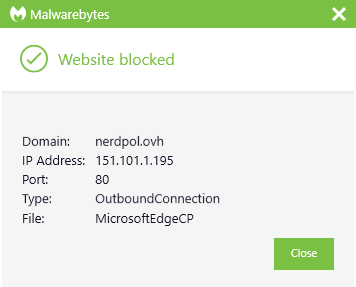 Exclusion
Should users wish to visit a blocked Domain and exclude it from being blocked, they can add it to the exclusions list. Here's how to do it.
Open Malwarebytes for Windows.
Click the Detection History
Click the Allow List
To add an item to the Allow List, click Add.
Select Allow a website.
Select Add a URL and enter the domain that you wish to exclude.
Click on Done and the domain should appear in your Allow List.
Associated threats
1-5-5-chan.nerdpol.ovh
155ch-an.nerdpol.ovh
155cha-n.nerdpol.ovh
brulovos.nerdpol.ovh
cub909.nerdpol.ovh
curelot.nerdpol.ovh
dina.nerdpol.ovh
einfo.nerdpol.ovh
gasga.nerdpol.ovh
geroloho.nerdpol.ovh
gromon.nerdpol.ovh
gunadd.nerdpol.ovh
holito.nerdpol.ovh
hucha.nerdpol.ovh
hufifi.nerdpol.ovh
kardan.nerdpol.ovh
loisa.nerdpol.ovh
lowalowa.nerdpol.ovh
mari.nerdpol.ovh
mibaro.nerdpol.ovh
mixall.nerdpol.ovh
niolomen.nerdpol.ovh
porta.nerdpol.ovh
reins.nerdpol.ovh
rerdomer.nerdpol.ovh
saloma.nerdpol.ovh
setka.nerdpol.ovh
soloino.nerdpol.ovh
solomino.nerdpol.ovh
taxi.nerdpol.ovh
uroboros.nerdpol.ovh
vujah.nerdpol.ovh
woguna.nerdpol.ovh
wsawsa.nerdpol.ovh
xax454.nerdpol.ovh
zak202.nerdpol.ovh
zukio.nerdpol.ovh