Researchers at CyberWarZone found information about a new Facebook scam involving singer Nicki Minaj and a supposed sextape.
Facebook scams have been around for a while, and usually advertise pornography and/or other illicit material.
Emma Watson—the actor who portrayed Hermoine Granger in the Harry Potter films—has been involved in numerous Facebook scams, so much in fact that former NakedSecurity writer Graham Cluley has written a blog solely on this topic.
However, this scam has found a different target: Nicki Minaj. The scam advertises a sextape featuring Minaj that was supposedly leaked by an angry ex-boyfriend.
The sextape is of course a fake, and uses an image from the saucy music video 'High School' to allure visitors. The link redirects users to ihatenickinow.blogspot.com, where visitors are told to complete a 'test' (survey) to watch the adult-rated content.
These scams are numerous, and this one actually isn't the first featuring Minaj. In fact, there is an entire Facebook page titled 'Nicki Minaj Leaked Sextape' that advertises a similar scam.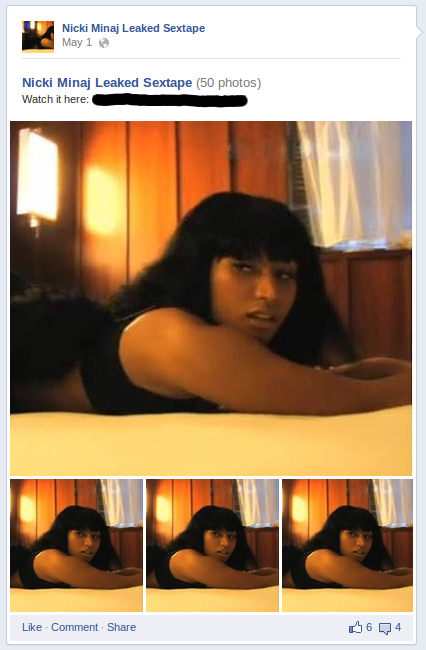 We advise our users to stay away from these sort of scams, which could potentially lead to malware infections or other potentially unwanted programs (PUPs).
_________________________________________________________________
Joshua Cannell is a Malware Intelligence Analyst at Malwarebytes where he performs research and in-depth analysis on current malware threats. He has over 5 years of experience working with US defense intelligence agencies where he analyzed malware and developed defense strategies through reverse engineering techniques. His articles on the Unpacked blog feature the latest news in malware as well as full-length technical analysis. Follow him on Twitter @joshcannell