Messaging service Signal is testing support for usernames as a replacement for phone numbers to serve as user identities.
Signal provides encrypted instant messaging and is popular among people that value their privacy. Compared to more popular services like WhatsApp, Signal offers more layers of privacy protection, customization of settings, and enhanced data security. These layers include hiding metadata, not using a user's data, allowing call relay, and others.
The current Signal setup requires users to sign up with a phone number and this number will be shared if you want to message other users on the app. But not everyone wants to share their phone number when messaging someone and so Signal is doing something about that.
On its forums, Signal announced the feature is ready for pre-beta-testing.
"After rounds of internal testing, we have hit the point where we think the community that powers these forums can help us test even further before public launch."
So, for now, the announced feature is currently only available for the app's testers on Android, iOS, and desktop users. Once it's finally released, you'll be able to select your username by going to Settings > Profile and Settings > Privacy > Phone Number section.
From a screenshot posted on X, it looks like you'll be able to invite new contacts by sending them a link or a QR code.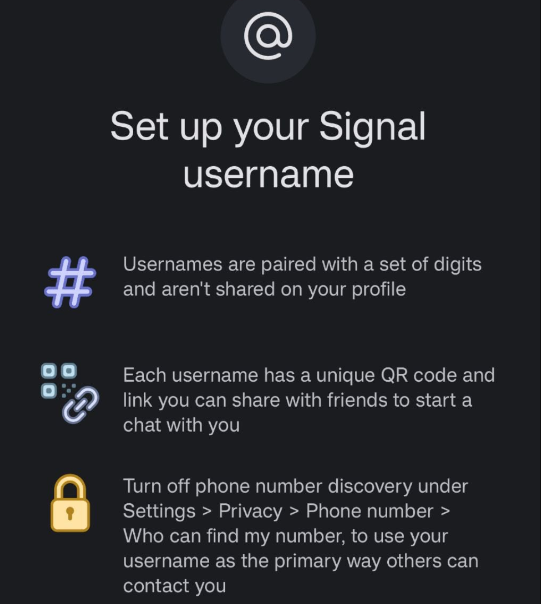 Screenshot of new options
It's also likely you still have to have a phone number to create an account. The new feature just allows you to hide your number behind a username. Phone numbers will still be used as a unique identification and as an anti-spam measure.
We don't know when the new feature will be generally available, but in an earlier interview, president Meredith Whitaker said she expected the feature's launch in early 2024. However, this seems unlikely as it requires a major overhaul of the app's architecture.
---
We don't just report on privacy—we offer you the option to use it.
Privacy risks should never spread beyond a headline. Keep your online privacy yours by using Malwarebytes Privacy VPN.