Blogging platforms such as WordPress and Blogger, forums and (sometimes) article comment sections can be a good real estate to spot posts that may be deemed spammy. Not only are these spaces generally public, they're also free and requires little effort to set up.
Most of the spammy posts we've been seeing through the years either directs users to supposed download sites for games and movies or streaming services. Blogger, in particular, has been a favourite hub. In unique if not weird cases, spammers and scammers have used domains like SlideShare, Twitter, SoundCloud, and Pastebin. Today, we're going to add another one to this list: Steam.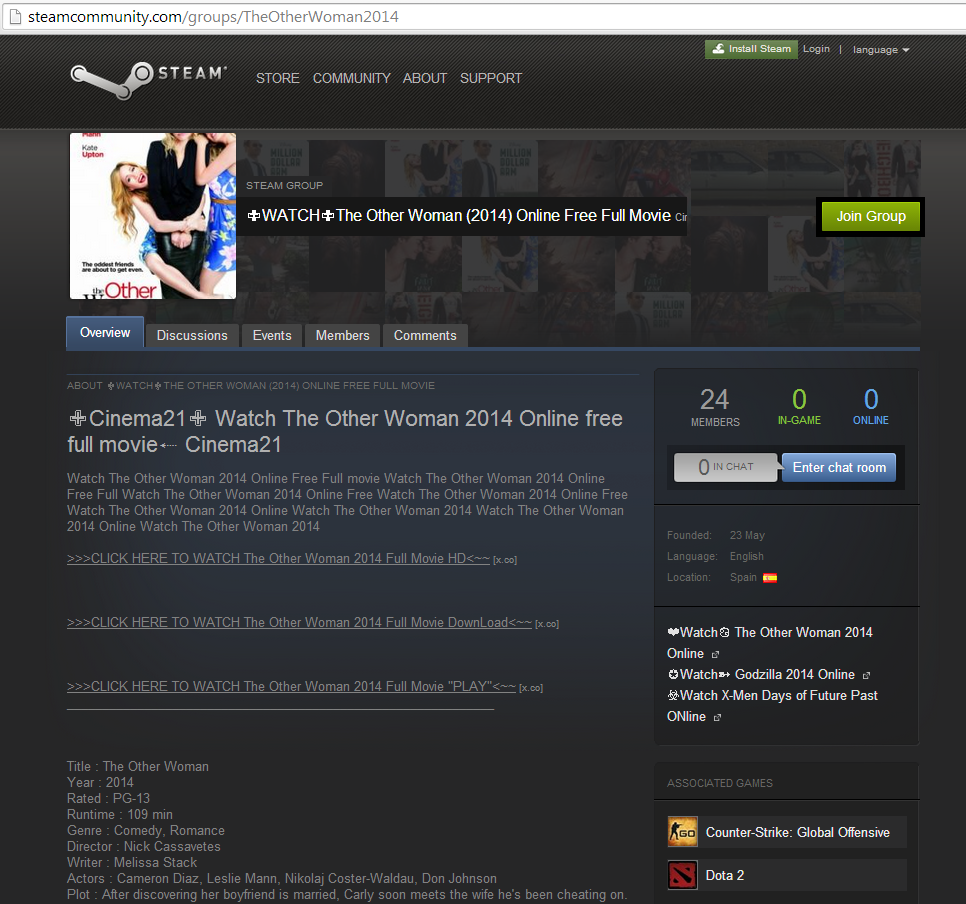 Screenshot of a Steam group promoting the full movie viewing of "The Other Woman" for free (click to enlarge)
Here's a group promoting the finale episode of "Mad Men" (click to enlarge)
If you're one who normally looks for a good or interesting community to belong with on Steam, you may stumble upon similar groups like the one above. Expect also that the individual who create such sites have Steam profiles that look something like these:
A profile carrying the "Maleficent" movie title (click to enlarge)
The admin profile that created "The Single Moms Club" movie group (click to enlarge)
Some movie links direct to sites requiring users to register before they can view or download anything. On the other hand, some so-called movie streaming sites warn users that their Adobe Flash Player is outdated, and then readily supplies the updated file for them. This should raise a red flag since users are not redirected to the official Adobe site where they can download. Files on-hand, more often than not, are potentially risky. Case in point, here is what happens when one visits a "Mom's Night Out" movie link from a Steam group:
The lure of free movies and TV series should generally be avoided on Steam. Not only is it an inappropriate platform to find such media, but Steam profiles and groups with no clear indication or identity regarding who are behind them must be assumed as spam pages and reported to Steam to be taken down. They won't be gone for long, I know, but at least we help nip them in the bud.
Jovi Umawing