Upgrading to a new OS can be overwhelming.
With all that potential stress, the last thing you need is to jump through hoops to make sure a cybersecurity threat isn't hiding in your download. Malwarebytes just works with Windows 11. So, while you're off hunting for where all your photos went, we'll be hunting threats and protecting you.
Full protection or simple cleanup?
The free version of Malwarebytes for Windows is great for getting rid of existing infections, but some infections, like ransomware, only need a moment to wreak havoc on your PC. To stop infections before they happen, stay one step ahead with the Real-Time Protection of Malwarebytes Premium.
Malwarebytes Free

Malwarebytes Premium

Cleans up an already infected computer

Protects your identity and privacy from hackers
Limited Trial
Protects your documents, financial files from ransomware

Limited Trial

Protects you from malicious and fake websites
Limited Trial

Stops malware that degrades computer performance
Limited Trial

Crushes malware attacks that corrupt your programs
Limited Trial
Suspends Malwarebytes notifications while you game
Limited Trial
Brute Force and Uninstall Protection (Windows only)
Limited Trial
Trusted by customers worldwide.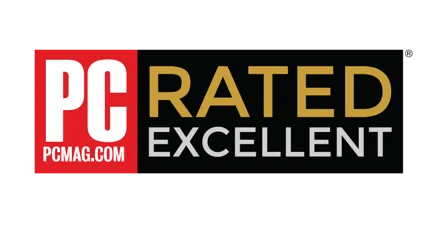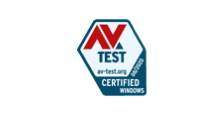 How to use antivirus for Windows PCs

Step 1 – Install Malwarebytes Premium
Download and install Malwarebytes Premium. Click the "Scan" button and the virus detector quickly scans for viruses.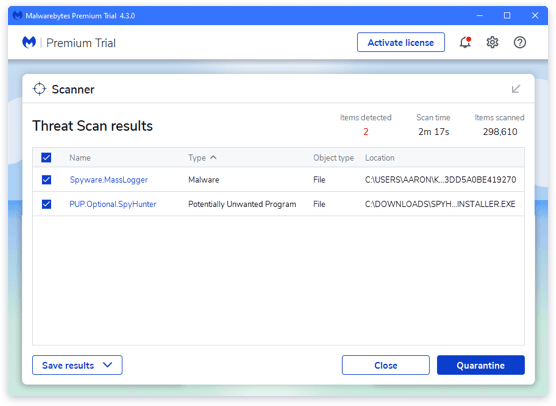 Step 2 – Review threats
After the online virus scan, Malwarebytes reports on any threats that were found and asks if you want to remove them.
Step 3 – Remove Threats
Once you give the ok, our virus removal tool will clean up threats so your device, files, and privacy are secure.
Don't take our word for it
"We use Malwarebytes on all of our company computers. Our experience is that Malwarebytes is effective and trouble free."

"Malwarebytes provides an extra, invaluable layer protection against malicious data, and that makes me and our systems feel safer!"

"Eliminating hundreds of potential malware and trackers every week for our entire organization."

Windows 11 FAQ  


When is the Windows 11 release date?
How can I get the Windows 11 upgrade?
 Will I need an antivirus for Windows 11?
Is there a difference between viruses and malware?
 How do I know if my PC has a virus or malware?
Tech specs
Windows 7 (or higher) (32/64-bit)

Active Internet connection
800MHz CPU or faster, with SSE2 technology

2048 MB (64-bit OS), 1024 MB (32-bit OS)

250 MB of free hard disk space

1024×768 or higher screen resolution
Bulgarian, Chinese (Traditional), Czech, Danish, Dutch, English, Finnish, French, German, Hungarian, Italian, Japanese, Korean, Norwegian, Polish, Portuguese (Brazil), Portuguese (Portugal), Romanian, Russian, Slovak, Slovenian, Spanish, Swedish
Get started
Get virus protection with Malwarebytes Premium