RiskWare.DontStealOurSoftware
Short bio
RiskWare.DontStealOurSoftware is Malwarebytes' detection name for tools or versions of our product that would enable users to use the paid version of the product without paying for it.
Type and source of infection
The detection RiskWare.DontStealOurSoftware is used against tools that enable this theft and "cracked" versions of Malwarebytes.The detected tools and cracks can often be found on shady websites that will not hesitate to bundle them with PUPs, adware, or even malware. Using "customized" versions of our software may result in a false sense of security.
Protection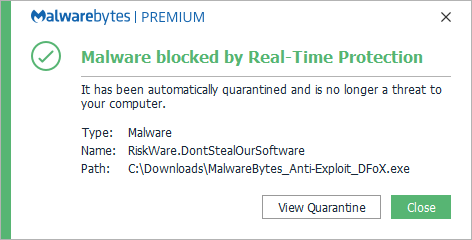 Remediation
Malwarebytes can detect and remove RiskWare.DontStealOurSoftware without further user interaction.
Please download Malwarebytesto your desktop.
Double-click MBSetup.exeand follow the prompts to install the program.
When your Malwarebytes for Windowsinstallation completes, the program opens to the Welcome to Malwarebytes screen.
Click on the Get started button.
Click Scan to start a Threat Scan.
Click Quarantineto remove the found threats.
Reboot the system if prompted to complete the removal process.
Please download a legitimate version from our websiteto do this.