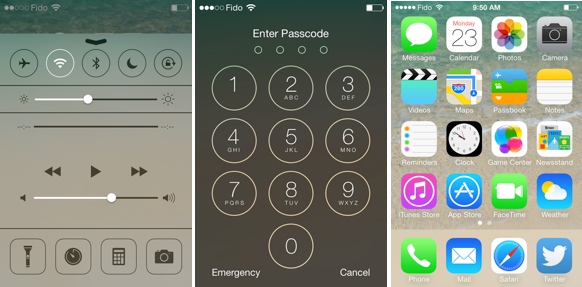 The past week has been pretty rough for Apple and its loyal fan base. The release of iOS 7 and two new phones (iPhone 5s and iPhone 5c) introduced many changes, and with the company under the microscope, it didn't take very long for some major negative headlines to pop up.
They say any publicity is good publicity but is this the case here?
Let's review the most noticeable events that have occurred since last week.
09/18: Release of iOS 7; causes Internet outages The very anticipated release is so popular that it causes Internet blackouts in certain campuses and schools due to download spikes.
09/20: iOS 7 lockscreen bypass Jose Rodriguez discovers a way to bypass iOS7's lockscreen in seconds to access photos, email and Twitter.
09/20: iOS 7 emergency call only bypass Karam Daoud shows how he can make unauthorized calls on a locked iPhone by using the Emergency Call feature.
09/22: iPhone 5s fingerprint technology bypass The Chaos Computing Club claims to have defeated Apple's Touch ID that allows a user to authenticate using their fingerprint.
The announcement that iOS 7 patches 80 vulnerabilities may just have been overshadowed by all these bypasses.
Apple has already said it was looking into fixing the screenlock bypass and will surely want to address other bugs soon as well.
What's interesting to note though, is that despite all this negativity and bad jokes towards Apple, the company succeeded in migrating a very large portion of iOS 6 users (32 percent in the first 48 hours) to the newest release, something Microsoft is still struggling to do.
---
Jerome Segura (@jeromesegura) is Senior Security Researcher at Malwarebytes.