Sunday night, right after the Superbowl ended, the very first commercial was from Esurance, the insurance company, advertising a $1.5 Million giveaway for all the money they saved by not buying air time DURING the Superbowl. Excited participants need only tweet with the hash-tag #EsuranceSave30 before 1 AM PST on Tuesday.
You had better believe the Twitterverse has exploded with hopeful winners and then of course anything that gets THAT kind of attention is OBVIOUSLY going to bring out the worst that Twitter has to offer.
One of these accounts are not like the others
The scammers, and I am guessing there are many, have decided to setup their own "fake" Esurance accounts in order to do multiple things, the first of which is to gain attention for the Esurance give away, but also:
Gain Followers
All of these copy-cat accounts have one thing in common and that is to tell people to re-tweet their posts and follow their account.
The "Official" in the Twitter handle makes it "Official"
The purpose of this is most likely to gain a massive amount of followers and either spam the followers after the account has been changed back to it's original state or to sell it off on the Twitter follower "underground" to make some quick cash.
To give further proof that these users are trying to spread spam, check out the tweet history on this one particular Esurance copy-cat:
Man! Esurance sure had some odd interests before this whole contest
Now it's possible these folks just want Twitter followers for themselves and in which case, why would they want to forever have an Esurance parody account? Well it's incredibly simple to change your account display name and Twitter handle, I decided to try it out myself. My normal Twitter handle is @Kujman5000, I simply went to my account Settings and:

My innocence was slipping away with every letter I typed
Now I am @EsuranceWinIt, the cleverly disguised scammer hoping to score thousands of Twitter followers with the promise that following me and re-tweeting my every word will help people win. I even posted once with my new handle.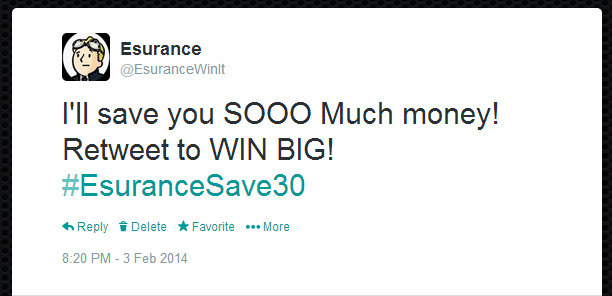 I forgot to tell them to Follow me! Gar! I'm such a bad scammer!
I promptly changed it back with a notice to my current followers that I was only trying to prove a point.
Another reason why these Tweeters are trying to earn the attention of the world is to earn some cash via "Donations"
I guess you have to spend money to make money
Luckily it wasn't long before smart folks started poking holes in this scam and telling everyone they knew that these guys were not to be trusted. In fact, that particular GoFundMe.com account has been closed.
Some of these accounts went ahead and tried to cover their tracks by claiming themselves as "Parody" accounts, not the actual Esurance.
The stolen picture lends even more legitimacy to this account than to others
That at least might save them from any legal action from the real Esurance.
So to conclude this, if you want to enter this contest, all you need to do is tweet something with the hashtag mentioned before, no following, no re-tweeting, nothing. If you do happen to fall for these scams, please unfollow them as quick as you can and warn everyone you know. The more followers these scoundrels get, the more that account is worth and even if you don't win that $1.5 Mil, you would have helped them win their own prize.
Oh and if you don't think any normal person would fall for such a scam…
Yup, 21,300 people. It could happen to anyone.
Thanks for reading, safe surfing and DFTBA!
———————————————————–
To hear more from Adam Kujawa and his unique and mind melting views, follow him on twitter @Kujman5000