Carter Ham, a retired four-star United States Army general, is supposedly on Linkedin—and he wants you (to read his personal message).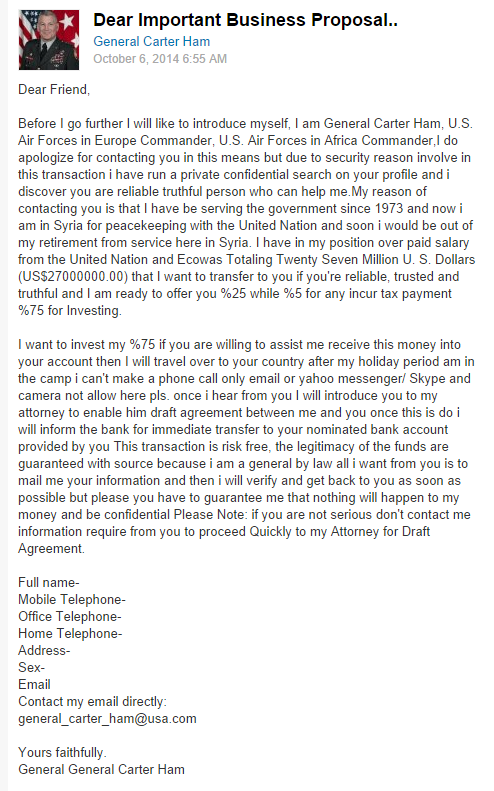 Dat message
Dear Friend,

Before I go further I will like to introduce myself, I am General Carter Ham, U.S. Air Forces in Europe Commander, U.S. Air Forces in Africa Commanfer,I do apologize for contacting you in this means but due to security reason involve in this transaction i have run a private confidential search on your profile and i discover you are reliable truthful person who can help me.My reason of contacting you is that I have be serving the government since 1973 and now i am in Syria for peacekeeping with the United Nation and soon i would be out of retirement for service here in Syria. I have in my position over paid salary from the United Nation and Ecowas Totaling Twenty Seven Million U. S. Dollars (US$27000000.00) that I want to transfer to you if you're reliable, trusted and truthful and I am ready to offer you %25 while %5 for any incur tax payment %75 for Investing.

I want to invest my %75 if you are willing to assist me receive this money into your accoount then I will travel over to your country after my holiday period am in the camp i can't make a phone call only email or yahoo messenger/ Skype and camera not allowed here pls. once i hear from you I will introduce you to my attorney to enable him draft agreement between me and you once this is do i will inform the bank for immediate transfer to your nominated bank account provided by you This transaction is risk free, the legitimacy of the funds are guaranteed with source because i am a general by law all i want from you is to maill me your information and then i will verify and get back to you as soon as possible but please you have to guarantee me that nothing will happen to my money and be confidential Please Note: if you are not serious don't contact me information require from you to proceed Quickly to my Attorney for Draft Agreement.

Full name- Mobile Telephone- Office Telephone- Home Telephone- Address- Sex- Email Contact my email directly: general_carter_ham@usa.com

Yours faithfully. General General Carter Ham 
This is clearly a scheme to phish for information from unwary recipients. Below is a screenshot of the sender's online profile: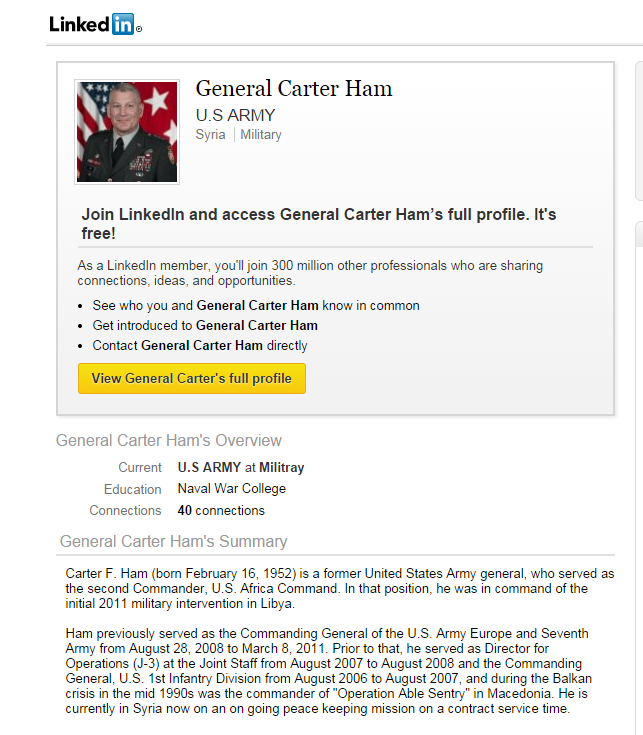 General Carter Ham on Linkedin. Not! (click to enlarge)
As far as the legitimacy of the profile goes, the blurb from the Summary section was copied and pasted from this Wikipedia page. We don't know if the former general is indeed on the said social networking site (in case you're wondering). What we do know is that if you receive a message similar to the one above asking for personal information from you in exchange for a slice of the cash s/he wanted to move, it's best to ignore the message and check with this contact if his/her account has been hacked or not.
Jovi Umawing (Thanks to Joseph Pelias for the tip and message screenshot)