We're seeing multiple copies of the below spam dropping into mailboxes at the moment, all of which claim to be an automated tax refund of £796.86 for UK tax payers.
The email reads as follows:
Automated Tax Refund Notification

After the last annual calculations of your fiscal activity , we determined that you are aligible to receive a tax refund of 796.86 £ . Please submit the tax refund request and allow us 10-14 days in order to process it. To access your tax refund, please follow the steps bellow:

- Download the Tax Refund attached to this email - Open it in a browser - Follow the instructions on your screen

NOTE: A refund can be delayed a variety of reasons , for exemple submitting invalid records or applying after deadline.

Revenue and Tax Administrator
The emails come with a HTML attachment: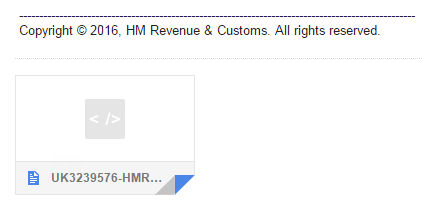 The attachment opens up a phishing page which asks for the usual personal information, including name, email, DOB, city, phone number, full card details and sort code / account number.
Hitting the submit button sends the data to the scammers.
The official HMRC site has a number of pages [1], [2], [3], on tax themed scams and how you can spot them. Forewarned is forearmed, and nobody wants to lose a small fortune to tax-scam phishers – if in doubt, give those advice links a read and be careful where you send your data.
Christopher Boyd