Virtual reality is when you wear a helmet and flail your arms around at a computer generated game, hopefully without walking into a wall.
Augmented reality is when you overlay computer generated elements onto the real world, using eyeglasses or looking down your phone, hopefully without falling over a fence [1], [2], [3].
Pokemon GO is a mobile game which lets you hunt for Pokemon in the real world, capture them and do battle with your new pets. Augmented reality games which encourage you to walk around doing things have been around for some time, but Pokemon GO is perhaps the first such title to go mainstream. With it, we see some unintended consequences:
A man has his home tagged as a Pokemon Go location, and now he's wondering if it looks like his place of residence looks like a drugs drop off point.
A Kotaku writer ponders the dangers of wandering the streets waving a phone around.
We have children running into places they shouldn't be in order to snag some Pokemon.
We even have muggers using Pokemon lure modules to mug unsuspecting Go players.
We shouldn't be surprised, then, that scammers have moved in on Pokemon GO territory with the below spam sending players to a scam site. Here's the spam post: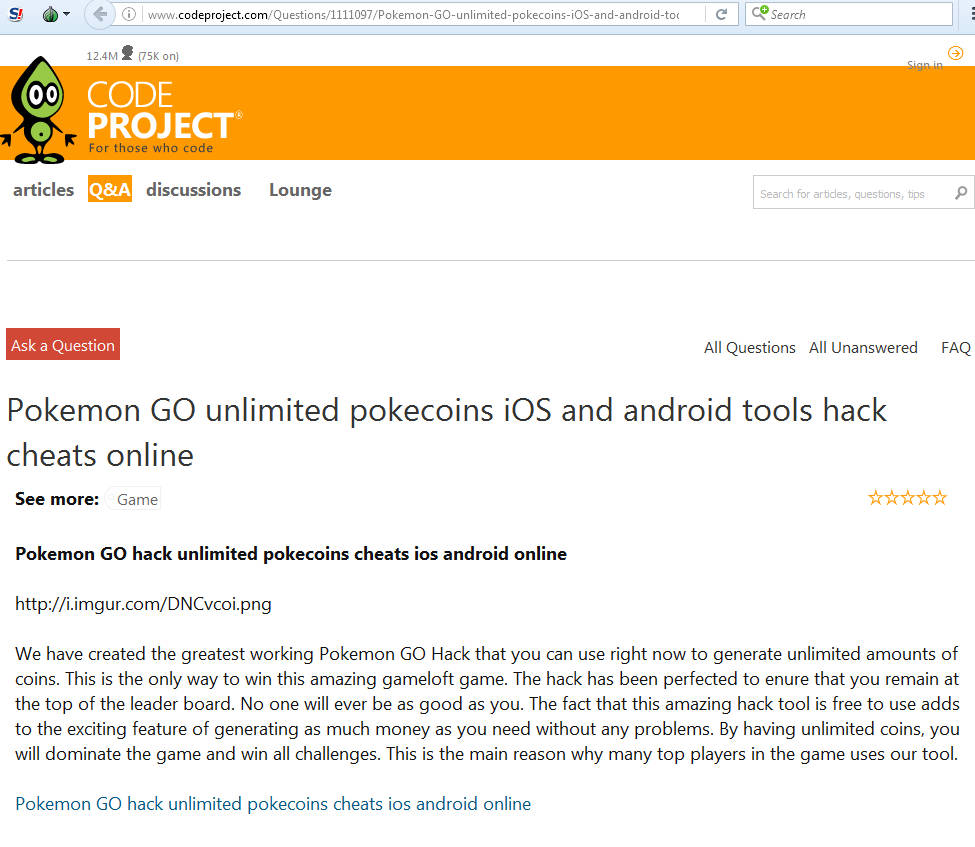 The final destination is located at
gameapplot(dot)com/pokemon-go(dot)html
Pokemon GO uses Pokecoins for microtransactions, and that's the angle here – all the coins you can (metaphorically) eat.
The site gives the option of Android, iOS or Windows. Given Pokemon GO involves walking around outdoors, I'm not entirely sure why there's a Windows option – perhaps you're supposed to run down the street waving your laptop around or something. Hitting the button opens up one of those "We're doing something technical, honest" boxes so beloved of scams such as these.
Yeah, no.
What I particularly like is that every so often, the site states a user from [region x] has won a ludicrous amount of coins. In fact, the only thing better than the below screenshot announcing that an Australian user has picked up 865,797, 927 coins is the fact that it let me ask for a negative value:
Hooray! I'm -12 poorer!
Of course, I can't fulfil my dream of being -12 poorer until I fill out one of a variety of survey offers.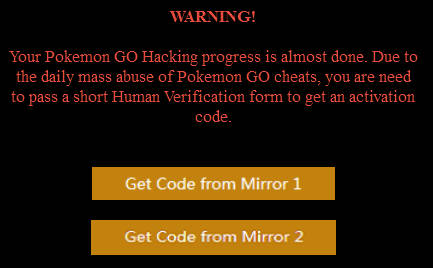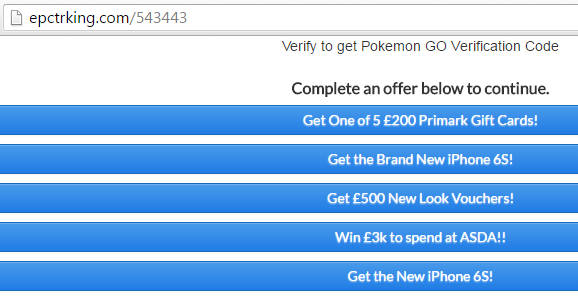 We advise any fans of Pokemon GO to steer clear of these types of scam. The real world dangers posed by careless playing are potentially bad enough without becoming tangled up in online shenanigans claiming to offer the GDP of a small country in Pokecoins. While catching them all is certainly a noble aim, sometimes you just have to let one go about its business…
Christopher Boyd