In July 2018, we introduced the Malwarebytes Browser Extension, a beta plugin for Firefox and Chrome aimed at delivering a safer, faster, and more private browsing experience.
Our extension blocked tech support scams, hijackers, pop-up ads, trackers, and more to keep users secure and free from online harassment. And thanks to our loyal Malwarebytes community, we've been able to test and improve on this beta for more than a year. We're pleased to release the full version, named Malwarebytes Browser Guard, which is now available in the Chrome and Firefox web stores.
In this post, we'll cover the features included in Browser Guard, its main functionality, how to whitelist preferred websites, and the difference between our extension and flagship PC and Mac software, Malwarebytes for Windows and Malwarebytes for Mac.
What does Browser Guard do?
Browser Guard, a free extension, blocks unwanted ads and trackers that intrude upon users' privacy, while also protecting against clickbait and scams. The extension prevents browser hijackers, lockers, and annoying and sometimes malicious pop-ups, all known scare tactics to trap consumers in tech support scams, exposing them to unwanted content and forcing them into purchasing unnecessary, expensive technical support.
Recent independent tests from AV Lab recently recognized Malwarebytes Browser Guard for having the best protection among competitive browser security offerings, blocking 98.07 percent of malware.
What's new in Browser Guard?
After continuous testing of functionality with thousands of users for more than a year, the most prominent change we made from beta to final release is to the graphical user interface (GUI). While people were happy with the way the beta worked, many wished for more granular control in the settings, as well as more elaborate statistics on blocked ads, malware, scams and other items.
I have Malwarebytes Premium. Do I still need Browser Guard?
Yes, Browser Guard does have extra protection features, as well as benefits for privacy, including ad and tracker blocking. And of course, Malwarebytes Premium versions have anti-exploit technology, real-time malware protection, anti-ransomware, and stalkerware protections that Browser Guard does not.
Where the web blocking module of Malwarebytes Premium and Browser Guard share a database of blocked IPs and domain, there is an overlap.
Looking at Malwarebytes Premium, it blocks the IPs and domains for all running applications, where Browser Guard does this only for the browser the extension is installed on.
On the other hand, Browser Guard blocks more than just domains and IP addresses. Not only does it recognize malicious websites based on their behavior that are not in the database (yet), it also blocks advertisements and trackers. These are not always malicious, but they usually do not improve user experience and blocking them can speed up your browsing up to four times.
Support
If you need help or guidance for the install or settings of Malwarebytes Browser Guard, we are happy to refer you to our online support guide.
Happy surfing, everyone!
False positives
Behavioral detection is prone to false positives. Of course, we do our utmost to avoid them as much as we can, but they can't be totally avoided. Luckily, the worst that can happen is that you will be initially denied access to a website that turns out to be harmless. But that doesn't mean you're blocked for good.
When you are sure the website is harmless, you can change the settings in Browser Guard to allow that specific site. That way, you can grant yourself access to the site without having to lower your global settings. Where some programs would require you to disable protection or lose your protection completely, our extension allows you to change site-specific settings without making your browser vulnerable on other sites.
Whitelisting items for a website
In Browser Guard, you can allow specific items by excluding them from certain types of protection and adding them to the "Allow list." Here's how to do it:
In the Browser Guard GUI, click the hamburger menu icon (the three vertical dots next to the gear icon).
In the dropdown menu, click Allow list.
Here you can specify the site(s) that the exception will apply to in the form of a URL or an IP address.
And you can choose the types of protection that you wish to disable for the site(s). These types are Ads/Trackers, Malware, Scams, and PUPs.
Then click Done to confirm the exclusion.
Browser Guard blocks items on Malwarebytes' own website. How come?
We do not discriminate between trackers and websites. Our own Malwarebytes website uses trackers to monitor how readers engage so that we can offer better content, design, and functionality. We do not gather any personal information. But they are trackers, nonetheless, and if you don't want them, we feel you should have the power to disable them everywhere, even on our own website.
No discrimination also means we do not take money from advertisers to allow their advertisements, like some other ad-blockers have been known to do.
Permissions
Malwarebytes Browser Guard needs to be able to read and change data on the websites you visit so it can remove advertisements and other unwanted elements. It also needs to be able to manage your downloads to protect you from downloading dangerous files on your system.
The Chrome installer prompt also mentions that our extension can "Communicate with cooperating websites." What does that mean?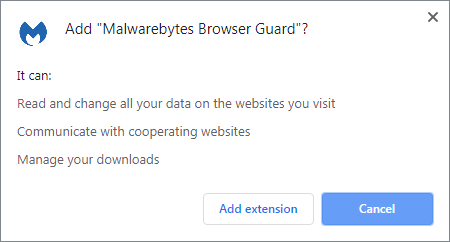 Certain sites use ad-serving techniques that are intrusive in nature, so when we block ads on those sites, it breaks the user experience. The permission "Communicate with cooperating websites" allows Browser Guard to work with sites to interactively block ads without affecting any content. This provides a better user experience than could be achieved without communication.
Browser Guard use case
Magecart is a group that specializes in stealing credit card information using a technique that is called skimming. They basically intercept traffic from payment sites to exfiltrate credit card information. Below you can see how Browser Guard can protect your information on a site that has been infiltrated by Magecart.
Support
If you need help or guidance for the install or settings of Malwarebytes Browser Guard, we are happy to refer you to our online support guide.
Happy surfing, everyone!