While searching for security- and privacy-improving extensions, users may end up installing an extension that is counterproductive to their goals. To help our readers I have compiled a list of Chrome extensions that can actually help you improve your online privacy and security.
Our regular readers have seen me post various warnings about malicious Chrome extensions. The fact that these malicious extensions exist doesn't mean it's not safe to install extensions at all. Some extensions will even improve security and privacy. So, for a change, I am going to highlight a few of them, by sharing my personal favourites.
"How come you are focusing on Chrome?" you may ask. Well, Chrome is the most popular browser in the world, by far. It has a market share hovering around 65%. This popularity among users also makes it a popular target for advertisers and malicious actors. I would not dare say that Chrome is less secure than the other popular browsers. All of the modern browsers are highly complex, sophisticated pieces of software that offer a substantial target to attackers, and all of them take security seriously.
Although there certainly are better choices for privacy-oriented users, but that's another topic for another day.
The 6 best extensions
In my list I have tried to include extensions that complement each other rather than ones that compete against each other by doing the same job. Obviously there will be some overlap, especially where it comes to ad and tracker blocking. Where I have listed that extensions are available for Chrome you will find that they are also available for most Chromium-based browsers like, for example, Vivaldi and Brave. Extensions are listed in no particular order.
Works with: Chrome, Edge, and Firefox.
Malwarebytes Browser Guard not only blocks some advertisements and trackers, it also stops in-browser cryptojackers (unwanted cryptocurrency miners), and it also uses an extended version of the Malwarebytes Premium blocklist that will stop malicious sites from loading—including sites that are involved in tech support scams. As a bonus, blocking unwanted content can speed up your browsing up to four times.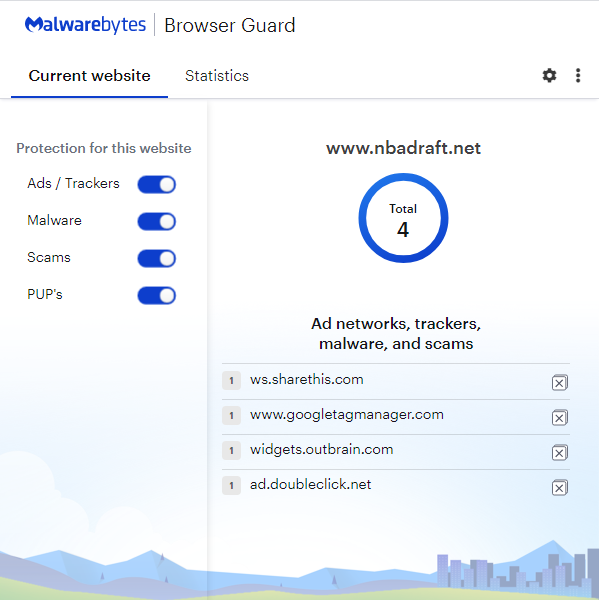 Works with: Chrome, Edge, Firefox, and Opera. It is already included in Tor.
HTTPS Everywhere ensures that you always connect to sites using secure HTTPS encryption instead of HTTP. It forces sites to use HTTPS if they offer it can block access to sites that don't. This protects information like logins and personal data when it's travelling between your computer and the website you're using.
Many sites on the web now offer HTTPS, but it may not be compulsory, or the default, and your connection can easily be downgraded to HTTP if you click on a link that somebody forgot to add the "s" to. The HTTPS Everywhere extension fixes these problems by rewriting URLs so they always use https://.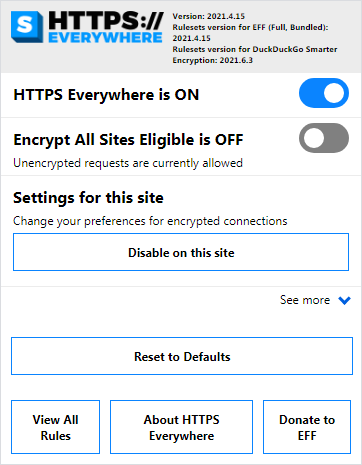 Works with: Chrome, Edge, Firefox, and Opera.
The free version of Ghostery blocks the ads and trackers that can follow you around the web, creating a profile of who you are and where you go. The Plus version offers additional application ad blocking.
Works with: Chrome, Safari, Opera, and Firefox.
uBlock will block advertisements, including video ads, as well as trackers. It also functions as a pop-up blocker and helps protect against some forms of malware.
Works with: Chrome, Edge, and Firefox.
1Password is a password manager that will create, store, and enter strong passwords for you. Unfortunately the free version of 1Password has a short life span, but the paid version is really worth having, not least because it can import the passwords stored in your browser. The autofill option will save you a lot of time and offers some protection from phishing attacks.
Works with: Chrome, Edge, and Firefox. Some functionality requires the Click&Clean Host.
The Click&Clean extension helps you clean up your private browsing data. Modern browsers try to make browsing as quick and easy as possible, and that means remembering a lot of stuff, including a cache of pages you've visited, your search history, data you've entered into forms, cookies, and more. Click&Clean gives you an easy way to clear out the bits you don't want to hold on to.
But I like the so-and-so extension better!
Don't let me stop you from using the extensions that you are used to. Some of these extensions do have competitors that are just as good and you might like them better. But these are my personal choices and in my experience they work well together.
This is only here to help those looking for new security and privacy related Chrome extensions find something trustworthy. Unfortunately, looking for this type of extensions will sometimes lead to extensions that do the exact opposite of what they promise. For example, we have seen a lot of extensions that promise to perform more secure or privates searches, but all they do is redirect your searches somewhere else, often adding some advertisements as well.
What is the best antivirus extension for Chrome?
This is a question I get asked a lot and the answer is not that simple. Or actually it is. There are no antivirus extensions for Chrome in the traditional sense. Some of the extensions in my list will stop malware from entering your system, but removal and protection are two different things. There are some browser extensions that can remove malicious extensions from the browser they are installed on, but the anti-malware solution you are using should have no problem doing that. In fact, it will very likely do it better. Extensions that claim to clean anything more than the browser are to be distrusted.
Stay safe, everyone!