Watch out for this piece of spam lurking in mail boxes and claiming to be from the EE mobile network.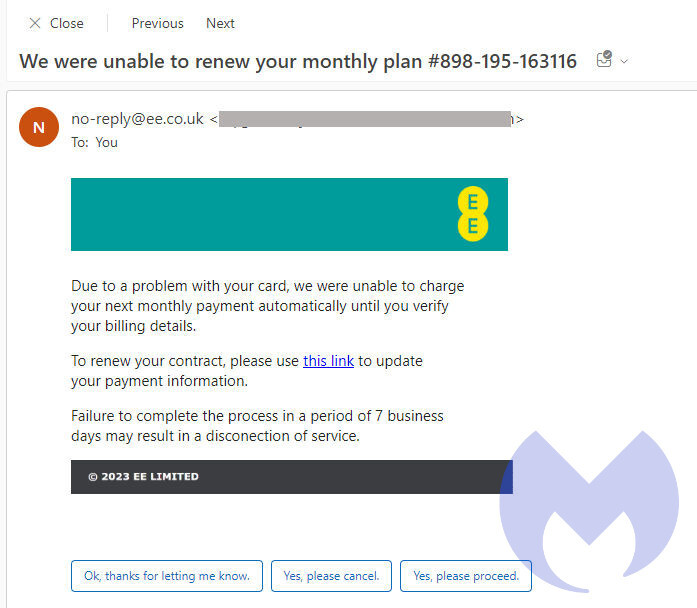 The mail, titled "We were unable to renew your monthly plan" with a likely random reference number alongside it, reads as follows:
Due to a problem with your card, we were unable to charge your next monthly payment automatically until you verify your billing details. To renew your contract, please use this link to update your payment information.

Failure to complete the process in a period of 7 business days may result in a disconnection of service.
The clickable link leads to an imitation EE site which asks for the visitor's email address and password.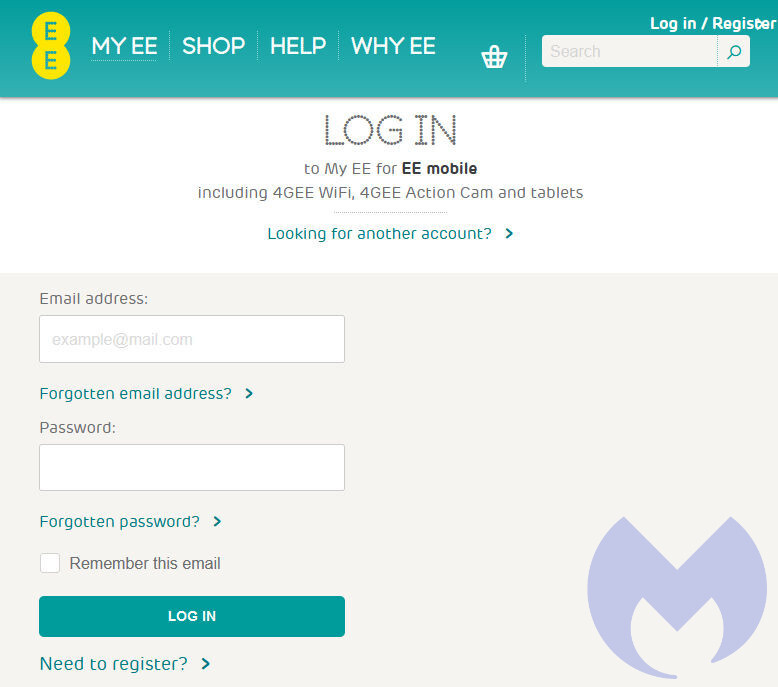 Subsequent pages ask for the kind of details typically covered by any phishing scam, such as name, date of birth, and email address. The final page asks for you card details:
If you fill those card details in, you are likely to soon become much lighter of pocket, as the criminals will use the details to take money from your card.
If you think you've accidentally filled in a form on a phishy site, contact your bank or card provider immediately so they can put it right. And follow the tips below on how to avoid phishing attacks.
How to avoid phishing attacks
Don't take things at face value. Phishing attacks often seem to come from people or brands you know, and use themes that require urgent attention, such as missed deliveries, account suspensions, and security alerts.
Take action. If you receive a phishing attempt at work, report it to your IT or security team. If you fall for a phish, make your data useless: If you entered a password, change it, if you entered credit card details, cancel the card.
Use a password manager. Password managers can create, remember, and fill in passwords for you. They protect you against phishing because they won't enter your credentials into a fake site.
Use a FIDO2 2FA device. Some forms of two-factor authentication (2FA) can be phished just as easily as a password. 2FA that relies on a FIDO2 device can't be phished.
---
Malwarebytes removes all remnants of ransomware and prevents you from getting reinfected. Want to learn more about how we can help protect your business? Get a free trial below.