Fast results.
Powerful cleaning.
Computer running slow? Strange messages popping up? Browser homepage changed without your permission? This could be the work of adware (and its friends), a sneaky variant of malware that is hard to find, and harder to remove. Malwarebytes AdwCleaner employs innovative technology engineered solely to detect and remove these unwanted hitchhikers. It's the cleaner of choice for home users and technicians.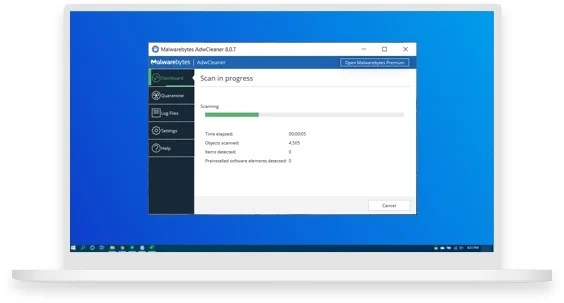 Removes adware and unwanted programs
Aggressively targets adware, spyware, potentially unwanted programs (PUPs), and browser hijackers with technology specially engineered to remove these threats.
Crushes annoying software
Removes unwanted browser toolbars and bundled programs that can open the door for spyware and PUPs. This puts you back in control of your browsing.
Scans fast, faster, fastest
Scans your computer in seconds. Clean your computer in less time than it takes to make a cup of coffee.
Installs…nothing
Doesn't use much memory or processor power, and there's nothing to install. Just download, launch, and click to scan. It's that simple.
Removes junkware, optimizes performance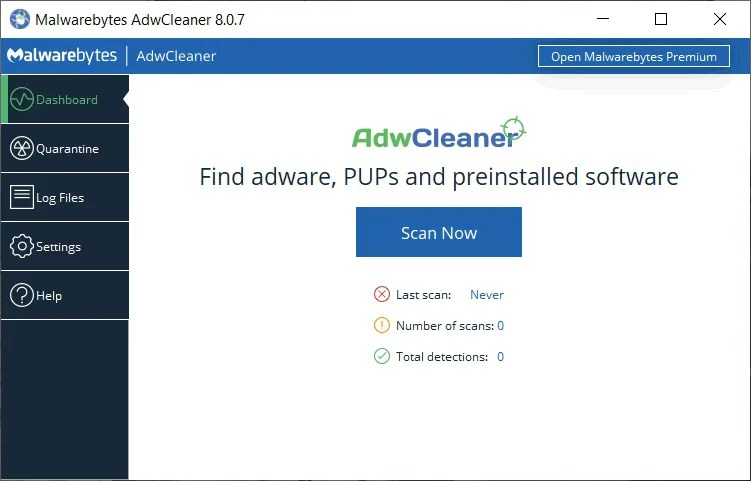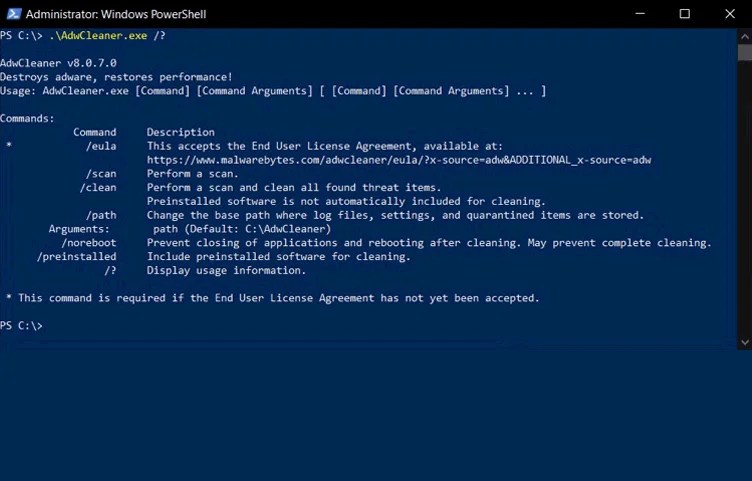 Don't take our word for it
"This could be my best adcleaner in the whole world. Not only (does) it fixes my problem, it gives me advice, too."
"Every time I opened a website it would direct me back to yahoo.com. I just lived with it for a while. But finally searched and found AdwCleaner. AWESOME!"
"Saved my pc, when other programs couldn't"
FAQ
What is Malwarebytes AdwCleaner?
What is the difference between Malwarebytes Premium and Malwarebytes AdwCleaner?
Is Malwarebytes AdwCleaner good?
What is the best free adware removal?
Does Malwarebytes AdwCleaner remove malware?
How do I get rid of adware for free?
How do I know if I have adware?
How do I scan my computer for adware?
Is Malwarebytes AdwCleaner safe?
How do I run Malwarebytes AdwCleaner?
Tech specs
Windows 11 (32/64-bit)
Windows 10 (32/64-bit)
Windows 8 (32/64-bit)
Windows 7 (32/64-bit)

Arabic, Bulgarian, Czech, Danish, German, Greek, English, Spanish, Basque, French, Hungarian, Indonesian, Italian, Japanese, Korean, Dutch, Polish, Portuguese, Romanian, Russian, Slovak, Thai, Turkish, Ukrainian, Vietnamese, Chinese

Start cleaning now
Download Malwarebytes AdwCleaner now and you'll have a clean computer in just minutes.