We've always been committed to keeping you safe and secure online. But these days, cybersecurity isn't just about defending you from malware; it's about protecting your—and your family's—entire digital identity.
We know that people are worried. In fact, in our latest report, titled "Everyone's afraid of the internet and no one's sure what to do about it," we found that 79% of internet users are "very concerned" about online privacy and security risks.
More specifically, we found that 81% worry that identity theft and fraud could happen to them, and 71% say that having their data leaked and identity stolen is one of their biggest fears.
So today, I'm excited to announce we're extending our product offering to introduce Malwarebytes Identity Theft Protection. Our comprehensive solution scours the dark web for your personal information, prevents your social media account from being hacked, and even keeps an eye on your credit1 —and it's all backed by an up-to-$2 million identity theft insurance2.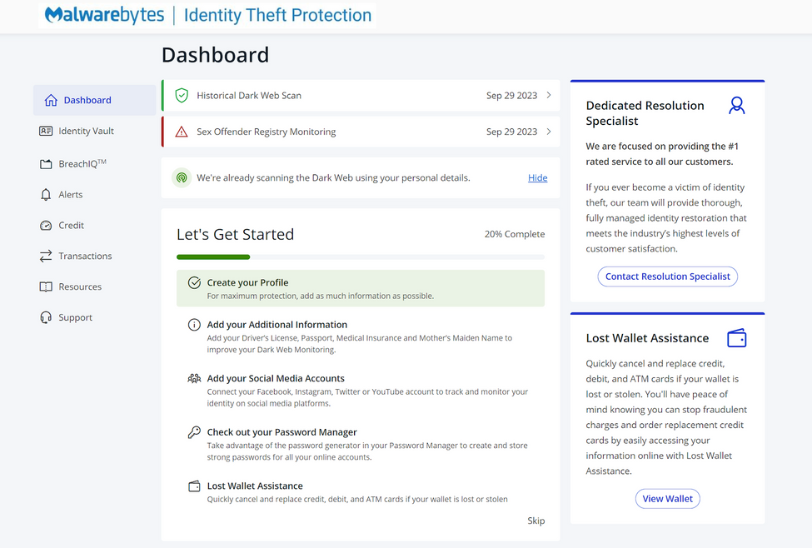 Here's what you get (based on your selected plan):
Ongoing monitoring: Peace of mind that we are actively working in the background to keep you safe
Real-time alerts: Immediate notifications if we identify suspicious activity
Recommendations and best practices: Advice on how to prevent identity theft, and help if it happens
Identity restoration helpline and top-notch customer support.
It's not easy being online today, but our coverage helps keep your digital identity safe, giving you the confidence to scroll, swipe, click, and post in peace.
Existing customers
Already a Malwarebytes customer and want to add Malwarebytes Identity Theft Protection to your subscription? Log into your account at my.malwarebytes.com and go to your subscription page. Click Upgrade, make the selection, and choose Submit Order. You'll then receive your activation email.
---
1 Credit scores provided are based on the VantageScore ® 3.0 model (likely to be different than what lenders may use to assess your credit worthiness). Credit monitoring is US only.
2 $1 or 2 million (based on selected plan). $2 million is US only.
Note: Malwarebytes Identity Theft Protection is not available in all regions.